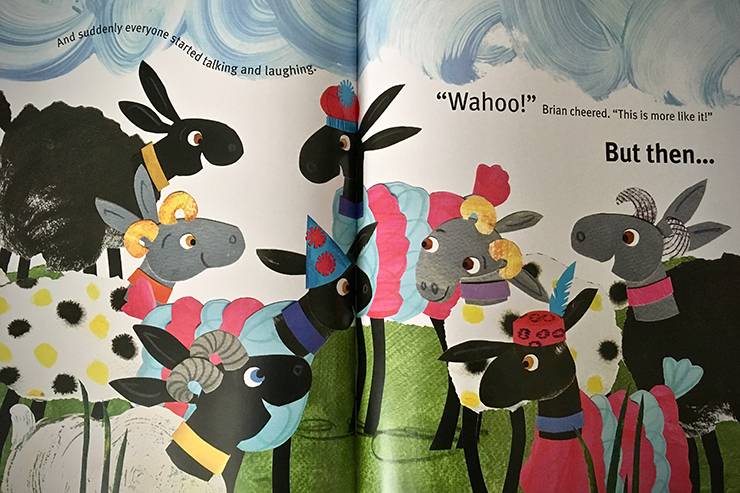 Throughout the second world war, UK pubs stayed open, thereby helping to maintain the national morale of a battered population. And as the war came to end in 1945, Winston Churchill took it upon himself to ensure they had enough beer for the V.E. celebrations. Today's picture is quite different. More than a quarter of the country's pubs have permanently closed since the turn of the millennium, with small independent pubs bearing the brunt of the decline. For the 75th anniversary V.E. celebrations on 8 May this year, coronavirus restrictions meant that the pubs were all shut. The fear is that, unless special measures are introduced to ease them out of the lockdown, many could remain closed permanently.
Some pubs, however, are not simply sitting back and waiting for that to happen, but instead are reaching out into the community they serve. One such example is The Jolly Brewer on the Ditchling Road. We discovered through online word-of-mouth that they had created a Facebook page – Bedtime Floories – that any frazzled parents can go to at eight o'clock every evening during lockdown and find a read-aloud bedtime story appropriate for their young children. Fascinated, we at SOURCE set up an interview with landlord Matt Graham to find out why.
"We're situated between two schools," he explains. "We know a lot of the parents. Some of them are struggling. Plus, we've got people working here with young kids. And an ex-teacher… It seemed like a good thing."
Indeed it is. And why the odd name?
Matt laughs. "Bedtime is for stories," he explains. "Furniture is for adults."
And so those who tune in find themselves watching and listening to a fully grown child reading one of their favourite bedtime stories – while sitting, or lying, on the floor. The quality of the selected books is certainly high. Since Zach Cain and Abi Itkin kickstarted the idea, kids of all ages have been treated to the likes of Eric by Shaun Tan, Room on the Broom by Julia Donaldson, Hair in Funny Places by Babett Cole, Oliver and the Monsters by Tony Blundell, and of course perennial favourite, Eric Carle's The Very Hungry Caterpillar.
It's working well with some stories getting a thousand hits or more. As Matt says, "Why read when you can have someone read to you?"
Anyone who has been monitoring the Jolly Brewer over the last few years will know that this particular pub has always prided itself on its community spirit. Back in May, 2017, the Argus's Pub Spy identified it as "a brilliant boozer with a great atmosphere". Soon after, though, following the death of the then licensee, it was threatened with closure, a situation that was to arise a couple more times over the following months. Then along came Matt Graham.
Born in Glasgow and raised in Leeds, he had headed to London where he studied graphic design, took up carpentry and barwork in East London. Twenty years later, he moved to Brighton, where he first worked in Kemptown's Hand in Hand. Then, looking to run a place of his own, ended up checking out the Jolly Brewer. With its domed turret, glazed red-brown tiles, etched glass windows and the original 19th century TAMPLIN'S BREWERY sign, spelled out in mosaic letters above a painting of the eponymous brewer, it interested him at once. And when he stepped inside, that was it. He decided, as he put it, "to give it a shot", and on 6th March 2018, the contracts were signed.
Since then, the place has flourished, developing a reputation for its friendly atmosphere and varied events. There is a weekly quiz night; a sea shanty night; a karaoke night, where punters select a song from the menu and perform it accompanied by Glen on piano and, following an enquiry by a local woman by the name of Frances, a weekly Irish music night. And then there are the occasional DJ evenings, each one dedicated to a specific artists – New Order, Talking Heads, Scott Walker, The Fall… As Matt explains, "We've always wanted to respond to what local people want."
It was therefore no surprise that when the virus struck and the Jolly Brewer was forced to close down temporarily, that Matt and Zach and Abi and the rest of the team would want to reach out to help local people through these extraordinary times. The broadcasts have become, as one local parent described to us, "an oasis" in her day. And with no decision having been made as to when the nearby schools will open, the daily storytelling continues to be a valued resource.
Back last month, there was one night when someone dropped out. Keen not to disappoint, the team posted this Dr Seuss meets Dr Dre mash-up of Fox in Sox. We don't know what the kids who heard it might have thought, but for us it was the highlight of our week! As we go to press, it is still uncertain how long this lockdown will continue. In the meantime, our thanks go to pubs like The Jolly Brewer for doing their bit in making the situation a little better for us all.