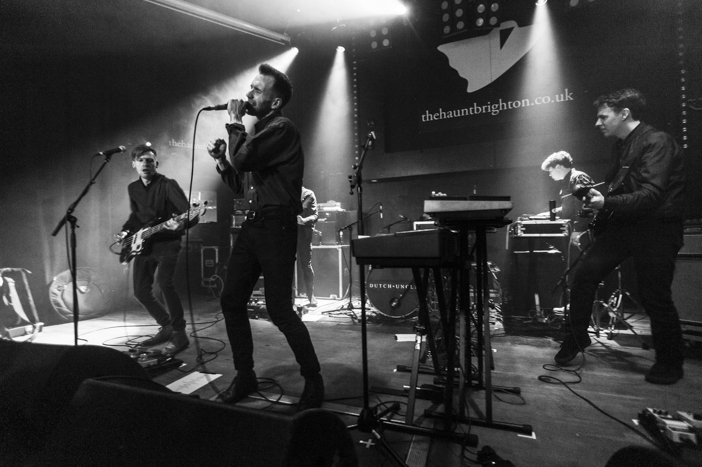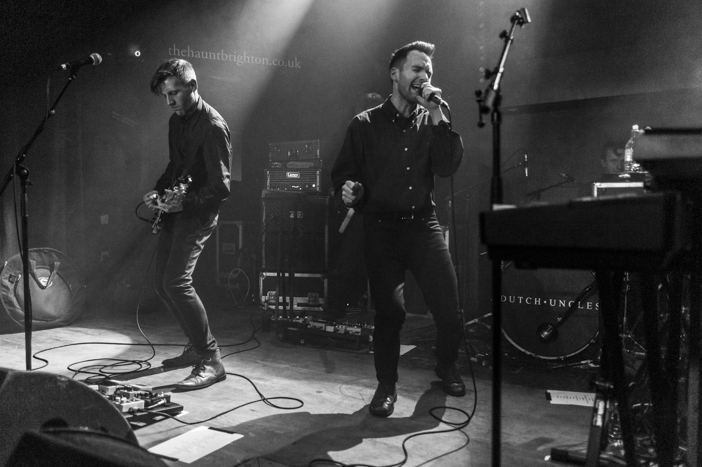 Dutch Uncles brought their uplifting upbeat sounds to The Haunt for their 'Big Balloon' tour that's just over mid-way through. There's no evidence of slacking though, as frontman Duncan Wallis didn't hesitate to energise the audience with his jittery hip thrusting and quirky anec-jokes.
'Big Balloon' is Dutch Uncles' fifth studio release, their fourth on Memphis Industries, and deviates from a solitary theme with the album encompassing an array of issues from austerity cuts to fried chicken to therapy.
Notable highlights include 'Streetlight', a high-tempo disco track with heavy bass riffs accompanied by Wallis's androgynous vocals discussing coming to terms with loneliness; and 'Same Plane Dream' that addresses benefit cuts and Tory double standards. Both as fast paced as each other, Wallis ironically quipped afterwards "we get blander and blander and one day we'll transform into Travis, or something… and that would be great!".
Consistently dependable, the Manchester art-pop alternatives crammed in a full set of tracks, going all the way back to their first ever recorded 'I Owe Someone For Everything', a song about love. And there was clearly a lot of love and reciprocity in the air tonight – with one couple of fans receiving a special dedication for coming to every show of the tour.
Dutch Uncles closed with the 'Big Balloon' title track, a song that's been consistently featuring on BBC 6 Music since the start of the year, before returning for a three-track encore. This included 'Flexxin', from album 'Out Of Touch In The Wild', and summed up the atmosphere of the night when it had everyone clapping as guitarist Pete Broadhead took to the cowbells; meanwhile shapes where thrown on the dance floor to the lyrics: "When you put it in a dance, I see it, you are my plans".
The Haunt, Saturday 11th March 2017
Words and photos by Francesca Moore