Following the release of their latest album 'We The Collective' and to celebrate their 30th anniversary, Levellers brought their One Way Of Life tour down to Brighton – where it all began.
Given Levellers' reputation for live shows (their 1994 headline set at Glastonbury is often referred to as one of the best Glastonbury sets ever), we weren't sure whether the half-seated, half-standing layout in Brighton Dome was appropriate for tonight's gig. The seated folk up in the circle probably had a completely different experience from the ravers below, who got the full Levellers experience which included mosh pits, jumping in unison and the occasional beer being launched into the air.
The show kicked off with 1990 classic 'England My Home' (which was re-released with an acoustic arrangement in 'We The Collective' earlier this year), quickly followed by some of Levellers' greatest hits including 'One Way' and 'What A Beautiful Day'.
Devoted fans proudly sang along with frontman Mark Chadwick during quieter songs like 'Julie', and it was moments like these that truly demonstrated the strength of the band's fanbase here in Brighton.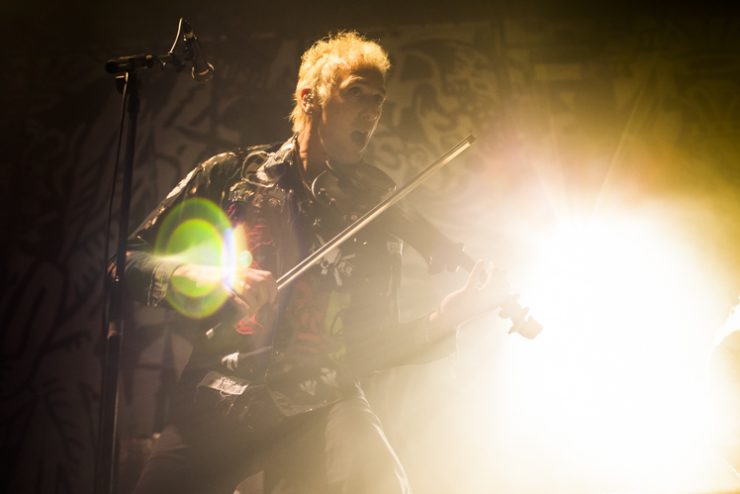 The audience seemed to enjoy it even more when the tempo increased as the show progressed. More and more people got off their seats up in the circle because sitting still was no longer an option.
We were also treated to a short appearance by Stephen Boakes on didgeridoo, which, along with the stage lighting and funky neon colours, helped create a whole new ambience.
Levellers' folky punk style is unique and, most of all, fun. They are an amazing band to watch live; they bring everything they've got to the stage and their fans happily embrace and reflect it back.
Brighton Dome, Thursday 22nd November 2018
Photos and words by Gili Dailes