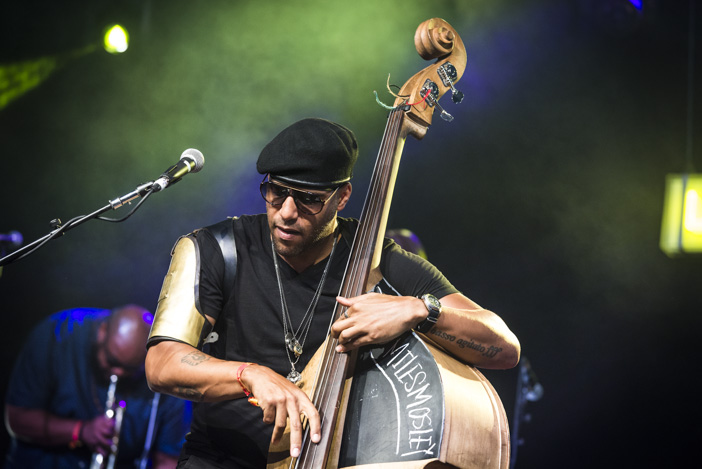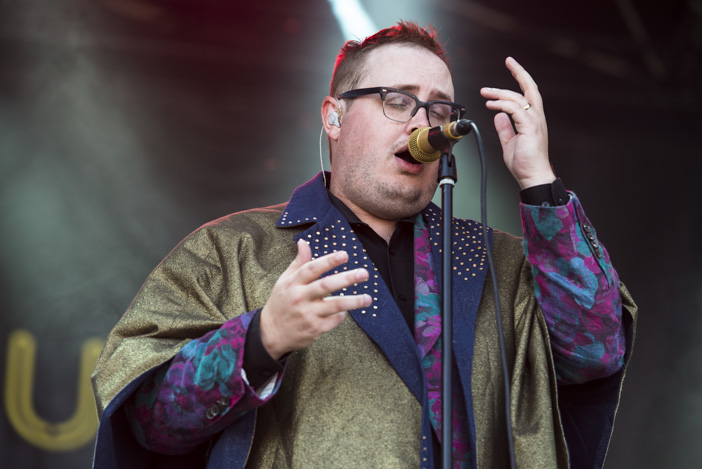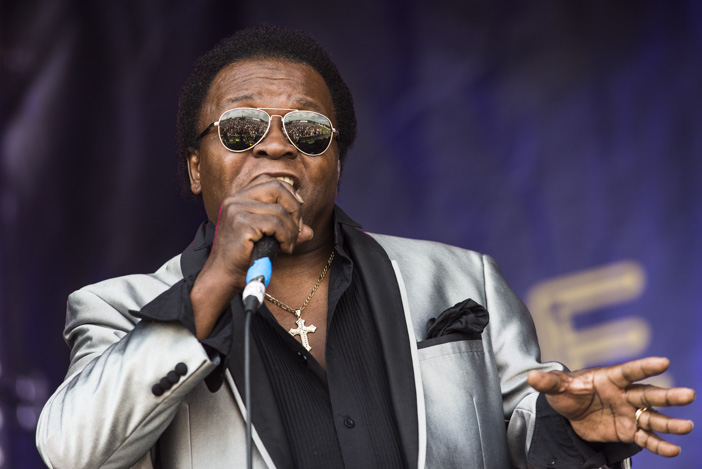 Now a strong five-year-old, Love Supreme has become not just the UK's finest jazz festival but one of the most enjoyable and smoothly run festivals of any genre. Rather than resting on their laurels, the programmers really upped their game with another line-up of incredible soul and jazz artists, old and new. It's a festival so you expect to get stung on the bar prices, but the wide variety of food on offer was reasonably priced and the toilets were much cleaner and better maintained than some of Brighton's major venues (you know who you are).
The main stage opening act, LaSharVu, a trio of talented session singers easily won over a large crowd with their soulful harmonies and down-to-earth banter. Seasoned funk/soul singer Lee Fields gave Sharon Jones her first break and his Expressions band, much like her Dap Kings, played strong, tight funk to complement his powerhouse vocals as he screeched and span his way through a set of heavy soul originals.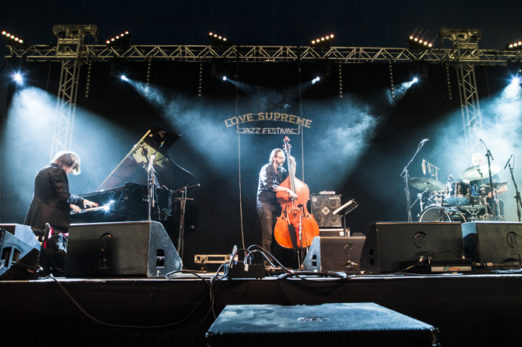 Gentler sounds could be found in the tents from Michael Wollny's piano trio and Mammal Hands' sax loops, while the inventive bass lines from Corinne Bailey Rae's soft summery songs recalled Minnie Riperton's later output as they floated out from the main stage.
Without doubt the star of the day was Shabaka Hutchings who played three stellar sets with three completely different bands. From The Ancestors' Afrocentric chants to The Comet Is Coming's future dance set via Sons of Kemet's furious funky sax, tuba and double drummer improvisations, Hutchings proved himself to be the man of the hour.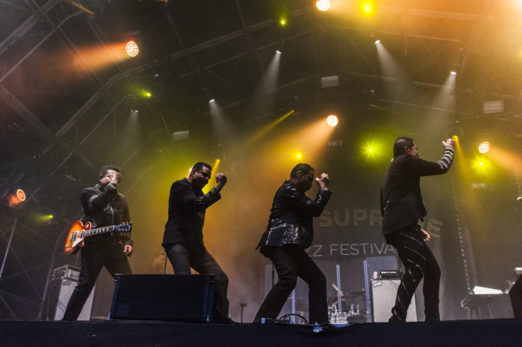 Herbie Hancock marked his festival debut with a capacity crowd and a set that heavily featured his funky 70s output, complete with vocoder vocals and a thumping 'Chameleon'. The day closed with The Jacksons running through their and Michael's hits in a well-rehearsed show that the sellout crowd lapped up. Jermaine and Jackie's lead vocals were the strongest and the Jackson 5 medley was exciting with 'I'll Be There' providing a moving moment. There was some filler with family home movies and Marlon's James Brown impersonations but the disco classics were a joy to experience.
There were tributes to Ella Fitzgerald by Mica Paris whose light-hearted set of American Songbook classics drew a huge crowd while Gil Scott-Heron's work was given an acoustic overhaul by the formidable vocals of Charenee Wade.
Now a Sunday staple, Terry Pack's Trees, on the bandstand, were an unmissable start to the day with their sumptuous big band and chorus sounding like Rotary Connection channelling Coltrane. A quick dash to the main stage was rewarded with a scorching performance from Columbia's La Mambanegra delivering a hard Latin funk and salsa set. This was enjoyed by a large crowd including The Hot 8 Brass Band who followed with their irresistible brass funk repertoire that now includes a surprisingly effective Joy Division reworking.
Kamasi Washington had a busy day that began with a panel discussion where he mused on what John Coltrane's Instagram feed would be like, to sitting in with old friend Miles Mosley's set of West Coast deep funk infused with flashes of Hendrix on his wah wah double bass. Mosley returned the favour by bringing his West Coast Get Down crew to guest on Washington's own set, showing his funkier side during a powerful hour of heavy duty soulful jazz.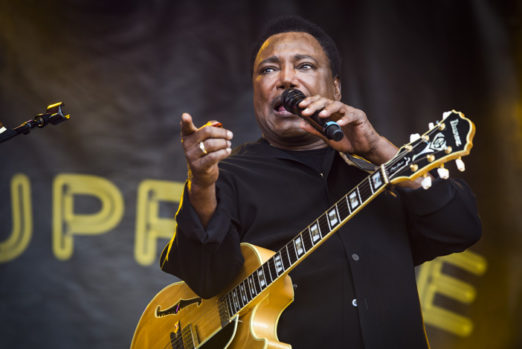 The legendary George Benson showed he'd lost none of his guitar skills as he crooned and soloed his way through an hour of smooth disco hits, instrumental crossover hit 'Breezin' and the classic 'On Broadway'. During the set we sneaked a peek at Yussef Kamaal's set which was full of dancing teens and twentysomethings who'd probably never heard of George Benson.
Despite a few road-weary cracks in his voice, returning hero Gregory Porter remained the people's champ as he closed the weekend with a ballad-heavy set lifted by uptempo gems including a gospel-powered 'Liquid Spirit' and the instantly familiar bassline of his modern civil rights anthem '1960 What'. As with other performers throughout the weekend, dedications were made to the victims of the recent tragedies in London and Manchester.
There was no big showstopper ending but Porter returned for a final song, the tender 'When Love Was King'; a fitting way to end a glorious weekend of new music and old favourites performed at a festival that improves year on year.
Love Supreme Festival, Glynde Place, 30th June – 2nd July 2017
Words by Steve Clements
Photos by Fran Moore