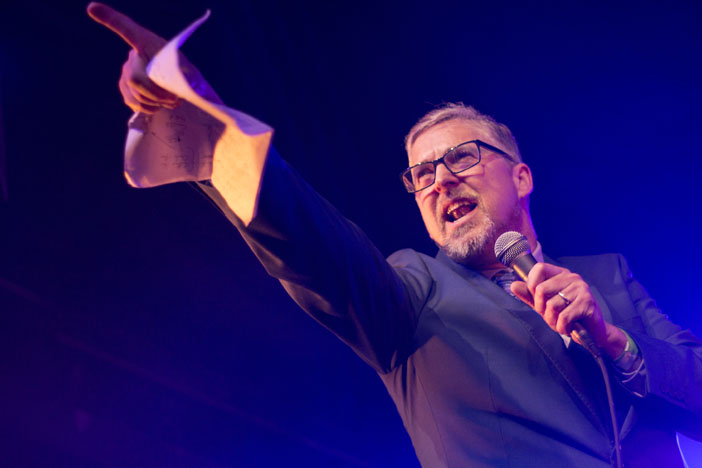 This annual spoken word battle has proved time and time again that it's much more than the sum of its parts. Hip hop gigs rarely involve so many gimmicks, and as the rappers like to point out, there are never this many people at poetry nights.
Poets Vs MCs is now a wholly different beast to the event that took place 15 years ago in The Full Moon (now The Coal Shed restaurant), though we can't imagine that many people besides host Tom Hines can remember what went down that night. His counterpart and co-host Rosy Carrick, who has only been involved a mere ten years, recently announced that this would be her last time. So before the event has even begun it feels a little like the end of an era.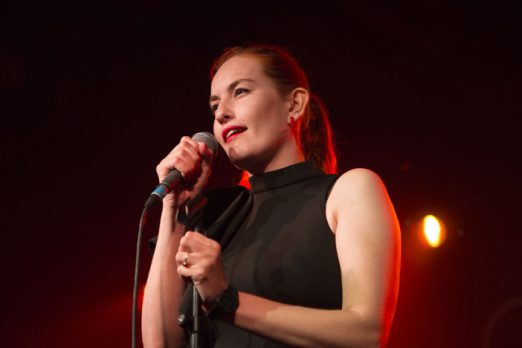 When poet and token northerner, AP Staunton, takes the mic for the night's opening piece, he warns us that he's never performed before with musicians. Nevertheless his down-to-earth story of a failed romance between a construction worker and a patronising activist sits perfectly with the accompaniment provided by local hip hop jazzers Normanton Street. His phrasings hit the beat and the timing of the poem's big reveal comes off brilliantly. It's a surprise mix of pathos, political ire and improvised mood music. So straight off the bat, we're already applauding the unexpected.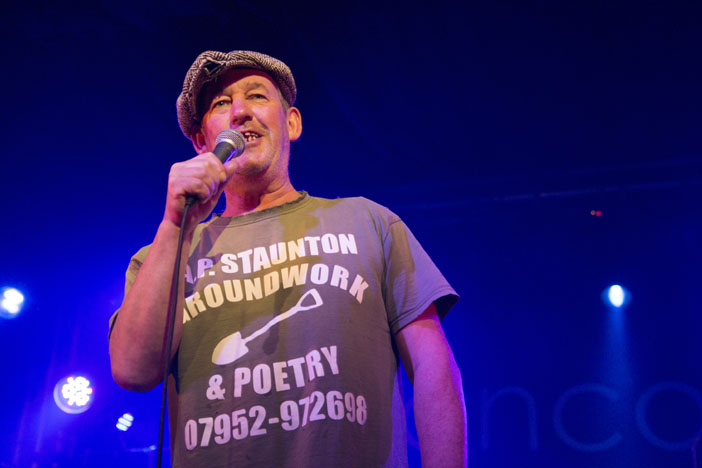 In retaliation, the MCs unleash Boudicca onto stage. This young Brighton rapper marks her first appearance at the event by tearing through a sassy grime tune with inspiring confidence. Again Normanton Street excel in their role as an all-in-one house band, laying down a groove so solid we're surprised they've not rehearsed it with her beforehand. The musicians also ably back teenage rapper Ironmaster who travelled all the way from Edinburgh for the event. His delivery is compelling but the combination of rapid lyrics in a Scottish brogue leaves guessing as to the content.
There are two newcomers on the poetry team as well. Sophie Brown's humorous snapshots of modern life are so short she finds time to fit three into her slot, ending with the ominous true-life tale of the stranger in the supermarket who told her "I've been in your house. Think about that." In a different vein altogether, Connor Byrne performs a frank and personal piece about bringing a boy home, and all at once it opens up the possibilities of the night without dinting the atmosphere.
Likewise, the awkward response to Sir St. John-Scarpia's lordly manner soon unfurls into applause and laughter as it becomes clear that poet Mike Parker is both spoofing the attitude of a supercilious Tory and using the character to poke fun at the audience. The unexamined assumptions of Labour and Green party voters are thrown into the ring alongside a clever expose of the ugly truth behind Conservative politics. He almost manages to get everyone chanting along to the "P.O.W.E.R." chorus, while Normanton Street do an off-the-cuff version of Corbyn's unofficial anthem, aka The White Stripe's 'Seven Nation Army'. It's a bizarre spectacle, but it's spot-on in so many ways.
As a final riposte before the break, the rappers come back with a set-piece duet from Sombras involving a big backlit screen and some kooky shadow-puppet posing. The unannounced strobe lighting sends some reeling outside, while the multilingual rapping (Sombre is Spanish for shadow, we learn) leaves others wishing we'd spent more time with our phrase books. As always John Clark and Collette's act packs a theatrical punch, even if foreign language rhyming seems an oddly alienating feature of a spoken word show.
At the midpoint of the night comes the cipher, an all-ages free-for-all freestyle which sees rappers jostling for a chance to spit a few bars over DJ Tyni's beats. Even though it's all in English, some of it is incomprehensible. There's a section where the speed of the syllables is notched up to double time and it's both hugely impressive and quite comedic. We take our hats off to anyone who can construct sentences even faster than we can think, but it's impossible to tell whether those sentences are gems or gibberish.
In any case, it's nice to see some familiar faces on stage and we spot at least one of member Rum Committee in the throng. A big cheer goes up for Gramski whose farewell appearance in 2017 perhaps wasn't as final as we'd been led to believe. He does a bit about how much he's enjoying the show as a punter, and it's a nice touch that he's back in the pack sharing the mic.
Last year the cipher was jammed with youngsters from Tom Hines' AudioActive group, but this year many stayed away. Apparently one of them told Hines that they would "rather rap in a room with my mates than do it at the Concorde in front of 600 dickheads". There were other mutterings about the event having lost its hip hop following, so it seemed sad but made sense when Hines suddenly announced he was going to stand down as host. "If Rosy's going, then so am I," he said, trailing the revelation with a barb. "Otherwise, I'd have to do it with Mike Parker."
This then is the vibe that opens the battle round. However, there's a distinct lack of battling in what follows. Robin Lawley, who stumbled awkwardly through a slot in the first round, recaptures the crowd with a call and response poem encouraging us to shout "pointless!" after each of his amusingly pessimistic one-liners. It works slightly too well, and once the audience is armed with this readymade heckle it's only a matter of time before they turn it back on the poet.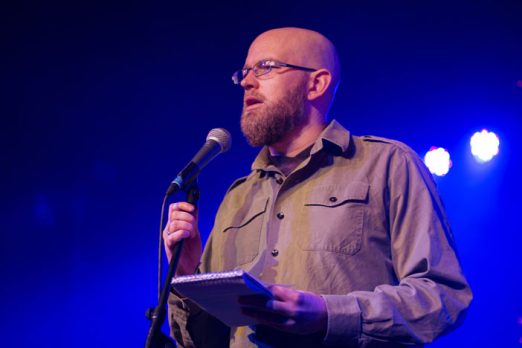 Tellingly it is left to the newcomers to trade blows. Boudicca and Connor Byrne both attempt some traditional takedowns, but while Boudicca's rap is arrhythmic, Connor seems a bit too nice to go beyond gentle jibes. AP Staunton and Sophie Brown stage an entertaining north vs south stand-off, full of self-deprecating stereotypes, but since they're on the same team it leaves the rappers unscathed. Slam The Poet, representing the MCs' team, gives us a dense and demonstrative poem which blurs the battle lines further.
A speed writing contest, seeded by audience suggestions earlier in the night, sees 15-year-old rapper EbenFlo taking on seasoned slam poet Jah-Mir Early. Both display a talent for penning quick rhymes, even if the terms they're tasked to include – Siamese, rambunctious, cabbage – lead them into some awkward detours. EbenFlo trips up by repeatedly mispronouncing 'rambunctious', which wouldn't be so bad if he didn't mistakenly accuse his opponent of missing one of the words. Finally, some friction is generated.
Perhaps one of the reasons for the lack of antagonism is the fact these performers have been at it for so long. Jay, a last minute stand-in for an absent MC, does a slot full of amiable banter and entices poet Chris Parkinson to join him in a recap of the latter's 2016 catchphrase "Rappers love GUNS! GUNS! GUNS!"
Perhaps in a bid to avoid repeating past putdowns, Chris himself decides to mock the other team with fictitious and fanciful accusations. Drawing from his sideline as an inventive internet troll, Chris effectively throws fake news at the enemy – and some of it is hilarious. Spliff Richards, who wowed the audience earlier with an impassioned piece full of humour and good grace, is demonised as the owner of a trebuchet who uses his personal siege weapon to lob cats into the sea.
Jon Clark returns with his shadow screen to project pictures of Margaret Thatcher as part of a singalong rap which paints poet Mike Parker as a man fatally trapped by his Tory persona. Jon's verses are peppered with callbacks and feature recorded snippets of Gramski impersonating Mike from last year. It's an excellent rejoinder which cleverly weaves in Mike's second piece about his love of rock'n'roll, and it feels like a cross between a public trial and an exorcism. "By the power of Led Zeppelin!" they chant, while Mike joins in with an impromptu striptease from behind the screen.
For the first time in years the hosts encourage the crowd to cheer for the winners. Though it's closer than it's ever been, and the performances were superb all round, it seems the poets have pipped the MCs once again. By this point Rosy and Tom have decided they're having too much fun to step down as hosts, and both promise they'll be back next year. Even if it's not the end of an era, it feels like maybe some kind of reset is in order. The veteran performers may have lost their enthusiasm for battle, but the drama keeps unravelling anyway, even after a decade and a half.
Concorde 2, Thursday 18th January 2018
Words by Ben Bailey
Photos by Ashley Laurence