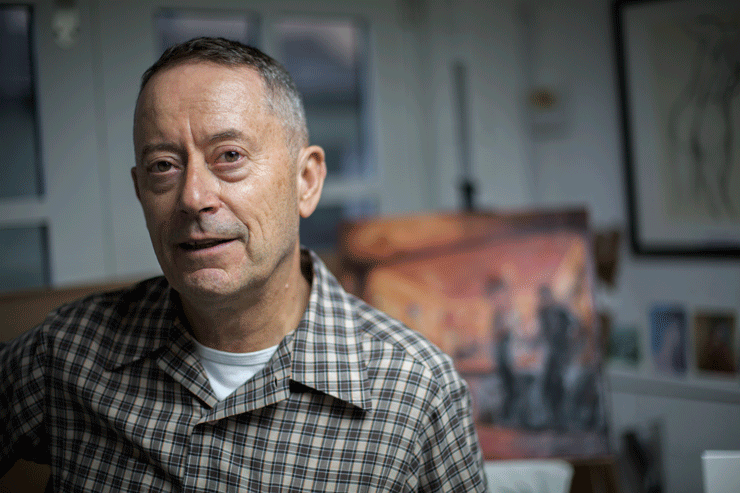 It was an oil painting, 'Rainstorm', that first alerted us to the talent of John Whiting. An impressionist swirl of muted colours, it captures the raw power of the elements, as thrashing waves and driving rain swallow up a hapless Brighton pier. In the exhibition currently running at 35 North Gallery, we are offered an intriguing insight, not only into the way such a powerful work of art evolves, but also into how this particular artist sees the world.
As John talks briefly about his life, it is soon clear that every aspect has proved relevant to the artwork surrounding us. A childhood spent in Bexhill-on-Sea has left him with a lasting fascination with the power and moods of the sea. A career in architecture has led to an exploration of structure, of building materials, of shifting fashions of design down the centuries– as well as the relationship between the buildings and the people who inhabit them. And years spent in Hong Kong and Australia, plus extensive travelling, have ensured that there is nothing parochial about his take on his subject matter. Then there is the gallery itself.
After years of thinking "wouldn't it be nice if we could display artists' work…", John and Sharon Whiting took the plunge and bought the property that has now become 35 North. It is five years old next month, and it is altogether appropriate that it is John's work on display to celebrate this important anniversary. Each show they put on is for a month. Sometimes they seek out a specific artist; sometimes they are approached. Their main criterion is that "it is original work of fine art quality", but concede that they must also "like it at some level". Over the years, the works of talented painters, sculptors, photographers, printers have been put on show, and their links with Brighton's MET Art Foundation Course mean that many students have found a place here for their first public exposure.
As we walk around the gallery, we are first drawn to a picture that recalls that first oil painting we saw. Entitled 'Stormy Pier', it is another take on the coming together of a temporary manmade structure and the eternal elements that, given time, will erase it. Moving on, our attention is gripped by two pictures which, although depicting a similar location – the inside of a railway station – could hardly be more different.
One, with its pastel colours, is a wonderful evocation of an evening scene, the figures in the picture dwarfed not only by the grandeur of the architecture, but also by their own shadows. The other is altogether more deconstructed. Starting from a photograph, John applied a few structural dots to the paper, then recreated a bustling scene with the most delicate of ink lines. Close up, they become completely abstract, and it is almost magical the way, as one steps back, the arches, the pillars, the commuters and holiday makers take form.
As well as this and other black and white ink sketches, there are many colour works in the exhibition. These also vary. With some, he will mix the blocks of ink with water first, then create a delicate wash; with others he applies the ink direct, like a crayon, then adds the water later, creating smudges and smears that vibrantly capture the colour, movement and light of the scene. It is no surprise to hear that, as well as Edward Hopper and Monet, Turner has been an important influence on his work.
We ask why he chose to use this type of ink, rather than the more traditional bottled variety, and he explains that is more convenient when travelling. And John has travelled extensively. The exhibition includes sketches he has made in Madrid and Milan, Palma and Paris, Florence and New York. Everywhere he goes, he gets down impressions of what has caught his interest, and later aims to 'retain the spontaneity' of those moments he has captured – the jaunty tilt of the cowboy hats worn by the tourist police in Times Square; the 'invisible footpaths' carved out by tourists at the Ponte Vecchio and the crowds of commuters in the spellbinding 'Waterloo Rush'.
We complete our tour of the exhibition feeling as though we too have been on a long journey. We have caught glimpses of places at home and abroad; we have been caught up for brief moments, both in the power of nature and with the frenetic pace of human activity. But, through his sketchbooks, we have also been invited to share the cool, comtemplative eye of an artist who is constantly seeking to capture what lies just beneath the surface. It has been a privilege.
Artist portraits by Ashley Laurence
Vignettes: An Exhibition Of Ink Drawings From The Sketchbooks Of John Whiting
Running until 14 September 2019
35 North Gallery