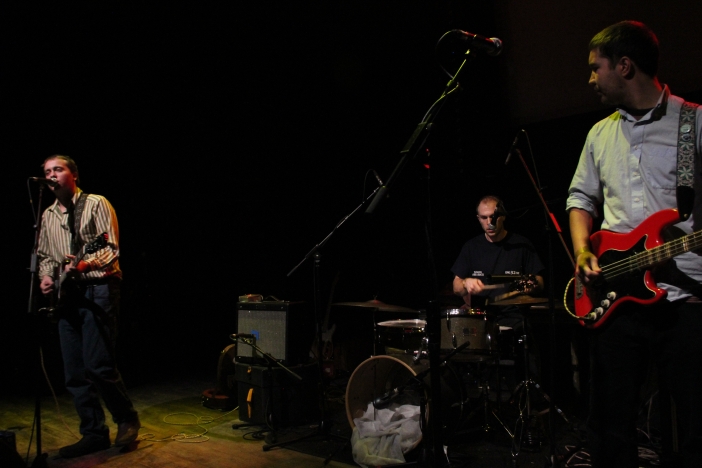 "You've got no style," sings Jonny Helm of The Wave Pictures leaving the drums for an a cappela interlude. "And perhaps that's why I like you the best."
The sentiment is an apt one for this ill-dressed indie band. Falling somewhere between geeky and straight-up square, the London-via-Leicestershire trio aren't planning to win over any hipsters tonight. But who cares about hipsters? As Leonard Cohen said, "We have the music".
The SOURCE first heard of the band during an indie disco in a marquee at last summer's Indietracks Festival. Within half an hour we'd pestered the DJ twice to ask who a song was by and both times it was The Wave Pictures. With something akin to teenage excitement we got home and began downloading our new favourite band. It was an added treat to find out we had twelve albums to catch up on. Hipsters would never admit to missing out on something for this long.
Anyway, with the damnable cold weather driving away all but the faithful, the warm-up acts had their work cut out. The jangly instrumental meanderings of Hours Hands were followed by some surefooted country pop courtesy of The Galleons. Neither was very much in keeping with the headliners' sparse three-piece sound, but then again they themselves don't do much that's in keeping either.
Opener, 'We Can Never Go Home Again' is all sparkly 60s-style guitar pop, 'Spaghetti' lives up to its name with some up-tempo cod-country while the African-tinged 'Before This Day' has the kind of breezy rhythm that'll probably remind you of either Paul Simon or Vampire Weekend, depending on your age. Elsewhere we get rock songs, ballads and something very like bluegrass. While they may not have style, The Wave Pictures have a lot of styles.
Despite all this, they are unmistakably an indie band. It's just indie bands aren't usually this musical. In other words, we weren't prepared for the sheer number of guitar solos. There are those who deign to frown on the concept of the solo – either because it treads too close to the dreaded land of jazz or simply because it reminds them of the dark days of cock-rock. Not so, David Tattersall. He loves them. It's almost like the eclectic turns are a pretext for mixing up blues rock riffs, top-fret calypso runs and high-speed finger-picking. It's all impressive stuff, but every song?
What holds this curious mixture together is the sardonic lyrics and simple insistent melodies. By turns comical, deviant and romantic, Tattersall is a fine lyricist, adept at finding a heartfelt and often cheeky slant on well-worn pop song subjects. Best of all is the encore, 'Strange Fruit For David', a discussion on art and sex which combines the sensitive-boy-talks-smutty side of Neil Hannon with a ludicrous, insanely catchy chorus about death.
It was a modest crowd at the Haunt tonight. Despite constant touring The Wave Pictures have yet to make much of a ripple in the mainstream. Much as their press blurb talks of 'being on the cusp', this lot are likely to be the subject of much exasperated indie-kid debate. Why aren't they more famous?! It's like Hefner all over again.
Haunt, Tuesday 4th December 2012
Words by Ben Bailey
Photos by Jon Southcoasting