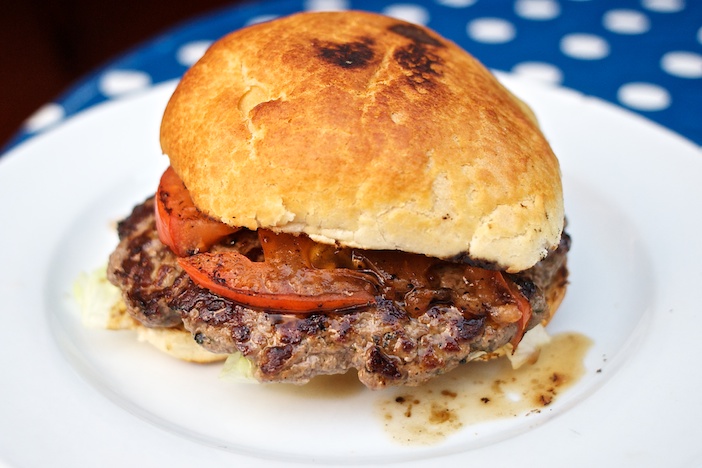 When we did our burger round up we were blown away by Hove's Burger Off! – for the money they made such a great meal we could have eaten it every day. But the SOURCE Bunker is in Brighton and we don't get over there so much. Our tears have evaporated now because there's a pretender to the throne. The simply-named Brighton Burger, a kiosk in the little square behind where Rounder used to be (it's opposite Fat Leo), just invited us to try one of their burgers and we reckon it might very well have won our round up.
Handmade from Herefordshire beef, the chef – aptly named Julian Cook – told us he about the cuts of meat he chooses and how he never buy frozen burgers when he can make his own. His confidence lead us to eschew the wide range of toppings and take it straight up. And we were pleased we did. The flavours screamed out – this is a burger that tastes nothing like supermarket mince – and it was so tender. But what really pushed this top the top of the chart was how moist and juicy it was without being fatty. It was all held together in a perfectly toasted, slightly caramelised soft bun. And best of all? The burgers start at £2.90, as much of a bargain as our beloved Burger Off! and probably even better tasting.
This isn't a Secret Eater as we didn't pay for our food, but we have no qualms recommending this place. A place that love burgers and much as we do.
Brighton Burger
11a Market St