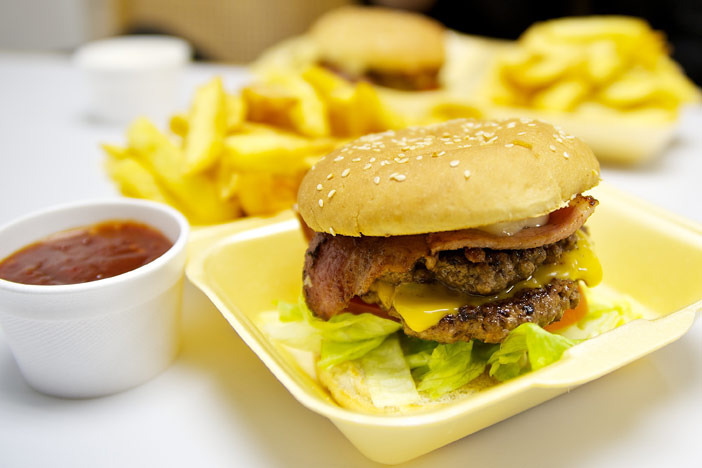 It was quite a mission but one that we knew was right as soon as we thought of it. And you agreed. Hundreds of you nominated and argued on Facebook and Twitter, telling us where we must go and where we shouldn't (including, frequently, a couple of places that ended up in the top ten). We set ourselves some rules to try and make it even. At each place we tried to have the same burger – a bacon and cheese burger – with chips, so all the prices shown include chips. A lot of the places we ate charged an extra pound for the bacon and another for the cheese, so those are included in the price shown too. We can understand a slice of pig costing a quid, but £1 for some cheese? Surely burgers need cheese as much as they need a bap to hold it all in – it shouldn't be a paid extra.
We don't want to ruin the surprise, but Burger Off! beat all comers with a £3 option (plus £1 for chips). How can that be, with the obvious love that's gone into, say, the Coal Shed masterpiece? Well, for the money Burger Off! was truly exceptional, way above what you'd expect from a takeaway hamburger. The Coal Shed's burger is absolutely worth the money (if you have it), and you'll love every bite. But Burger Off! punch so far above their weight they had to take the prize.
NB: Since we did this round up we've had two more excellent burgers, Troll's Pantry and Brighton Burger. Read full reviews by clicking on their names. Next stop the also excellent Burger Brothers.
Basketmakers Arms 
£9.50 – Gloucester Rd

We're not sure the photo does it justice but the burgers that The Basketmakers serve up are almost two inches thick. Two inches! Go and measure that and have a think about it. They're very mince-y, but that's not a bad thing. Lots of flavoursome white cheddar cheese balances it out but this is all about the meat. The dusty white bap doesn't concern itself with salad but there's plenty on the plate to drag in if you like, and there's a decent portion of crispy chips to go with it. The bacon is slightly lost in the masses of local beef, so we'd recommend saving a quid and skipping it. The tangy relish makes its presence felt though. The Basketmakers – as if you didn't know – is a wonderful place to relax into a beer in the afternoon and adding a burger to the mix can only make life better. One word of warning: it's not easy to eat with dignity.
BBQ Shack 
£8.95 – The Globe, Middle St/The World's End, London Rd

Whether you go to the one at The World's End or the new set-up at The Globe (we tested the latter), BBQ Shack is one of the very best places to eat in Brighton. They really know their meat, so it was disappointing that the only criticism we had was that the beef was a touch bland, despite being wonderfully crumbly. That's not a huge problem because as a whole meal it's great – coming with onion rings, a huge salad and loads of chips. Strangely there was no cheese and no sauce, but worry not, as sauce is what the BBQ Shack does so well. They're happy to bring you out a whole range of delights as either dips for your chips or to scoop into your burger. To be frank, if you're having burgers here you're missing out on more interesting barbequed treats like brisket or pulled pork, which are possibly better than the best of this top ten. In the meat-in-a-bap world BBQ Shack is in a class of its own.
WINNER: Burger Off! 
£4 (double bacon pictured, £5.10) Brunswick St West

Grubbs may have got more votes but the support from those nominating Burger Off! was fanatical. And now we know why. Tucked away down Brunswick Street West, the place itself doesn't look like much but there's plenty of seating in what used to be a greasy spoon café and we're here to eat burgers anyway. And what burgers they are, ticking off everything on our want list: chargrilled, homemade, thick, juicy. How they manage to make a burger this good for £3 we have no idea, but the guys at Burger Off! seem to have nailed everything, from not having too much bun to making sure there's plenty of sauce in there. Yeah, the chips aren't much to write home about – typical thick, frozen stuff you normally get late at night – but they do come with large dips for 45p. The only thing to avoid on the menu is the famous XXX Hot Burger, the world's spiciest burger. These hamburgers are tasty enough on their own merits.
RUNNER UP: Coal Shed
£11.50 – Boyce's St

This new restaurant isn't messing around. They deal with proper, serious foods like grilled bone marrow and steak tartare so you know when they construct a meal as humble as the burger they're doing it with much care. With an extra quid for cheese and another for bacon this comes at the top end of the spending scale but the money is right there on the plate. The bacon is thick cut and richly smoked, while the gherkins are polished off even by the non-believers. And the meat itself? As you'd expect from such a carnivorous place, it's exceptional. One of the few places to ask how we'd like the burger cooked, the result is particularly juicy and has clearly come from minced steak. The whole thing is beautifully presented, leading us to ponder if we're allowed to eat with our fingers. Almost better still are the chips, hand cut and cooked in dripping – as good as any chips we've had in Brighton. An incredible burger that's put together with care – it very nearly won.
Earth & Stars 
£10.45 – Windsor St

For well over a year now – a lifetime in Brighton pub terms – the Earth & Stars have been known for their excellent roasts. But it's not only on Sunday that they make great food, as their burgers show. There are lots of unusual flavours here including aniseed in the relish, which shows how much thought has gone into it. The meat is crunchy on the outside and pink in the middle while the bacon is satisfyingly crispy. Slightly bready, but it's nice and sloppy, something helped by the 50p offering of caramelised onions – a very good move. The chips and excellent salad make this seem like a proper meal, which is a good thing. The only downside is that a mix up with a new menu meant that we didn't get any cheese. When we flagged it up they didn't remedy the problem for us. We've had good service in there before so we hope it was just a blip. Otherwise a premium priced but very good burger.
RUNNER UP: Gourmet Burger Kitchen 
£9.95 (Habanero pictured, £9.55)  – Gardner St

There was much Facebook and Twitter debate as to whether GBK ought to be included at all – it being a chain, essentially owned by Nandos – but burger lovers simply can't ignore the place. Most notably GBK chargrill the burgers, giving that all-important crispy edge. The beef is extremely tasty and there's chorizo and lamb options too. But what impresses us most was that when we ask to have a burger without the bread for one of our wheat-intolerant Secret Eater team their plate turns up with a substantial salad and coleslaw, making the rest of us jealous. No big fuss, it just appears. Good sauces too – the chili giving a nice burn while the onion relish is beautifully sweet. The only disappointment is the French fries which are as skinny as the crisps of the same name. While they're enjoyable enough to eat they're strangely unsatisfying. But grab a window seat, people watch and enjoy the best chain burger in town by a mile.
Grubbs
£4.95 – Western Rd/York Place/Lewes Rd/St James St

What can you say about Grubbs that hasn't been said before? Really, if you haven't eaten in Grubbs then you're probably too stocked up on organic buckwheat to bother with crap like beefburgers. And you're missing out. Regularly described as "much better than McDonald's", that's selling this homegrown micro-chain short. The burger's not homemade and is a little thinner than most of the top ten but it's tasty, and really the Grubbs experience is about the huge, great value, range of options, including the underrated Hawaiian containing the curveball of pineapple ring. The bacon burger is one of the most expensive at £3.40 but probably the best. Juicy, with plenty of mayo and a processed cheese slice, it's lovely and soft all the way through, perhaps because the bread is a little airy. The chips are thin, crispy and really good, and come in generous portions. The Grubbs burger is like an old friend – and there's probably one on your walk home from the pub.
Mucky Duck
£9 – Manchester St

We were slightly concerned about the Mucky Duck. The food in the new pub has been consistently great but the chef left and now there's a whole new menu. But on the evidence of their burgers the Duck is still a great place to eat. Uniquely the burger mix includes stout, shallots and bacon, and you can especially taste the booze. The juicy burger is lightly cooked all the way through and crunchy on the outside, just how we like it, and the taste screams at you. It's beautifully presented, though the crunchy ciabatta might not meet everyone's approval. There's a nice fresh salad and excellent chips, second only to The Coal Shed – fluffy, chunky with their skin on, and oh so potato-y. It appears rather dainty on arrival but is perfectly filling and pretty reasonably priced. We've loved eating in The Mucky Duck and we're pleased to report that the food is still as good as the atmosphere.
Rockola
£5.95 (Rodeo burger pictured, £7.95) – Tidy St

Rockola is the least authentic of the retro diners we visit – the beautiful 50s tables are at odds with the Kiss memorabilia and Kate Bush records on the walls – but there's a definite charm to it and quite a few rockabilly girls in there when we visit. Any eatery that's joined to a record shop (Wax Factor) is off to a great start, and with burgers just a part of a full menu there's plenty to go at. The burger itself is thick, meaty and juicy and fell apart as our uncouth troughing pushed it out of the toasted bun. We consider this a very good thing – it all got nicely messy by the end with lots of sauce involved. In an ideal world we'd have liked the plentiful bacon to be a bit crispier or the fat to have been cut off, but the processed cheese worked well. There's a generous portion of chips which come with a pot of gherkiny relish as a great bonus. A real bargain and a nice atmosphere to eat it in.
Woodies 
£8.95 – Kingsway

Of the 50s-themed diners we went to, Woodies was the one that really saw the concept right though – even to the point of giving rather ridiculous names to some of the items on the menu. But it's really aimed at kids and families, being clean and brightly lit, especially when they turn the lights up as closing time approaches, pub style. The burgers are pretty good – chunky, handmade and chargrilled – with thick, tasty, well done bacon, all in a very floury white bap. There's plenty of cheese but a little too much iceberg lettuce and the salad is a bit watery. But the chips are decent and you can split them with onion rings, and it all comes on cool 50s plates with a spangly skewer through the burger. You'll probably get more excited about the sundaes though, which are to die for/during. Overall the 50s experience made it worthwhile.
For more Brighton burgers check out this brilliant blog.
Other SOURCE Round Ups
Tea & Cake
Curries
Fry Ups
Roasts
Or Make Your Own Perfect Burger
Words By Pat Davey
Finely chop a medium white onion. Fry in 2 tbsp butter on a low heat for 15-20 minutes until golden. Increase the heat, add 2 tbsp soy sauce and cook for another 2 minutes. Remove excess butter, spread on a plate and place in the fridge. Once chilled, mix the onion with 1lb coarsely minced chuck steak. Form into 4 rough burgers, no more than 1cm thick. Return to fridge.
Toast 2 white buns, keep warm. Slice dill pickles lengthways.
While heating a large, non stick frying pan, take the burgers from the fridge. Smear with olive oil. Add to the pan. Flip regularly but don't shake the pan or move them about unnecessarily. Don't press them down as this will get rid of the juices. While they cook, season with salt and pepper.
When cooked (approx 5 mins) place a cheese slice on each burger. Add a tbsp of water to the pan, cover with a lid or baking sheet, remove from the heat and leave for a minute – the steam helps melt the cheese. Spread the bun bases with ketchup and American mustard. Stack 2 burgers in each and top with some sliced gherkin. Finish with lightly spread mayo on the bun top.