You might have heard him rapping about local news on Juice FM or seen him fronting freestyle collective The Spoken Herd, or maybe you saw him covered in blood at last year's Poets Vs MCs at the Concorde. We spoke to the rapper, writer and controversial freestyler Gramski to find out why he's often misunderstood and why next week will be his last appearance at Brighton's biggest spoken word battle.
How do describe what you do? And how long have you been doing it?
In my heart of hearts I'm a freestyle MC, but I've grown a lot as a writer, especially over the last year. I started freestyling when I was fourteen and I'm now twenty eight which means for half my life my head hasn't shut up! I freestyle constantly to myself, my girlfriend says I even rap in my sleep sometimes. It would be a burden if I didn't love rhyme so much.
What is Poets Vs MCs and what makes it so special?
Poets VS MCs is the annual battle of Brighton's finest rappers against Brighton's finest poets. I think as a performer what makes it so special is the secrecy around people's pieces. The poets and MCs get along fine all year round but when the buzz for PVMCs starts so does the tension between the teams. It's genuinely not 'a bit of a laugh' while just being a bit of a laugh. Its contradictory nature, competitive spirit and the very talented people involved makes it quite magical.
How many times have you taken part? What's been your highlight?
This will be my fourth and last time. My highlight was definitely back in 2014 when I finished the show with a freestyle that went so wrong but so right. My 'plan' was to showcase my freestyle skills and then at the end mention that my passion for improvisation was not inspired by gangsters or players but Charlie Chaplin. I mentioned Charlie Chaplin about four bars in and then didn't know where I was going from there, it became a raw, quick-witted freestyle that I'm extremely proud of. One of my lines about the poets was: "Kate Tempest is much better than this lot and she's a living love letter to hip hop". Professor Elemental said it was the best freestyle he'd ever heard. I was one happy boy after that.
What, if anything, have you learned from your opponents in Team Poetry over the years?
To be completely honest I've learned more from them off stage than on. From Michael to Rosy to Robin they are very intelligent and genuinely lovely people. We've shared stages, taught workshops, had drinks at festivals and travelled and performed at the Edinburgh fringe together, I respect them all thoroughly. One thing they have taught me is that silence can be very effective. Once they stop reading that rubbish they write their performances are almost tolerable.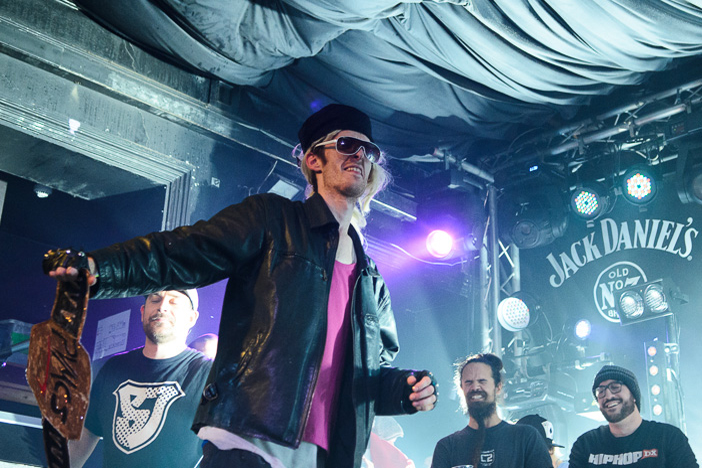 Last year you dressed up as an American Wrestler – what was all that about?
Yeah, what was that all about? I've been a wrestling fan since I was a kid, it's so bizarre and insanely daft I just can't help but love it. I was trying to show that Poets VS MCs has become as ridiculous as professional wrestling in that it is essentially a fake feud for people's entertainment. Sure, the performers have pride in their work, but Stone Cold has pride in his stunner and I'm sure The Undertaker has pride in pretending to be a wrestling dead man.
I was wearing pink leggings, did a bad Randy Savage impression and had fake blood dripping into my eyes after a scouser hit me on the head with an oven tray. I shouted to the crowd: "Admit it, you people came here to see blood!" It was supposed to be a satirical observation on the night as a whole: some bits will be plain silly, some bits will seem very serious, but it's just entertainment folks, don't take it too seriously.
Some people thought you went too far in attacking the team's leader Rosy Carrick last year. What went on?
If people thought I went 'too far' but don't think Rosy did against Spliff Richard in 2015 then those people need to head to YouTube and rewatch it! Rosy was wonderfully brutal, my efforts were dismal in comparison to how savage she went in on Rick. I was misquoted so much afterwards, it made that weekend's hangover even rougher than it already was. Friends of mine hilariously dubbed it #gramskigate, it was a very strange week or two.
Do you think the reactions were justified?
Justified? No. It was all online, not a single person on the night or in the following weeks confronted me about it; they waited until they could misquote me from the comfort of their living rooms on their laptops. Looking back, the reactions were so damn lame and I was even lamer for paying any attention to them. If you have a problem with me, say it to my face. I'll be the tall guy at the bar freestyling to people, you can't miss me.
You've also been given grief for your poem 'British Girls in Bangkok'. Why have you been called a misogynist for writing a poem that ostensibly champions women?
I ask myself that question all the time, it baffles me. A muscular, tough looking bloke in a club in South London once approached me. He had a tear in his eye and he told me that he'd been horrible to all the women in his life but my poem had made him rethink his thoughts and actions. He told me he was no longer sexist because of me. That was the proudest moment of my life, hands down.
My writing stopped a man from being sexist towards the women in his life yet I've been called a misogynist countless times, what's going on? Well, identity politics has become a parody of itself. It would be hilarious if it wasn't making so many people so utterly miserable and confused. A lot of people who aren't racist or sexist would rather vote to leave Europe or have Donald Trump as president than to have anything to do with this epidemic of smug, self-centred intellectualism disguised as altruism. I'm a leftie for life but we have a lot of people on our side who need to grow up, rekindle their love for humanity and stop being such ideological cannibals. Your opinion isn't a fact because in your opinion your opinion is a fact. I'm not a misogynist. FACT.
The rappers have always been good at introducing new talent to their team each year. Who have you got for us this time?
I'm so proud to say that we're introducing Eben'flo to the team, the kid is so dedicated, passionate and, most of all, talented. Jon Clark and Hines have good eyes and ears for talent. We've got another new MC joining the team called Phonetic – she'll blow your socks off!
This will be your last appearance at Poets Vs MCs. Why are you stepping down?
Two reasons. The first reason is that Brighton is overflowing with young talented rappers who need a grand platform. You should hear them, Tom Hines and AudioActive have done amazing work with these young men and women. I want to support these budding rappers by cheering them on from the front row.
The second reason is that I feel I've contributed a lot to Poets VS MCs and I'm proud of my work. I'm far from a stereotypical MC, I've changed many minds about what we do, think and feel and I know for a fact that my freestyle ability has made fellow performers raise their game. I want to go out on a high note and pursue other things but I'll always remain a massive fan of those on stage and the immense talent that Brighton holds.
You've mentioned that you're changing your 'lyrical line of work' – what are you planning next?
I'm planning on stepping outside of my comfort zone, I want to be nervous again. I wrote a short play called 'Diary Asphyxiation' and I have a lot of videos that need to be shot. I also need to take a bit of Brighton elsewhere and show people what freestyle is! It's a dying artform that I and legends like Jon Clark, Tom Hines, Leen, Kema, Teej, Ben Jammin and others intend to keep alive and well.
What else are you involved with at the moment?
I'm anticipating gigging with The Spoken Herd again. The band is a different animal now, I cannot wait for people to hear our new sound. We've not gigged with the new line-up in Brighton yet but we're already booked for the Isle of Wight Festival this year! I'm working with a fantastic brass band in London called Bring Your Own Brass, check them out, they are just the best people for a party vibe! I've been recording an EP called 'Your Five A Day' with a fellow MC called Swayne and I will definitely be collaborating with Slamboree again soon. They are the wild circus of live music, I'm so lucky to have met those utter nutters.
I also have two monthly nights, one at The Gladstone every second Thursday and one at Artista Studios every third Friday (including the day after Poets Vs MCs). I've also approached Juice FM about a wicked concept I have in mind that involves local Brightonians, a phone call and a freestyle rap. I think it will be amazing.
What can you tell us about next week's battle? Any secrets you can share?
Figaro, figaro, figaro, figaro, figaro, figaro! I've mixed hip hop with opera and it's insane, that's all you're getting! Time to go out with bang!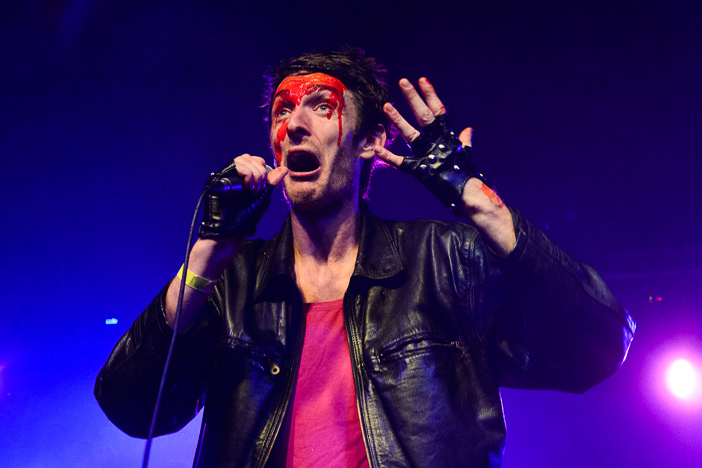 Tickets for Poets Vs MCs are available here
See Gramski's Facebook page here
Photos by Mike Tudor