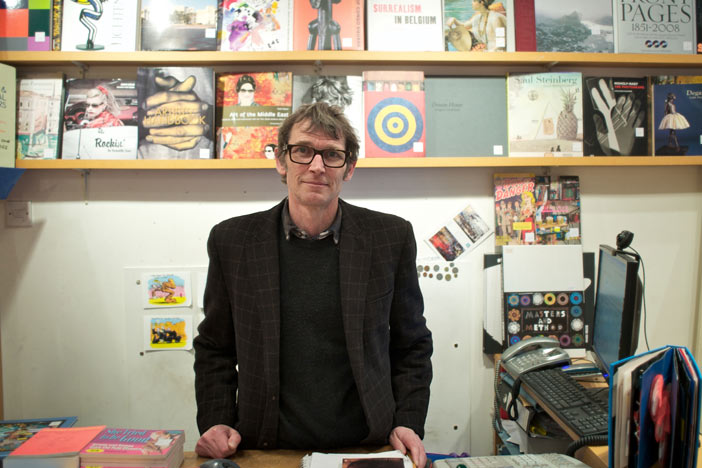 For the last 20 years Sandpiper Books has been a Kensington Gardens fixture, making the cream of creative publishing affordable to page-turning Brightonians. It's run by Hamilton Wilson.
How do you sell all these amazing books so cheaply?
They're all end-of-line, publishers' overstocks, things like that, but there are thousands and thousands offered to shops like this, it's just a question of trawling – America, Europe, UK – to choose the best stuff we can. Because we've got such weird minds here, it works…
Do you have a specialist subject?
Well I do all the buying, with the support of the guys who work here, so it has to be a bit of everything we cover in the shop, but I'd say art photography. Micha and Ben add to my knowledge, as do the customers. I've always said I rely on the intelligence of strangers and Brighton's great for that. Sometimes I'll get something in just because it excites me, and you can guarantee someone will come in and know everything about it, which is great.
What sells really well in the shop?
The best things are photography, and recently we've had loads of really good graphic design in, which obviously does well here. I think we've got a good reputation for both of them. Something we've done well with in the last couple of years is really good comics, from the 40s, 50s, 60s rather than things like Marvel. More… psychedelic.
Is there anything you've had come in and thought, that's gold dust?
There's too many – in every order there are books people will bite your hand off for. Next week there's a book on Andre Kertesz that I'm really excited about seeing, the US supplier was sold out so I haven't even seen it myself yet. The recent Syd Barrett book from the States I was really pleased about. It's whatever fits for Brighton – this is one of the very few places in the country a shop like this would succeed. Although it comes from our heads it has to reflect the area and people are knowledgeable and excited about the things we do.
More Unsung Heroes: Click Hereunsungx