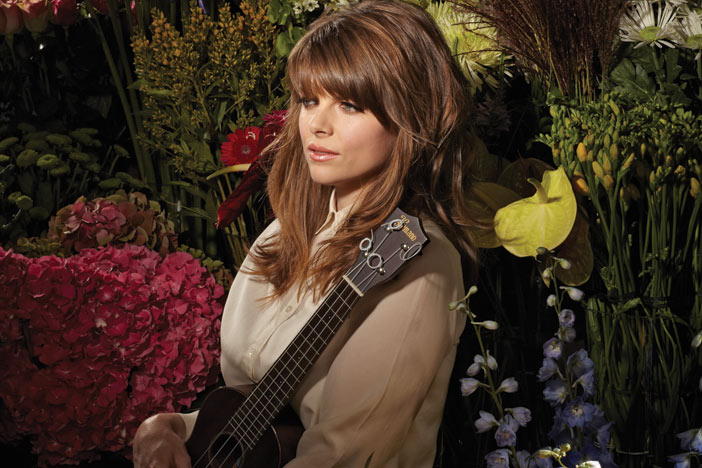 With her joyful DIY approach our ukelele girl has got it covered. A ray of sunshine every time we press play, Sophie Madeleine's second album 'The Rhythm You Started' has been brightening up what can only be described as a lacklustre summer. The title track sparks along with close harmonies, handclaps and plenty of 'ba ba ba's – scientifically proven to be 37% more cheerful than 'la la la's – while 'Come Follow Me' wraps you up in a melodic duvet that will make you melt. Across 10 very catchy tracks, we were instantly reminded of 60s French songstress Francoise Hardy even before we saw Sophie's pretty, classic look. It's such a joyful spirit-lifting affair we just had to meet her to see if she was as sunny in real life. So, is she a jolly person?
"No," she deadpans before breaking into a chuckle, "that's the funny thing. I think it just comes out in my music and the rest of the time I'm miserable. I think maybe I'm self-medicating, trying to cheer myself up by writing a happy song and then hoping that I'll feel better."
She says she had years of writing miserable songs that no one really identified with, so decided to write some chirpy numbers. It's certainly worked, and tracks like the gorgeous 'Star' – all simple ukulele strums and plaintive violins – will have you skipping to work days after you last heard it. It's a fuller sound than her beloved debut, 'Love. Life. Ukulele.' – less raw and more percussive but still full of charm. You might think she's doing well to provide earworms of such tenacity by album two but Sophie is a bit of songwriting boffin, having studied the form for years, ending up with a masters degree in making milkmen whistle. In fact her first LP came from her post-graduate course. Needless to say, she passed.
"The first album was entirely recorded by myself," she says, explaining the difference. "It's raw because it's stripped down to whatever I could play. There's a bit of percussion but there's no drums. It's not really about the rhythm, it's more about the ukulele and guitar. This new one is more about rhythm because I wanted to do an album that had drums and drum machines on it. I wanted to experiment."
One thing that has remained is the ukulele as the centre point to the songs. Though she started on the piano, before teaching herself the guitar, it was finding that small, four-stringed instrument that made her feel at home. "To begin with I used to play jazz/soul/blues sort of stuff," she says. "I was doing that for quite a while and then picked up the ukulele and realised that my vocals were better suited to folk because my voice is quite quiet, or delicate or whatever. When I picked up the ukulele the genre I was in changed and everything slotted into place."
But as someone who considers herself a songwriter first and a singer second ("Singing was just something I had to do to show people my songs," she reckons), does having four strings make composing more tricky? "I wouldn't say it's more difficult or easier," she says. "It's just different. Which is why I liked it. There's only so much you can do so it's down to the bare bones of the song. If you can make a song sound full and good on a ukulele with just your voice then you've written a good song. And because I learnt it as I was going, half the time I didn't know what chord I was playing so I was discovering new chords that I didn't know existed."
Even though she's seemingly happiest making up her own tunes, at the start of summer she set herself an incredible challenge with other people's. In the 30-day run-up to 'The Rhythm You Started' coming out, she recorded and released a new cover version every day. From the four-part harmonies of 'Mr Sandman' to the xylophonic 'Go Outside' by Cults, each one was stunning. It sounds like quite a mission and proved a cure to her slight boredom in the run-up to the LP's launch. It also proved to be a nice little treat for some of her fans. "A lot of the songs I recorded were requests," Sophie explains. "I had hundreds of these requests, at least 300, from various places like my social networking sites. So I had to go through all of them and half the songs I didn't even know. Some requests were really bizarre and some I knew I could learn."
She'd record the song two days before it was released. The songs with lots of instruments took two or three days to do including the audio and video editing, but the more simple ones had their own difficulties. "The ones where it's just me and the ukulele had to be done in one take, and half the time I'd only learnt them that day," she says. "So those ones were quite challenging."
It's just another example of Sophie's brilliant DIY ethos. She also self-recorded both of her albums, and delivered her latest to her distributors before they snapped her up for a full deal. "I hate to say it but I couldn't get anyone interested in backing me," she admits. "Everyone was making positive noises – I had numerous meetings with labels and publishers. But there wasn't a drive for them to put money on the table. I was in a meeting with one of the heads of A&R for one of the majors and he said 'Have you heard of PledgeMusic?' I hadn't, but I ended up meeting with them and told them how many followers I had online – they told me I was a perfect candidate. In fact I was the first artist they signed up themselves."
Sophie got her kind and enthusiastic fans to help fund the album and the rest is history. Rather successful history. "It just sort of happened," she says. "I didn't plan to be independent. That's the only way I could do it, so I did it."
Now she's put her own band together and is looking to promote her LP in New York, a place that's almost a second home to her and already full of fans. Before she heads off she'll be popping into our SOURCE New Music night next month.
"I'm really excited about that," she beams. "I've heard good things about that venue. I've got a new band too – a violinist, a double bass player and an electric guitar player. Plus I've got a looper which I use for beats and things like that."
Having discovered that – despite her protestations – Sophie's as sunny in real life as she is on record, we can't wait to see her perform. Maybe she'll bring on an Indian summer.
FYI
ALBUM: 'The Rhythm You Started' out now on Xtra Mile
WEB: sophiemadeleine.com
30 COVER VERSIONS: tinyurl.com/SophieCovers
PHOTO BY KENNY MC CRACKEN
ASSISTANT – ZOE BAKER, HAIR & MAKEUP – ANGE WATSON
WITH THANKS TO PLANTED, KEMPTOWN