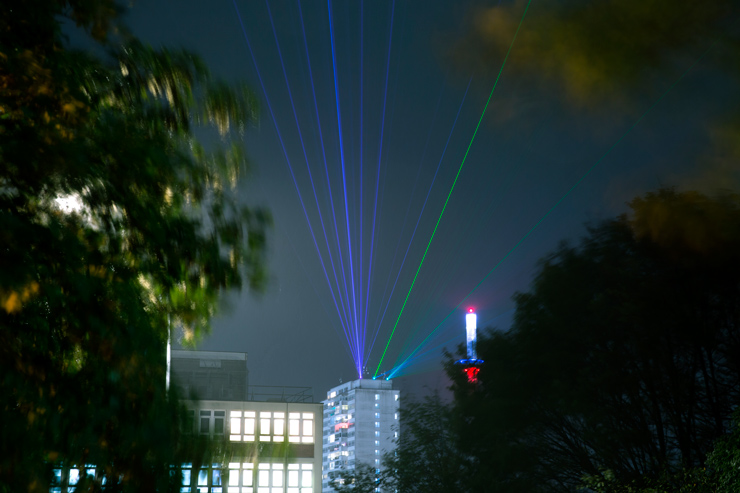 If you were wondering why Brighton's skyline was flooded with lasers last Thursday, you weren't alone. We braved the rain on October 1st to snap some shots of Laser Light City and afterwards caught up with light and laser artist Seb Lee-Delisle to get the inside track.
The event gave an opportunity for the public to control the lasers via an app, offering a brief chance to collectively share a sense of wonder. A welcome relief in the current climate, no doubt. There was no shortage of takers, with 'queues' to fire the lasers throughout the night, as well as excited spectators searching for the best vantage points around town.
Hi Seb, the lasers looked great! How did you choose the locations?
Thanks! Honestly, choosing locations is a process that's dictated by what we can reasonably get access to. Sussex Heights was always top of my list, so I was so happy that they responded positively to my request to use their roof. They were so helpful, we couldn't have done it without them. Tower Point is really central, tall, and could reach the east of Brighton really well, and we were lucky that Platf9rm let us use the top-floor flat there. And the third site was my flat, so that was very easy! 
What impact were you hoping to have? What drove you to put on a display?
When the pandemic hit all of my work was cancelled and I wasn't exactly sure what to do. It was only when I started projecting messages of support for the NHS (on Sussex Heights!) that I realised I could do something with my lasers that worked in lockdown, unlike my usual work (which usually involves laser projections that respond to touching things). And people seemed to really respond well to those early tests. It fired me up to come up with Laser Light City. 
A lot of light festivals up and down the country were stuck in limbo; remember back then some people thought we'd be back to normal by now, but I suspected that we'd be in it for the long haul. I wanted to be able to offer the festivals something they could commit to, no matter what happened next. 
As for the Brighton installation – it's been such a weird year, I really hoped that this could be something that was a bit different. I hoped it would remind people of the importance of the arts, and provide some very necessary outdoor entertainment, now that all the cinemas and theatres are off-limits. 
Have you done this kind of thing before? It's not your first time projecting in Brighton, is it?
My work takes me all over the country and over the last 10 years or so I've specialised in interactive light installations. I've been working with lasers since 2013. I haven't done anything in Brighton since the launch of Laser Light Synths in 2014. There's actually quite a severe lack of funding for outdoor arts events here, even local legends Same Sky struggle to get the budget for Burning the Clocks every year. It's much easier for me to get work in other parts of the country.
Incidentally, Same Sky looked after the installation on Sussex Heights, and did an incredible job. I couldn't have done this without them. 
What are the logistics behind it?
The lasers themselves are reasonably straight forward as long as we have a decent internet connection (and thankfully Metranet have solid network feeds on Sussex Heights that they let us use), but really this is a very complex internet project involving many servers, code, and communication protocols. We've been working on the web side of it for months.
We loved venturing around and seeing kids (big and small) get excited as they moved up the queue. What's the reaction been like?
It's been amazing. Families were moving around trying to find the best vantage points (and avoiding mass congregations) and I think people really enjoyed playing with the lasers. There were (virtual) queues on all the sites all night, and thousands of people got the chance to play. I've been really shocked at the quality of the photos that have come through. (It's actually a really difficult project to photograph!)  
What's up next?
I have a huge installation in Leeds coming up in three weeks with seven different sites and around 25 lasers! I'm talking to other cities as well, but nothing I can shout about yet.
Seb's bio
Photos by Ashley Laurence
Artist portrait by Nico Turner