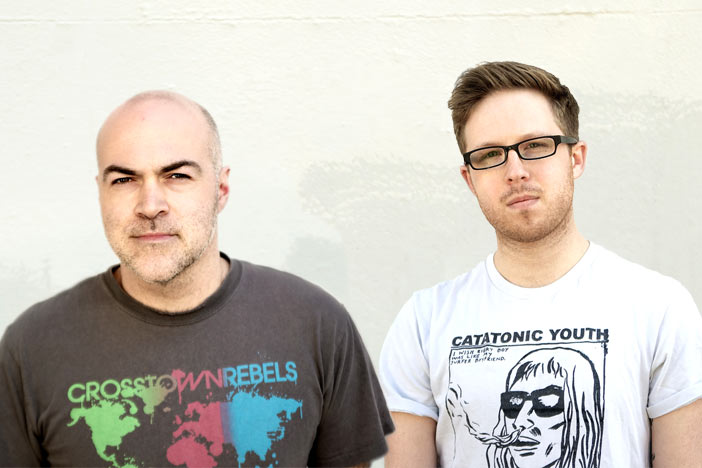 Independent record shops across the country are gearing up for the annual Record Store Day celebrations. Among this year's exclusive releases are 7"s by SOURCE cover stars Orbital, Metronomy, Quantic and Bat For Lashes, and a vinyl pressing of Rizzle Kicks' 'Stereo Typical' LP.
How much trade does RSD bring you?
Matt Hendon (Resident Records): It's by far the busiest day of the year. You can't move in the shop all day, but it's a really good vibe. It's nice to have one day a year when music fans can come together and share their passion and enthusiasm for a record shop.
Johnny Hartford (Rounder Records): It's definitely our busiest day of the year too. It's easily superseded Christmas. Last year was pretty phenomenal, and I think this time it's probably gonna be even bigger if anything.
People come really early but when are you opening?
Johnny: Probably nine. I got here last year and the queue went round the corner, down the alley, and ended in North Street. The guy at the front said he started at four.
Matt: We start 8 o'clock. Last year we turned up at seven and there was a queue down to Sydney Street. People had been there since four as well. We buy loads of biscuits and sweets, and have two members of staff looking after the queue, telling them what's sold out as it's happening.
What releases are you expecting to be popular?
Matt: There's Zomby's first album, that's never been on vinyl before; an Animal Collective 12"; a really nice Tinariwen 12"; an exclusive Beach House 7"; a new Bat For Lashes song; a new Laura Marling song. It's the high profile stuff that will go quicker. You'll get someone travelling from one end of the country to the other because they want the ABBA 7".
Johnny: A lot of people are asking us about the Kate Bush picture disc; the Bowie picture disc; they're probably the two most requested items at the moment. There's the Pete Townshend demos for 'Quadrophenia' too. Some people are after the smaller stuff, like The Civil Wars EP, so there's quite a wide spread.
Is there any fighting over the most sought after items?
Johnny: Last year was remarkably smooth, there's been no aggro at all. If it wasn't one-of-each-item-per-customer you'd get unscrupulous people taking advantage of the situation, trying to purchase as many as they can and selling them for inflated prices on eBay. Obviously there have been disappointed people who've queued for hours but missed out on one or two things, but there's very few who didn't come away with something that they wanted.
Matt: A few people do get angry when they're not allowed to buy more than one of certain releases, but I think that's unreasonable. It has to be one per customer because for some things there's only a couple of hundred for the whole country.
It seems like a really important part of raising independent shops' profiles. How does it help?
Johnny: It brings a lot of people to the shop who haven't been in for a long time. The vast majority of RSD releases are vinyl, and we're seeing more new vinyl customers as a rule. Last year's overall vinyl increase was 40% on the previous year, and it's already at 40% this year, so it's looking good again.
Matt: We've already had emails from people saying they're new to this RSD thing and wanting advice. You can't pre-order anything, so we just say get here as early as you can. There's definitely lots of people who have never come to the shop before, and if nothing else they'll be back the following year.
FYI
WHEN: Sat 21st
WHERE: Ape, Borderline, Dance 2, Endless, Monkey Music, One Stop, Resident, Rounder
WEB: recordstoreday.co.uk