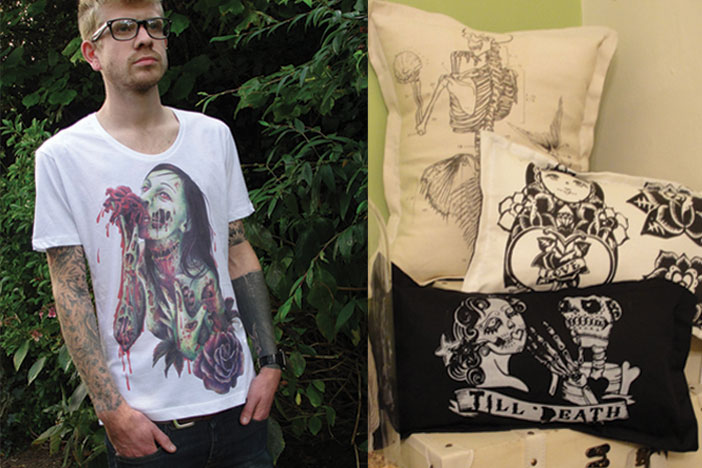 Everybody knows Brighton is bursting with talent, creative juices are flowing with such force in our citizens you could paddle on them down Southover Street. There are tonnes of outlets in our fair city for musicians, actors and even artists, but what about artisans? Apart from the odd craft fair (usually around Christmas to suck in the punters) there's not much opportunity for crafters to display their glorious knick-knackery to the full. Here at the SOURCE we never hesitate to blow the trumpet of Brighton, so have taken it upon ourselves to give some of these lovely people a little leg up in life.
JINJA
jinja-design.com
When Rose Kigwana tried to get hold of some African clothes for her boys, she was sorely disappointed. Did this stop her? Hell no. Instead she forged her own path by designing a range of African inspired, unisex baby clothes. The wax print cottons are incredibly striking and the range includes bibs, dresses, tops and babysuits so you can accessorize or go the whole rainbow hog. A percentage of the profits also go towards education costs of young people in Uganda, meaning everybody wins.
MISS CAKE
misscake.co.uk
Ever had to find a same sex couple cake topper? Then look no further than Miss Cake, who can supply you with a charmingly modern version, laser cut from acrylic. In fact she can provide you with a whole host of toppers to suit any occasion, as well as food picks, jewellery, homewares and printed cards. Sarah (as she is known outside the Craftworld) is also happy to make custom pieces, so even the most unusual events can be easily catered for.
KATNAPZ
etsy.com/shop/Katnapz
After bringing up children, the time you get to yourself afterwards can stretch like centuries. What would you do with it? Take up a new hobby, or go back into education perhaps? Or make cat beds, which is exactly what Edwina Jack decided to do. Her bold and vibrant choices of fabric mean even the most pampered puss will be satisfied. No need for a beige fleecy eyesore in the house, her designs would make Bagpuss weep with jealousy.
GILLYFLOWER DESIGNS
etsy.com/shop/GillyflowerDesign
Brighton has seen all manner of fashion trends come and go, some more out there than others. Saying that, we had never spotted a pair of knitted banana earrings, until we stumbled across Gillyflower Designs. Forget jumpers, all nannas need to modernise and keep up with Nancy's needles as she churns out her unique range of quirky but cute knitted jewellery and charms. More than a one trick pony, Nancy also makes items from clay and Lego.
BRIGHTONCROCK
etsy.com/shop/BrightonCrock
If your definition of a dinner party is slightly more effort than nipping down to the chip shop, have you ever considered what your crockery says to guests? Probably not, but let's face it, most of it is just well, boringly plain. Never fear, BrightonCrock is here. Specialising in hand drawn, illustrated plates, mugs and other assorted table bits, Sarah James (the brains behind it all) will save you from that awkward silence while everyone waits to dig in.
SACRED STITCHES
sacredstitches.co.uk
Tattoos don't just stop at your skin; they can quickly invade your lifestyle. There's certainly nothing wrong with ink inspired clothing or homewares, and Sacred Stitches is a great place to start your collection. Stocking homewares, clothing, artwork, accessories and gifts, there's a little something for every niche of life. Enjoy the beauty of old school designs without the pain or drain on your wallet that usually accompanies them.