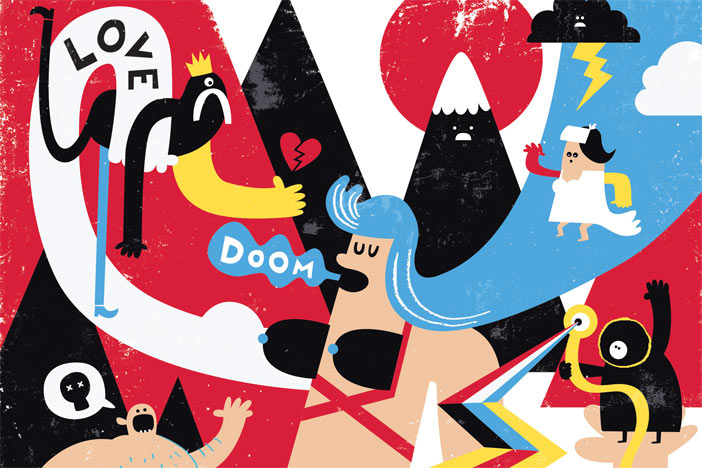 THE REASONS
"I can't believe you want to go to this, you hated We Will Rock You!" says SOURCE manager Rosie when the idea of going to the opera for SOURCE Virgins is pitched. And it's true, I like films better than the theatre and I like a slow painful death better than musicals. That's why I've never been. However there's something very grown up about liking opera – it seems like, if you can persuade yourself to enjoy it, it's a rubber stamp in the passport of being an adult. But all that wailing. All that ridiculousness.  All those braying posh people. Really, life is too short, right?
Yet there's got to be something in it. At £20-£250 a ticket surely there's going to be some serious effort put in. There are a lot of clever, creative people involved, and it sounds good on the British Airways adverts, if not so much on Britain's Got Talent. Anyway, after several decades of avoiding opera like the plague, it might be time to embrace this anachronistic art form.
THE EXPERIENCE
Our night at hip opera nightclub Glyndebourne starts off in a very un-adult way by being late. The curtain raises as we race from our car in our finest clothes and we get put in the naughty seats, right in the rafters at the side of the stage. Also we don't have time to go to the loo first and already need a wee before even the first mouth has warbled in this three and a half hour concert.
The opera is Rusalka by Dvořák, a composer I've not only heard of, but actually like. Admittedly I fell in love with 'Serenade In E' when I discovered a synth version on the soundtrack of a skateboarding video.
Like every opera and ballet, Rusalka seems to be something to do with a rich bloke falling in love with some sort of fairy, this time a water sprite. It's in Czech, which we don't understand, but things aren't too hard to follow, mainly because it's all so visual. Right from the off Rusalka is a feast for the eyes – like Michel Gondry directing The Little Mermaid as a live action Czech animation. It's more opulent, more extravagant and more interesting than anything we've seen on stage before. If Tim Burton went opera this is what he'd do on a good day. It's rather dark, and the first act is set in a dank pond with lots of creepy tentacles making lots of beautiful movements.
Musically it's not as extreme as you might have been led to believe. The opera-ness isn't quite as intense in the context – yeah, there's screaming and wailing but it sort of makes sense, particularly as the music is so lush. From our vantage point in the naughty seats we can see the orchestra pit and it's fair to say there's a lot of talent down there. The music they're playing is beautiful and moving. Even the genre's biggest detractors have to admit that there's something intense and powerful coming from the voices onstage – obviously there's no microphones and they're filling the rather sizable room. Even a foghorn like Liam Gallagher would struggle to do that.
Thankfully for our attention spans, our bladders and the crick in our necks, there are a couple of intermissions. Throughout the summer season people come with picnics and bottles of something that cost more than £4.99 in the reduced section of Tesco. But the torrential rain means there's none of that tonight, which is a shame. Glyndebourne has lovely gardens and is built in a style that Kevin McCloud off Grand Designs would say brings the outside inside, with lots of open walls. He probably wouldn't say that it looks like what would happen if someone turned the Dome into the world's biggest sauna, but then he's got more class than we have. It's a striking, modern space, and not what we'd expected from the opera we've seen in the movies. The venue, like the set design and costumes, has moved with the times, even if the music is all olden days.
We make sure that we take to our proper seats in plenty of time.
"We'll have to move again for the fat man," says a clichéd posh woman somewhat startlingly as we wait for act two to begin. When the so-called 'fat man' arrives he make up for the mildest of disturbances by reassuring us that we had only missed the worst bit. He's not even very fat.
It's interesting that the woman felt so put out by his walking down our aisle. Opera crowds are so well behaved. There's no one taking photos on their phone, nobody gets up to go to the bar halfway through and most importantly no one talks. At all. Not even in the loud bits. These guys know how to put on a gig.
Into the second act and it's all change, coming on like Gosford Park meets Black Swan set at a fancy 90s wedding. It's less dancy and more sing-talky, so it's a revelation to discover that there are subtitles running above the stage. For about five minutes we're happy to know what's going on but then it becomes clear that opera moves very slowly indeed. Lacking the pace of, say, The Fast And The Furious 6, it transpires that the characters prioritise sounding interesting rather than saying something interesting.
Rusalka makes up for this by becoming really quite saucy. Someone pretends a flower is a penis, the maids flash their knickers, and the water sprite king – who fittingly looks like Fish from Marillion (something that we might be alone in noticing) turns up with a massive cock on display. Meanwhile the prince gets a bit rapey and we ponder that if the water sprite girl is so keen that she gets her tail cut off to be with him you'd think she'd be a bit more, you know, up for it.
This relationship doesn't look like it's going to go the distance, something the third act confirms by shoehorning in a massive downer ending. But rather like porn, the story is kinda beside the point. Opera is about the spectacle, and the otherworldly Rusalka has certainly been that. In the past we've talked about repeating the SOURCE Virgins articles, but on acid. If we ever do that, the opera article is going to be excellent.
WAS IT WORTH IT?
At a wallet-worrying £60 – the cost of seeing a band like Parquet Courts 10 times – it wants to be good. And you know what? It is, for a change at the very least. There were times when we were blown away by it. Will we be rushing back? Well so far we haven't returned after about nine months. Nor have we listened to any opera on CD. But – like skydiving, eating oysters, and anal sex – it's something you should try once.
Illustration by Chloe Batchelor