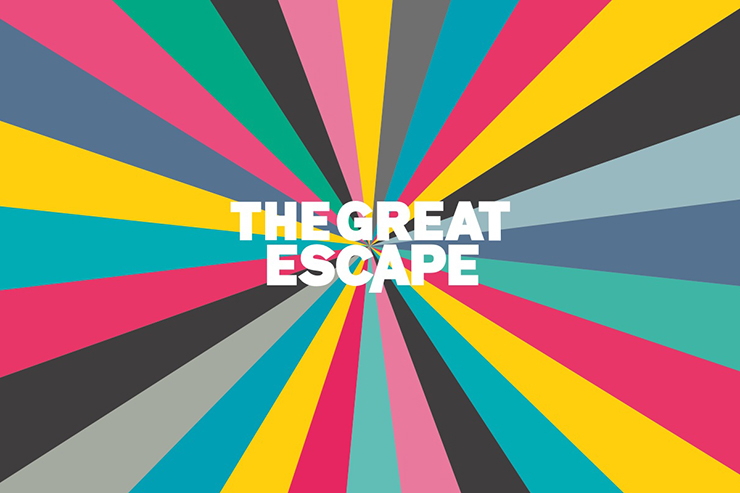 For any music lover, one of the best things about living in Brighton is its annual music festival. Founded in 2006, and taking place during Brighton Festival for three days in the middle of May, TGE showcases new music from a multitude of genres from all around the world. Around 500 emerging acts were set to appear in 30 or so venues around the city, including a pop-up festival site on Brighton beach.
With such a wealth of talent on offer, it can be difficult to plan for the entire festival. Some choose to wander around the city, picking and choosing which bar or club to enter, almost at random. Others – and we're as guilty as anyone of this – check out every act as soon as they are announced, from December on, before constructing a meticulous timetable around a group of 'must-see' acts.
Of course, we're always open to spontaneous changes. If we'd been too rigid in previous years we wouldn't have been drawn into the Shipwright's Yard in 2016 and would thereby have missed LA band Sego and their epic performance. Not to mention Gaika at Shooshh in 2018, or Snapped Ankles at the Hope & Ruin last year. Sometimes, if a show is likely to be popular, you need to get to a venue early to guarantee entry. Again, this can be a good thing. In 2007, keen to see Willy Mason, we arrived early at the Pavilion Theatre. If we hadn't, we would have missed out on the superb Besnard Lakes. Similarly, the following year, Black Mountain's popularity ensured that we were already inside The Old Market to catch both Lightspeed Champion and Brighton's own Fujiya & Miyagi.
Having attended every TGE to date, we at SOURCE were looking forward to reporting on some of the fantastic new talent emerging in this, its fifteenth anniversary. (In case you're really missing it, we've collated every review we've ever given the festival here.) Looking back, it is impossible to overstate its importance. Adele, The Go! Team, Low Anthem, Bon Iver, Clean Bandit, The XX, Mumford and Sons… Love them or loathe them, they are all undeniably huge acts, and they all played the Brighton festival early on in their careers.
By the time the pandemic caused the cancellation of this year's fun and games, acts from 35 countries had already been confirmed: music from Serbia to Singapore, Norway to Nigeria, Canada to the Congo. We had already identified various acts we wanted to catch when the postponement was announced, and here – in no particular order – are some of those we would have made sure we got to see.
JOHN
Two-piece JOHN – both members aptly named John – hail from Crystal Palace and produce an irresistible driving rock noise of guitars and drums, overlaying lyrics of surprising depth and sensitivity.
Grace Ives
Lying in her bed in Queens, Grace Ives has written a whole bunch of high-calibre electro-pop songs, so catchy you'll swear you've heard them before. Brief, minimal and perfectly formed – just wonderful!
Happyness
Since their founding in 2013, Happyness have produced three albums that we've loved. Their sound is both chuggy and grungy, with melodies and fragile lyrics that will appeal to anyone who likes Grandaddy.
Ghostpoet
Sometimes TGE brings back an artist who deserves more attention. We love the work of Ghostpoet and the fusion of dark electronica and darker poetry he's been producing for the last decade.
The Cool Greenhouse
Norfolk band, The Cool Greenhouse, was formed in 2017. Having highly rated their early singles, with their angular homemade vibe and lead singer Tom Greenhouse's idiosyncratic delivery, we were so looking forward to seeing them live…
Matilda Mann
Growing up in West London, she apparently listened to Neil Young, Joni Mitchell and The Beatles… At 19, she's now writing songs of a maturity truly remarkable in one so young. Watch out Billie Eilish!
Noisy
Three-piece band Noisy, from just up the road in Worthing, are a real find. Packed full of bouncy beats, great hooks and hip hop delivery, their songs offer a knowing take on what it's like being young today.
Miss June
New Zealand band Miss June are so full of raw energy, standing still is not an option. Annabel Liddell belts out her powerful lyrics, accompanied by the band's blistering explosion of post-punk noise.
Lunch Money Life
At the experimental end of today's music scene, the instrumental pieces of Lunch Money Life, with their fractured guitar licks, off-kilter drumming and bleak electronica, sound apocalyptic – and oddly prescient.
Lynks Afrikka
With their name a knowing nod to a well-known brand of deodorant, Bristol band Lynks Afrikka are clearly having fun. The music – where chugging electric beats meet art-rock lyrics – is a playful and dancy take on modern life.
Sarathy Korwar
Born in the US and raised in India, Sarathy Korwar produces music that is a weird and wonderful hybrid of his influences. Jazz? World music? Impossible to pigeonhole it may be, but Korwar's work is undeniably hypnotic and uplifting.
Silverbacks
TGE showcased Fontaines DC two years ago and The Murder Capital last year. This year's essential Dublin band is Silverbacks. The five-piece make spiky-riffed, motorik-driven music of the highest order.
Laksa
There's nothing we like more than topping off a great day's music at TGE with euphoric dance grooves, and Laksa – aka Callum Ross – fits the bill perfectly. Ambient melodies dropping into colossal drum-driven rhythms… Perfect!
So, a baker's dozen of tracks from this year's cancelled Great Escape. From rock to jazz, indie bands to singer-songerwriters, post punk to house, the festival had it all covered. Some you might love, others might not be for you at all, but that's the wonderful thing about the festival. There's something for everyone. And of course with five hundred acts scheduled to perform, there was so much more we could have mentioned. The dark hardcore metal of Ithaca, or Svalbard. The glitchy dance of Akiko Haruna. Palestine's Dam, with its menacing sound and political message. Italy's Qlowski. Germany's Sparkling. Public Practice. Deep Tan…
TGE will be back next year – 12th to 15th May 2021 – for its belated fifteenth year celebrations. We'll be there to report on a whole range of amazing acts, some of which will undoubtedly be stepping up onto the first rung of the ladder to greatness. See you there!
Snapped Ankles photograph by Time for Heroes.