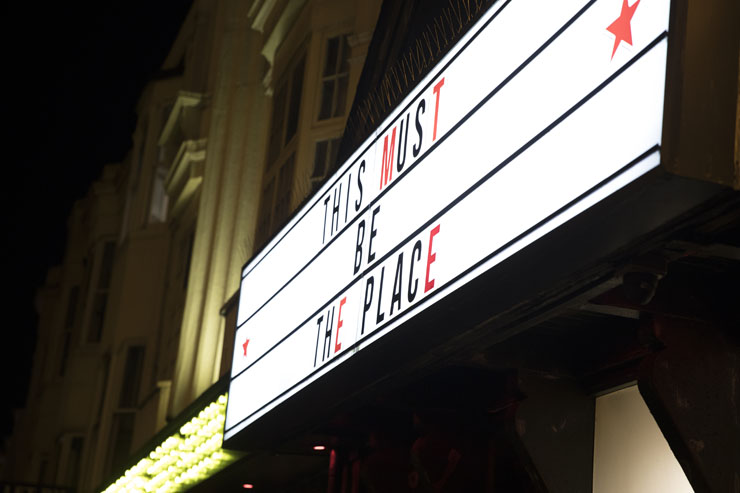 Following our recent exploration of the crisis facing Brighton's live music scene, SOURCE spoke to Sally Oakenfold, Creative Director and Booker for The Hope & Ruin, to see how the #saveourvenues campaign was going, and to reminisce over some our favourite live music moments.
As the shadow of The Great Escape passes us by, we can't help but reflect how the bloodrush of seeing live music has diminished to a dull ache. It wasn't that long ago that we were at an Acid Box Promotions night at the Hope, bathed in Innerstrings' glorious trippy lights, discovering new Brighton bands – in this case, The Psycho Relics and Melt Plastic Group.
Grassroots venues play such an important role for local music, but they also bring us sprinklings of stardust. The Strokes played their debut UK headline show at The Hope & Ruin; the venue also saw an early performance from a little-known artist called Adele. Yet, as those involved in the local scene are all too grimly aware, counting on everything to just return to normal feels like a stretch when the bills are piling up, the industry has little government protection and there is no cashflow. 
Sally, what's been your role at The Hope & Ruin?
The Hope & Ruin has been a live music venue on and off for many years. We took over running the venue fully six years ago. Before that I was running Sticky Mike's Frog Bar [SOURCE were on hand to catch Blood Red Shoes play one of the last ever gigs there] and my team were booking bands for both Stickies and the Hope. In January 2015 the whole pub was refurbed which made a huge difference to how we could use the space. The venue was increased in size to be a 150-capacity space with a much better layout and the pub had a kitchen installed and a whole lot more beers than it had had previously.
The upstairs venue is mostly booked by other promoters. We love working with all the local Brighton DIY promoters like Love Thy Neighbour, Acid Box, Sugarfree, Ban The Disco, Melting Vinyl and Dictionary Pudding as well as bigger names such as Lout, One Inch Badge and Joy!. We do have shows from national promoters, but we're very keen to support the locals.
We've lost count of all bands we've seen there. What have been some of the highlights for you?
The Strokes played their first UK headline show at the Hope, which was a Melting Vinyl event. British Sea Power used to host their Club Sea Power nights in the venue. The Kooks, Electrelane, The Donnas, The Get Up Kids, Adele and lots lots more have all played here.
More recently we've hosted Due Lipa, Michael Kiwanuka, Fat White Family, James Bay, Porridge Radio, Penelope Isles, Black Country, New Road, Pom Poko, The Beths, Pins, Car Seat Headrest, Snapped Ankles, The Wants, HMLTD, Minami Deutsch, Shonen Knife to name a few.
From Snapped Ankles' surprise show at TGE to Penelope Isles' afterparty, we seem to find ourselves just as often in the downstairs bar. How has the Hope's community spirit evolved?
We have loads of things going on in the pub such as art nights hosted by Cult Milk who offer weekly drawing and collaging events. We also have DJs playing on Wednesdays, Thursdays, Fridays and Saturdays. Plus quizzes, fundraisers and anything we can make work really. It's very much a space for the community to get together over a beer and be themselves in a safe space. 
We also host live shows in the bar which are always free entry and are a really great way of checking out new bands. It's not for everyone – playing in the corner of a pub through a very simple set up, but it can be really exciting… The Beths and Pom Poko at last year's Love Thy Neighbour showcase during The Great Escape was very special. 
Nights like Stay Sick, Dude Ranch, Stoked & Broke all have a live element alongside DJs which are essentially club nights in a pub with bands… we just move all the furniture out the way so we can have a big old party vibe.
And of course, we offer food which is provided by Beelzebab and is all plant-based. To complement the food all our bar offerings are also entirely made from plants.
Back to the rather grim reality of now, and to the obvious question: how have you been affected by the pandemic and lockdown?
All of these events take a lot of organisation and we are still rescheduling, cancelling and promoting the venue whilst in lockdown. Our bookings team, techs, DJs and promoters are all freelance so they don't benefit from the furlough scheme like our managers and bar staff do. 
When it is safe to open we will need our team back to organise events and to adapt to life post-COVID-19, whatever that may be. This is why we have joined the Save Our Venues campaign [launched by the Music Venue Trust] so we can be prepared to reopen the venue and support our team as much as possible.
Can people still contribute to the Save Our Venues campaign, and what difference will it make?
Yes, the crowdfunders for all the venues will be extended I believe, ours most certainly will be. The initial date was added [which has now passed] so we can access the cash in stages –  which is going to be really useful as we still have costs (payrolls, insurance, booking) despite being shut and having zero income. So that's going to be really useful and means we can keep looking to the future, keep working on bookings and hit the floor running, as best we can, when we reopen.
Finally, other than contribute towards SOV, is there anything the average reader can do to help the local scene either now, or when it restarts?
Being positive and supporting venues when we reopen by buying tickets for shows and lots of beer. Understanding what we do shouldn't be taken for granted. We all need to re-evaluate what is valuable in our society for the future. Obviously the NHS and carers have been a real focus, but also the people who work in food shops, delivery drivers who deliver stuff like records and things to keep us busy during lockdown. Never take simple things like pubs for granted again.
You can find out more and contribute to The Hope & Ruin's crowdfunder here.
Images by Time for Heroes