One by one, all the concerts and portraits I was lined up to photograph were cancelled. In light of the forced isolation brought to us by COVID-19, I decided to start a remote portraits series which I hope will give a small spotlight to ten local musicians.
Using high-tech means to produce a very low-tech result, I set up Zoom video calls with each artist, directed them around their home and photographed the screen using a professional camera. Whilst some picture quality was lost with every step of the process, new details from my own environment got added to the frame – reflections, dust and random backgrounds.
I've asked each artist about how they're coping with being isolated and if they had any tips on how to stay creative and motivated, and also gave them an opportunity to share their music and upcoming releases or (virtual) events. Supporting each other is more crucial than ever at times like these – this is an opportunity to show your support by streaming their music and following their links.
Brighton-based solo artist and producer
Lockdown and creativity: how do you cope and have you got any tips?
I know many people who feel debilitated by what is going on with COVID-19 at the moment. I have surprisingly been more creative than ever with writing music, and doing things I've been meaning to do, like reading and exercising. The days are going by so quickly for me, but I can't help feeling guilty that others are struggling. I think it's about doing whatever feels good for you right now (if you can that is), whether that is going full speed, or simply resting and taking a moment.
I'm looking forward to playing some shows at the end of the year around the UK, including Brighton, to go alongside some new music! Very excited to share what quarantine life has meant for me.
Follow LUME:
Instagram | Facebook | Spotify
A singer/songwriter/guitarist, freelance musician and solo artist
How do you cope with the lockdown and how has it affected your creativity?
It seems to have become easy to connect with my creative process through this period and I'm so thankful for it. I've been swinging between writing and finishing off a project at mixing stage. It's helpful to have things handy, guitars on stands, dictaphone at the ready. When ideas don't come, I never really see it as a 'block' anyway – rather more of a time for paying attention, integrating, percolating. Just being in this crazy thing we call life inspires me – no specific thing. The motivation is probably, consciously or not, about connection, and the need for that is highlighted at the moment.
Do you have any upcoming releases or online gigs?
Since my last album 'The Final Man' I have been jumping between projects. I released a song called 'Gloriji' and am making videos for some songs from my last album. The next two albums are already written and I'm looking forward to starting the rhythm tracks for those when things get a bit simpler.
Follow Dedi:
Website | Facebook | YouTube | Fetea Records
Vocalist and songwriter
How has the lockdown affected your creativity and have you got any tips?
Lockdown and creativity have actually made for a great partnership in my little world (most of the time). There have been lots of moments of reflective serenity which I would simply put down to the good weather, the idea of the world standing still for a moment and watching how nature is flourishing. I've been able to channel this into songwriting as my head has been more clear and open to expanding my approach to writing music. For example, I've been writing songs for myself in a more therapeutic way, instead of trying to write something that I would want to release.
There have, however, been moments of caged madness and general anxiety as it is also a very bleak time. When I have had days that I struggle to be creative I totally let that be, otherwise, I've realised that I tend to punish myself and it is perfectly natural to ride the wave of accepting that imagination is a virtue. I have found that sometimes the wisest thing to do is to read, exercise, have a couple of drinks or watch rubbish TV instead.
Do you have any upcoming releases or online gigs?
I am releasing my debut EP 'Face Like Thunder' on the 27th April 2020. All of my planned gigs have been cancelled or rescheduled however I'm very excited to be taking part in 'Lockdown Fest' on the 8th of May which is a Digital Creative Festival. It's £5 a ticket and all of the proceeds are going to the NET (National Emergency Trust) who are supporting small charities during crisis.
Follow Maida Vorn:
Instagram | Spotify | Facebook | Twitter
Solo acoustic performer exploring digital artistry
How has the lockdown affected you creatively? Where do you find inspiration these days?
I was furloughed at the beginning of lockdown so as soon as I was at home I began using the time to my advantage, delving deep into the world of Logic Pro X and learning how to use it so I can produce music without relying on band members to create. I have been locked into a workflow of learning and recording almost every single day, at some point I have to decide to finish and go to bed otherwise I could carry on forever and ever.
My inspiration comes from my current favourite artists (Jordan Rakei, Title Fight, H.E.R, Trapped Under Ice) and a desire to create something equally as beautiful, if that is possible. I have two songs already up on SoundCloud and I plan to release more onto that platform soon.
Follow Southern Lakes:
SoundCloud
Folk-inspired singer-songwriter and designer
How has the lockdown affected you and what inspires you these days? Do you have any tips for those who are struggling? 
I'm starting to find my creative feet again after the mix of shock and pressure to achieve lots of things subsided a little. I find quiet really helps. If I surround myself with stimulation, my mind has no space to wander around so, in that sense, it's been a great peaceful environment. I've always coped with things by putting them into songs, it's like locking stuff into each one that I can't house in myself for too long. I think keeping up with our creative outlets at this tough time is helping so many people. My little tip for anyone wanting to be creative is to remind yourself that it's for you and it really doesn't have to be amazing to begin with. Just start!
Do you have any upcoming releases or online gigs?
My EP, 'Lioness', will be out on all platforms in May but of course all the shows surrounding that had to be cancelled so please do check my Facebook or Instagram for details on lots of livestreams and fun stuff! You can also grab my first two live records on vinyl here.
Follow Reema:
Instagram | Facebook | Website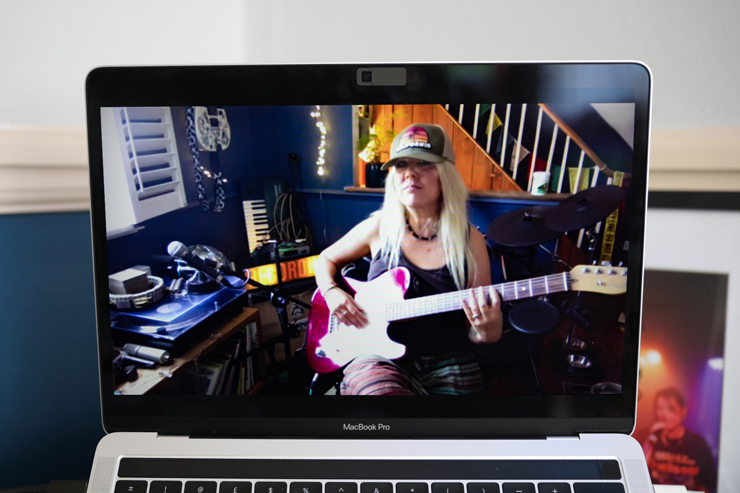 Vocalist, musician and songwriter from Brighton
How has the lockdown affected your creativity? Do you have any tips for others?
I'm playing and writing for my own sanity more than anything at the moment. Getting lost in a chord progression or having a melody stuck in my head are welcome distractions! My wife and I were quarantined abroad when the virus first hit. I had my travel guitar but zero inspiration or motivation to create. I was numb from what was happening to us and the world around us and honestly the way I was feeling I thought I'd never write another song again. Stressed about my friends and family whilst wallowing in the doom I needed to stop myself scrolling on social media or watching the news so I made myself learn at least one cover song per day. Soon as I was home, in my own space, two new songs just happened out of nowhere!
Creativity is a complex onion. Many layers. Many tears! As musicians we must remember to be patient and not to give ourselves a hard time, not everything has to be monetised or released to give us enjoyment. Take all pressure off and do what you love. Then if it feels right, share it so others can enjoy. Music is therapeutic and meditative and we definitely all need some form of therapy right now!
Do you have any upcoming releases or online gigs?
I'll be entertaining from a distance on Sunday 26th April live on my facebook music page, 7pm start!
Follow Mel Sanson:
Website | Instagram | Facebook | Twitter
Artist and producer making R&B, indie and hip hop in his bedroom
How has the lockdown affected your creative process? Any tips for those who are struggling?
Lockdown has had a mixed effect on me in terms of my creativity. It can be hard to be inspired when you are always around the same environment, however I have managed to stay productive. I have taken this time to focus on my passions, which as well as creating music has been writing about local artists, getting involved in PR and learning new skills.
I think when you do feel that the isolation/lockdown is having an effect on your mental wellbeing it's important to know that it's okay and to always take time for yourself. We are not productive all the time, but there are plenty of days ahead to plan towards your goals and what makes you happy.
Do you have any upcoming releases or online gigs?
I have my debut single 'High Ride' coming out this month on the 28th April. I'm very excited to share the release with my friends, family and any potential fans.
Follow Soare:
Instagram | Facebook | SoundCloud
Brighton-based experimental vocal loop artist
How has the lockdown affected you? Do you have any tips for anyone currently struggling?
As I am a self-employed vocal and songwriting teacher, for me the quarantine has got me quite a lot more work online, because people now have time to learn something new, which is great. I love to be a part of people's journey in finding a new passion. Alongside this, I have busied myself with collaborations online and I'm now working on an EP about empathy, a song about loneliness, and a couple of acoustic originals. The new social space (online) has opened up some new ideas in terms of how to present music, and that's been exciting for me to learn how to use this new way of life as a creative outlet.
In a way, being locked in my house has forced me to balance my work and mental health care more than before. The time spent going to lessons, sessions or meetings has been freed up and I am focusing on meditating and exercising outside every day to keep me sane. I think it is really important for us to stay on top of our mental health right now. My advice if anyone is feeling lonely or bored would be to take up a new project, tap into something they have always wanted to do. Also get on Zoom and do a quiz or have a drink with some friends, last night I dressed up for that and it was kind of like going out!
Do you have any upcoming releases or online gigs?
A remix of my song 'Lemons' by awesome producer Jelee was released on the 16th April! He's a hip hop producer from Amsterdam and I can't shout about him enough. You can find it on all platforms.
Follow Lu'Ami:
Website | Facebook | Instagram | Twitter
Brighton-based jazz-pop singer-songwriter and keys player
How has the lockdown affected your creativity? Do you have any advice to share?
Lockdown has been both a positive and negative thing for me creatively. I've struggled with not seeing my band and my friends and family. Being quite a social person the isolation really took its toll on my mental health at the start. Eventually my frustration started to come out in a creative format, and I started writing and recording a lot of new music. Fortunately I'm able to do so as I have a small home studio set up where I'm isolating.
I think taking each day as it comes has helped me cope, because if you think in terms of only the next day or so it breaks down the size of time we're spending locked away and stops your mind from fixating on it too much. I prefer to tackle one task at a time.
If I had to give any advice to other creatives currently isolating, I'd say be kind to yourself. Don't put pressure on yourself to write the next album, or be creative every day just make sure YOU are okay and check in with friends and family regularly. This is a global pandemic not a writing retreat! We need to survive first and foremost, both mentally and physically, so go easy on yourself. The creativity and productivity will come at its own pace, you can't force it.
Do you have any upcoming releases or online gigs?
The band and I are really excited to be releasing a new single 'Tired Eyes' in the coming months, as well as a five-track EP early in the summer.
Follow Miles:
Facebook | Spotify | Soundcloud | Bandcamp
Brighton-based drummer and artist, currently with Portacle, Blackhorse Road and IAMWARFACE
How has the lockdown affected you? What inspires you to be productive?
I got caught by it right in the middle of an interesting creative 'sequence' which disrupted all planed live activities and collective recordings for the foreseeable future. However, one of my bands has finished recordings for a jazz/fusion EP which we will try to get done and released as soon as possible.
There is a shift from collective playing and decision-making to finding ways of agreeing on a product without being able to meet and work together, which makes things more difficult but not impossible (thanks to modern communication devices).
I do have a drumset, some guitars and recording gear at home but given the fact I just became a dad to a lovely little boy also means that my priorities are mostly with the family – in that respect the lockdown works out quite well. Jazz/fusion music seems to help with calming down the little one, which helps a lot!
Do you have any upcoming releases or online gigs?
My fusion band Portacle have just released an instrumental cover of Nirvana's 'In Bloom' which is available on all platforms, and we're working on the release of our next single called 'Placeholder Buddha' prior to our debut EP due to be released in the summer.
I also released a first demo with my prog/metal project Blackhorse Road called 'Followers'.
Follow Henning:
Website | Portacle – Spotify | Blackhorse Road – Bandcamp | IAMWARFACE