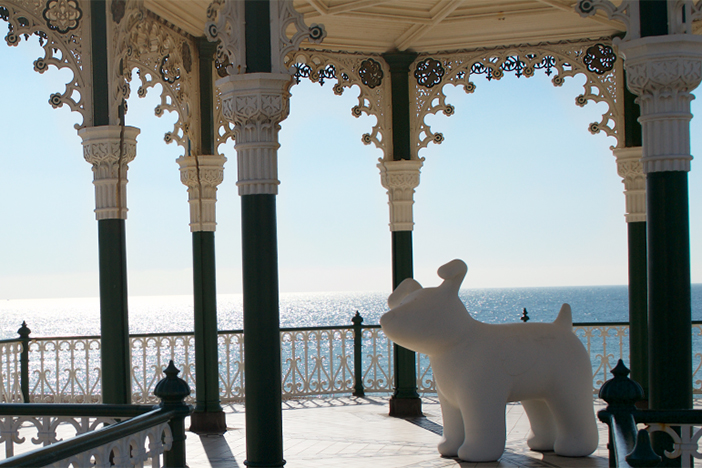 T'is the season for winter warmers, and here's a true 'tail' of festive feel-good. If you've been anywhere in Brighton and Hove over the past few months, you'll have noticed diversely decorated Snowdogs scattered across the city, appealing to art appreciators, catch-'em-all trail hunters and boozed-up acrobats alike. This week saw the finale of the fundraiser, in which all forty-four dogs were auctioned off to raise money for the Martlets Hospice in Hove.
Now their working lives are over, the fate of the Snowdogs by the Sea is largely unknown. There's a couple that we know have gone to good homes though. Bobby was won by Balfour Primary School, who will place it in their grounds as a lasting memorial to pupil and dog-lover Niamh Storey-Davidson, who died in 2014 aged nine. Process Pup was taken home by the residents of Hanover, who crowdfunded with an online campaign, and is expected to take up permanent residence on the flat roof of the Hanover Community Centre, where it can peacefully watch over everyone struggling up Southover Street.
Modelled on the Raymond Briggs Snowdog and designed by local artists and celebrities, the creatures have been a huge success for Martlets, with the charity shops repeatedly selling out of the associated merch and an estimated £15,000 of additional donations being given during the eighteen-mile, two-month trail. Adding in a boost to the tourism economy and a final auction that raised an exceptional £337,000, these rounded pooches have provided the city with a very profitable dog walk.