If you wanted to draw a line between the control crazes of modern government and attempts at censorship during the 18th century, you could start with the Royal Proclamation issued on May 21 1792. Thomas Paine's writings were stirring for revolution, widespread rioting seemed in the offing, and the House of Lords responded with an attempt to codify "the preventing of tumultuous meetings and seditious writings".
This bygone assault on liberties was fronted by the Prince of Wales, who used his maiden speech to the House of Lords to champion it, only to be portrayed staggering drunkenly out of a "bawdy house", helped home by the night watch while his brothers, the Dukes of York and Clarence, gambled and cavorted with mistresses. The artist lampooning the Prince, James Gillray, often relied on puns: in Gillray's colourful etching, the mistress, posed as fathering 10 of the Prince's children, is Miss Jordan – Jordan being slang for a chamber pot back then. It's a tale of monied hypocrisy, and one of a number of satirical artworks from the time around Brighton Museum, for which House, the cross-city biennial, has taken a theme of Excess in a world whose most symbolically powerful political figure likes to lavish on a gold pan.
Maybe it does the artists a disservice to need reminding that Private Eye-isms were vital and flourishing back then, and that art could serve to mock the pompous and privileged, voice public cynicism and, at least, offer witty relief for the many. Anyway, the main work of the biennial at the museum, by the great contemporary artist Laura Ford, takes inspiration from these artworks, sculpting two humpty dumpty figures, three huge, groaning caricatures and a prone, reddish giraffe – legs skyward and head on a pillow – into a shadowy freakshow.
"I couldn't get them out of my head," says Ford, who grew up in a travelling fairground, discussing the old political cartoons. "It was just amazing how much they could take the mickey in those days. It almost made me want to make a domestic scene, as I see it, or a scene from one of those pictures." Ford's work is witty, absurd and sad, and part of it draws from the story of the giraffe the Prince Regent received as a diplomatic gift from the viceroy of Egypt in 1827, which arrived, following a tortuous journey, with two deformed limbs. "Terribly cruel," says the artist.
"I was reading about that, thinking about it. I turned a giraffe that was female into a male giraffe, thinking it was the heir he never had. I was imagining this traumatic scene – his heir dying as a giraffe. I was thinking about when I was little and I'd pick up a baby bird that might be dying. I'd make little beds for them, give them milk and stuff like that. I was thinking about the giraffe in that ridiculous way. Something so enormous becomes something very vulnerable, dying in the last throes. I think it does feel vulnerable, even though it's a big piece."
The figures on the wall stand on a ledge, detached and distanced, disapproving henchmen keen to keep their jobs. Ford got the idea for their big masks from looking around the museum, and from the subtle commentary of Staffordshire pottery, which she's always been "a bit obsessed with". "It has so much humour and takes the piss out of figures and tells the story of society at the time. I always liked the idea that that would sit on your mantelpiece and tell a story in a very quiet way."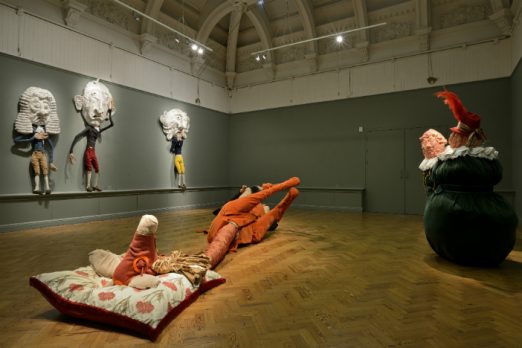 The pair of rotund observers, with their gloopy pink faces and garter belts, come from George Cruikshank's Two Green Bags, in which he reimagines the Prince Regent and his wife, Caroline, as a pair of enormous bags. The green bags are a reference to the ones used to collect evidence against Caroline following her affair with an ex-soldier in Milan, and the excess could refer to the cruelty with which George treated her when their daughter died in childbirth. "There they are, looking on, pretending to be horrified," says Ford. It's repulsive and grotesque, ridiculous and confusing. Excess is nothing new, and nor is our need to ridicule and try to make some sense of it.
A King's Appetite is at Brighton Museum and Art Gallery until November 5 2017. A full programme of events takes place throughout the biennial, visit House Biennial 2017 for full event listings and details.
Three to see at House 2017
Common Threads, Phoenix Brighton
Anthony Stevens, a self-taught artist who uses his works to process trauma, and Andrew Omoding, who uses leftover and scrap materials to thread together new objects, repurpose discarded materials to share personal stories. Stevens explores excess in mythology, history and a desire to overconsume in pursuit of love, while Omoding's works reflect on his upbringing in Uganda.
Timely Tale, University of Brighton Gallery
Inside a medical waiting room, photo artist Natasha Caruana's mother, Penny, is shown recuperating and responding in a world where there is too much choice. The work uses headsets and 360-degree technology to give visitors a choice of what they see in the artwork.
Crossover Point, Brighton Museum and Art Gallery
Becky Warnock and members of Brighton Table Tennis Club work with popular pottery from the collection to explore various aspects of British life and the polarities that can be created by having too much or too little. Photos, collages and drawings by participants will also be on display at ONCA gallery.
Words by Ben Miller.
Photos by Nigel Green.