Celebrating the release of their second album 'The Underside Of Power', gothic soul rockers Algiers travelled from Atlanta, Georgia, to put on a show for the people of Brighton.
The takeaway from this show was that it was a unique gig – blending so many different genres, it makes pinpointing their sound and influences difficult. This is also massively endearing, and only increases our love for them.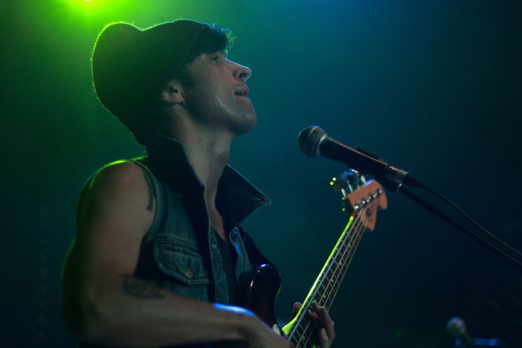 There was a certain tenseness amongst the crowd before the gig began, an eerily silent anticipation filling the room. As the opening instrumentals and recorded sounds kicked in, bassist Ryan Mahan began busting out some rather impressive dance moves. This seemed at odds with the darker industrial sounds being projected. This stark contrast in styles was a continuous theme throughout the gig.
After a long instrumental build-up, Franklin James Fisher's powerful, soulful voice cut through the underbelly of the gothic sounds emanating from the stage. Individually the music and the vocals could easily belong to separate bands, yet the unusual blend of music, vocals and the deep, often political, lyrics blended to form a very grounded sound. The group have the aura of being a band of the people for the people.
It didn't take long for Algiers to prove that they are truly a band for the everyday man and woman, with lead singer Franklin walking into the heart of the crowd. Singing to individual audience members, the personal touch appeared to win over the hearts of anyone who hadn't yet fallen for this band.
Set highlight 'The Underside Of Power' showcased the songwriting talents of the band, with lyrics that bring up a rollercoaster of emotions transitioning from despair, anger, desperation and hope.
"Because I've seen the underside of power, it's a game that can't go on," sings Franklin, showcasing a powerful, angry, yet still soulful voice that has come to define Algiers.
Throughout the gig Algiers proved their talent for writing great lyrics and producing an interesting and unique sound that you normally associate with bands that have kickstarted a genre or sub-genre. However the variety of their songs was a tad limited, as was the memorability of a few tracks.
As an overall experience it was a great gig and the group delivered a professional, well drilled and emotionally engaging gig – we highly recommend you check them out for yourself.
By the end of the set, the band had completely won over the hearts and minds of the audience and there was such an enthusiastic call for an encore, which sadly fell on deaf ears and was surprising given the fact that it ended abruptly, with time to spare. It was a shame considering the adoration the crowd had for Algiers, but we can certainly forgive them this due to the high-energy performance they put in for us.
Algiers, The Haunt, Thursday 30th November 2017
Words by Jack Moore
Photos by Ashley Laurence