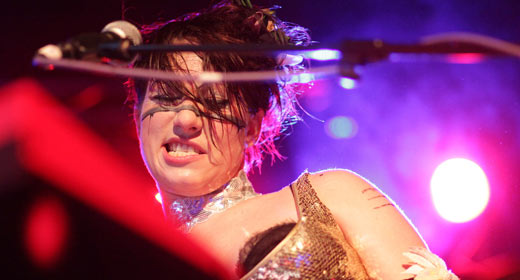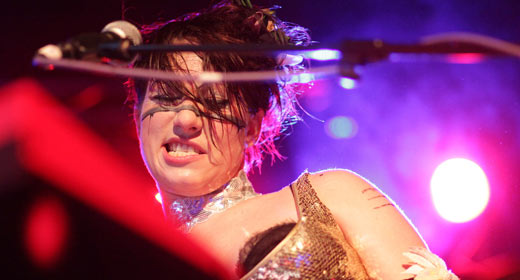 There were only six dates on Amanda Palmer's European tour. That Brighton was in there alongside Amsterdam and Vienna should come as no surprise to those acquainted with the 'Brechtian Cabaret Punk' of her former band, The Dresden Dolls.
Such unlikely fusions thrive in these parts – plus Palmer's music has a special appeal for exactly the sort of arty oddballs that wind up here. Needless to say, her shout-out to the city was lapped up by the tightly-packed crowd of indie kids, gypsy fans, burlesque scenesters and wayward goths. It was clear from the start it was a mutual thing.
Launching straight into the full-frontal piano rock of 'Astronaut', Palmer's new band instantly banished any lingering worries about her ability to let rip. Albums full of novelty songs about Australia and ukulele Radiohead covers are all very well, but what Palmer does best is sing her heart out. What followed was a mix of Dresden Dolls favourites, solo ballads and some brand new stuff. Whereas her old band relied on the brute power of voice and drums, the latest line-up adds guitars and violin to the mix. Less vaudevillian perhaps, but it works.
However, as always, it's the vocals that steal the show. Every song sees Palmer's dark and mischievous lyrics delivered by a schizophrenic array of voices. The combination of irony, brutal honesty and humour culminates in the extraordinarily catchy 'Oasis' – a three minute ditty about abortion, teenage rape and the Gallagher brothers which also manages to segue in and out of 'Twist And Shout'.
No stranger to audience participation, this twitter-addict and 'ninja-gigger' weaves a great deal of charmingly informal banter into the set, but ultimately it's the grand, theatrical performances that make an Amanda Palmer gig so powerful. It's a feeling that even an unexpected aerobics work-out and an INXS cover can't blemish.
Concorde2, Thursday 1st September 2011
Words by Ben Bailey
Photo by Mike Burnell