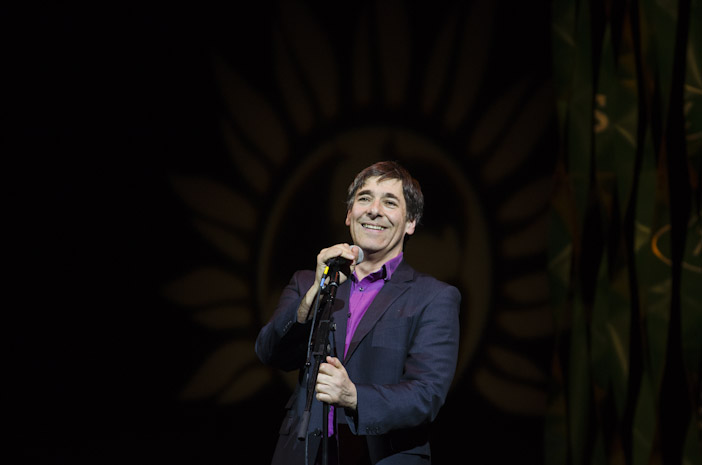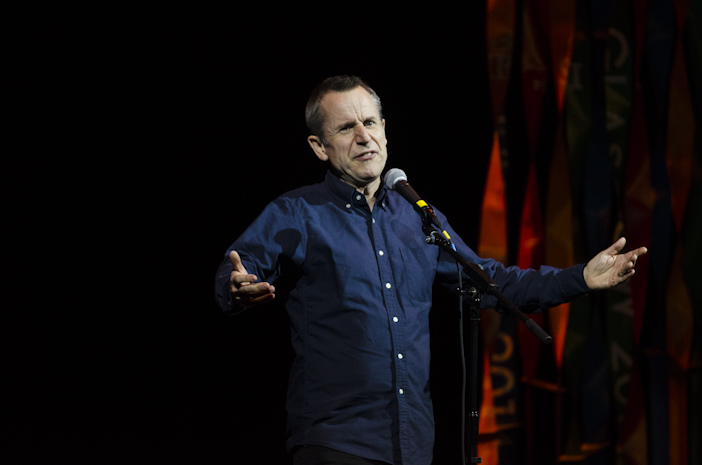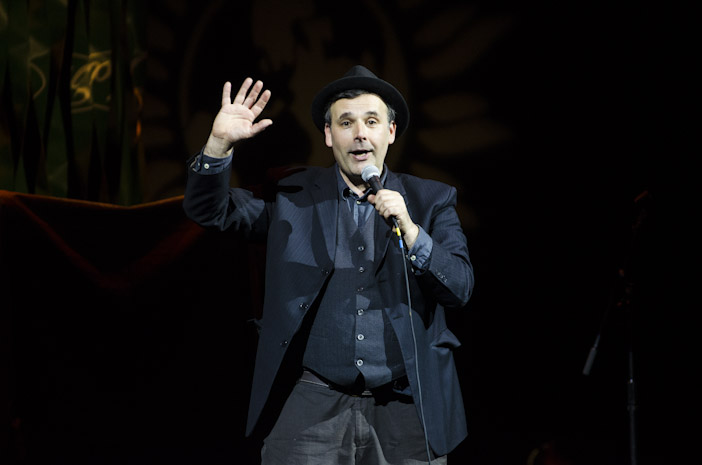 Not being a fan of West End musicals it's years since we've been to the Theatre Royal, but it's a lovely venue, with never-ending staircases and a proper archaic charm. A string of lefty comics doing a benefit gig for the Green Party might not be the most fitting bill for such a place, but those with a taste for smart, self-effacing humour wouldn't want to be anywhere else.
Rob Newman, back from the wilderness, is our host and compère. Now an author and broadcaster, Newman's politics have taken him a long way from the student larks he was known for during his time with The Mary Whitehouse Experience. He can still deliver a good line, but his manner seems either too edgy or unsteady for the role he's playing tonight.
Anyway, first up, we're treated to a breakneck tour through the disorderly mind of Robin Ince, comedy atheist and host of the BBC's The Infinite Monkey Cage. With the random propulsion of a slightly broken wind-up toy, Robin seems unable to rein in his train of thought and only just manages to pick up the threads of a joke he abandoned several minutes before. However, every diversion upon diversion is acutely funny and acted out with more panache than a middle aged man in a cardigan has any right to muster.
Things come together when he tells a story of how he confronted an angry racist in Caffè Nero. In a room full of manly men – he's nothing if not self-deprecating – it was somehow left to him to tackle the nutter hurling abuse at a member of staff. Whether or not this tale of an unlikely hero standing up against an unhinged bully is intended as an allegory about the Greens and Tories, it's nevertheless hilarious in the telling.
Next on is Francesca Martinez, formerly a child actor on Grange Hill, now a comedian with a cause. Addressing her cerebral palsy head on, Francesca plays with expectations to great effect, delivering some good 'fuck you' jokes at the expense of certain politicians. The wobbly wanking gag is a tad crass, but there's an inspiring story of how she met the man that changed her life and helped her to stop seeing herself through the eyes of her detractors. "Anyway, he turned out to be an asshole," she concludes as the audience falls about.
Then we're onto Jeremy Hardy, a spritely 53-year-old whose persona is equal parts mischievous schoolboy and world weary cynic. As a Radio 4 regular and stand-up of thirty years, Jeremy is as calm and confident as you'd expect, except for the odd moment of exasperation when the material turns to UKIP. While every comic in the country has stockpiled jokes about Farage and his merry band of oiks, Hardy avoids cheap shots in favour of kooky-but-clever observations, all topped off with everyday grumbles about being too old for this sort of thing.
After the interval we hear a few words on the election from Caroline Lucas, arguably the real star of the show. She sensibly avoids trying to be funny, but still earns an inevitable roar of applause. Fair enough, a politician who gives a shit is something to be treasured. It's hard to imagine many other members of parliament succeeding in not making an awkward mess out of the comedy context.
Things take a less political turn during Jen Brister's set, though the laughs keep coming. Despite the familiar comedy territory of a midlife crisis, Jen keeps it fresh with well-judged quips and a sassy kind of banter. She also does an excellent impression of her mother, a hot-blooded Hispanic, which she returns to throughout to throw her own misgivings and insecurities into relief.
By this point we're wondering where Shappi Khorsandi is. Her name was on the poster, but Jen and Francesca weren't. We overhear someone saying she's pulled out for 'personal reasons', but we later learn that she was out gigging the very next day. Turns out that gig was a benefit for the Labour Party. Whoops.
Though his earlier song about a light-sensitive octopus at a Jean Michel Jarre concert fell a little flat, Rob Newman does another ditty which is short and sweet and gets the crowd onside in time for him to introduce headliner Mark Steel. Newman parodies him brilliantly with an extended impression, the turns of phrase and South London accent down pat. "Cheeky twat," says Mark when he finally walks on. "I don't think I can do it now."
Despite the matey pisstaking, Mark Steel's set is a blinder. From the off, he has the crowd behind him on an ongoing tumbling wave of laughter. It might be the fact he organised the whole thing or just that his blend of irreverence and polemic is perfectly suited to the night – but Steel's confidence never falters even when he's despairing at the state of the world. "I always thought things would get better as I got older," explains the former Socialist Worker who grew up listening to punk in the Thatcher years. "It's got so much worse."
Though he seems to have thrown his lot in with the Green Party, at least this time round, he's still not one for toeing the line. Natalie Bennett's brain fade comes up for some good ribbing: "The problem isn't that she's Australian, it's that she's not Australian enough." Steel goes on to imagine how much better it would be if she'd f'd and blinded her way through the interview while admitting to having been on a boozy three week bender. None of the party members in the room can suppress their laughter at the notion. There's even a sense that it only works because he has a point. It's not Bennett but the deadly dull PR face of TV politics that Steel has in his sights.
Some slightly ill-judged scheduling means singer songwriter Chris T-T comes on last. The crowd is keyed up for gags so there's an awkward transition while people realise he's not a comedian. Some of them are already ducking out to skip the curfew crush, which is a shame as this indie folk singer has an incredible voice – so much so that he feels able to ditch both guitar and mic for one number, filling the theatre with an a cappella song about being stranded on a motorway siding. Though he's written some great modern day protest songs, the former SOURCE writer seems to want to keep it lighthearted and opts for a couple of quirky ones about giraffes and a boy with seven hearts. As he points out, he's still funnier than Caroline Lucas.
A top class night which ends with people arguing politics in the pub, never a bad thing.
Big Green Comedy Gig, Theatre Royal, Sunday 22nd March 2015
Words by Ben Bailey
Photos by Fran Moore