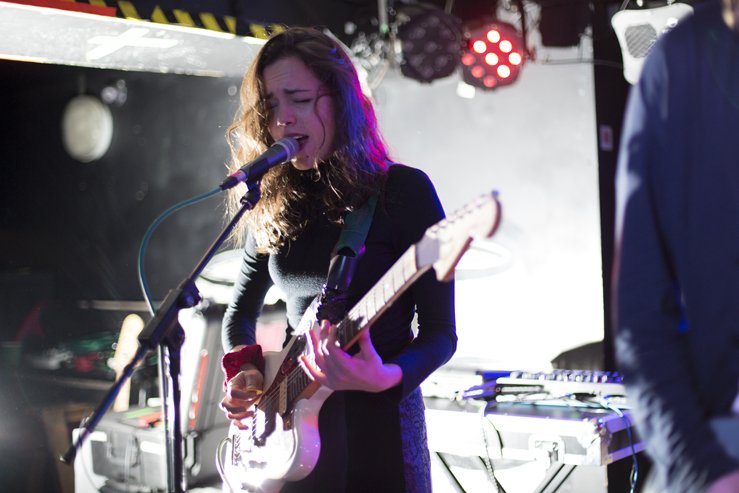 There is a palpable atmosphere at Sticky Mike's Frog Bar tonight: excitement that Brighton band Blood Red Shoes is back to play a retrospective set, coupled with regret that the club itself will soon close. Everyone seems aware that this might be the last time they'll be heading down to the basement, with its black walls, padded girders, and a stage that has provided so much top-rate music over the last seven years.
Four-piece support, Beach Riot, are local. They launch into a driving set of rock numbers that, at times, recall BRMC. Heavy riffs and tasty drumming propel each song along, while the three guitarists all take the mic, overlaying the relentless energy with melody. Maybe they're not ploughing new ground, but when it's this good, there's no need. 'Good To Know (That I'm Still On Your Mind)', their latest single, is particularly strong.
Headliners Blood Red Shoes – Laura-Mary Carter on guitar and Steven Ansell on drums – were influenced by American underground garage and punk, before developing their own idiosyncratic noise pop, with its bouncing rhythms and catchy lyrics. The place is rammed by the time they hit the stage. Advertised as 'Singles Night', the gig was an instant sell out. Having confirmed they haven't organised a night out for the unattached, the band rips into a playlist of old singles. The mixed audience reacts gleefully to each familiar intro. Tracks include 'ADHD', 'Stitch Me Back', 'It's Getting Boring By The Sea', plus 'Red River', which they dedicate to Sticky Mike's. There's air-punching and chanted lyrics; the mosh pit is jumping.
Stories that Carter and Ansell had fallen out are belied by their onstage chemistry, although when Ansell dismisses Carter's concern for the wellbeing of those in said mosh pit, she chides him with a reproachful "Oh, Steven" – which raises a laugh. After a fantastic trawl through their back catalogue, they bring two extra band members on stage – on keyboards and bass – to perform more recent material. 'Eye To Eye' is outstanding. Then, for the encore, it's back to the two founder members and a blistering performance of 'Colours Fade'.
Like Blood Red Shoes, we are also going to miss Sticky Mike's Frog Bar. Last night showed exactly why it has become such a popular venue for bands and punters alike. Brighton's music scene will be sadly diminished when that familiar red and green sign above the door is finally taken down. But what a fantastic gig to catch in its final days!
Sticky Mike's Frog Bar, Tuesday 11th December 2018
Words by Paul Stewart
Photos by Ashley Laurence