A sleepy Oxfordshire village like Cropredy might seem an incongruous place to hold a three-day music festival, but this event has been happening here for so long now it's become part of the heritage of the area. Fairport's Cropredy Convention, to give the festival its full title, is an annual get together for the veteran folk rockers who first played in the village in 1976. The band itself was formed nine years before, making this their 50th anniversary. Given the rural roots of Fairport Convention's music, which began as a fusion of 60s rock and very English folk, the leafy and quaint location is actually quite apt.
There's a sprawl of camping fields surrounding the village and a flotilla of narrow boats moored up on the canal. We cross on a bridge that was once the site of a Civil War battle and pass Morris dancers swigging from silver tankards. The costumed scarecrows dotted around the roads leading to the festival might prompt city cynics to imagine a Wicker Man scenario, but the vibe inside the festival is relaxed and genial. There's only one stage, flanked by huge screens, which stands at the bottom of an incline packed with row upon row of portable camping chairs. This city of seats is a clue to the average age of the punters, many of whom are sporting t-shirts from Conventions past. We get the impression this weekend is something of a pilgrimage for many of the 20,000 people who attend.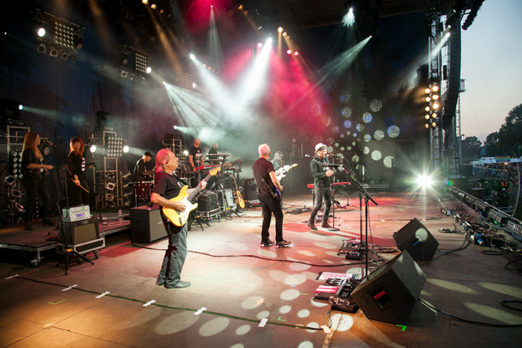 The byways around chair city make it remarkably easy to get down to the front of the stage, and so without really trying we find ourselves watching The Trevor Horn Band. A songwriter, singer and producer, this guy is responsible for an impressive roll call of pop hits, from the 70s onwards. He's joined on stage by Lol Creme from 10cc and an eight-piece backing band for a setlist that includes the signature tunes of acts like Frankie Goes To Hollywood, Yes, t.A.T.u. and Grace Jones.
It's an odd mix of material, and although we're never sure what's coming next we always know it when it does. We get 'Video Killed The Radio Star' by Trevor's band The Buggles, and Seal's 'Kiss From A Rose' which won him a Grammy. We soon learn that he's played a part in almost every era of pop music, and the revelation is like lifting the curtain on the Wizard of Oz. The set is invariably cheesy, but executed faultlessly, guided as it is by a master producer's attention to detail.
A very different style of songwriting is on display during The Divine Comedy's Thursday night headline slot. The band perform lush arrangements of career-spanning songs which veer through showtune pomp, folky chanson and guitar-based indie. Meanwhile, singer Neil Hannon is self-deprecating and witty, both in his banter and his effortless lyrics. Having arrived on stage wearing a comical Napoleon outfit for a new song about the emperor's supposed height complex, he later changes into a bowler-hatted businessman for 'The Complete Banker' and 'Bang Goes the Knighthood'.
The satirical edge and theatrical flair of these tunes make us realise how much we've missed out on since we stopped paying attention (sometime around the release of the Radiohead-inspired 'Regeneration' album). Hannon runs through 90s hits like 'Alfie' and 'National Express' without much enthusiasm, which is kind of understandable, but it's the newer ones that pique our interest anyway. It's a great performance and by the end of it we've already made plans to catch them again when they play Brighton Dome in December.
We spend most of Friday wandering about and dodging the intermittent rain. There are stalls and bars off the approach road to the festival and some small stages too, in adjoining fields and out the back of local pubs. It's mostly covers band territory, but we catch a nice set of alt-pop originals from Ian Easton & The Widowmakers who are playing in The Edge marquee bar to almost nobody. These outlying areas give the festival an informal and easygoing atmosphere; there's a decent range of drinks on offer and nobody is out to rip us off. The toilets aren't bad either, so it seems we're winning.
We're back at the main stage in time for Petula Clark who, at age 84, is making her first ever UK festival appearance. It feels somewhat surreal to be in 2017 watching a singer who made her radio debut during World War II. She's also a strange choice for a folk festival, but actually no less out of place than the other things we've seen so far. However, hers is the only performance let down by poor sound. The set is a mix of old-time ballads, vintage pop and a smattering of covers including 'Blackbird' by the Beatles and John Lennon's 'Imagine'. We expected schmaltz, but it all gets too much, despite her voice being in great shape. Any sense of being humbled by history is trumped by the need to go get more booze.
Richard Thompson is up next and modestly remarks about the difficulty of following such a legend. A rather lively audience member suggests he needn't worry, and others nearby turn round to quietly and guiltily concur. As a founder member of Fairport Convention, Richard Thompson is on home turf tonight and he duly pulls out one of the best sets of the weekend. His playing is so rich he makes an acoustic guitar sound like an entire band. We suspect there might be a loop pedal involved, but if so it's subtle and unobtrusive. As he weaves together basslines, chords and melodies from six strings, we realise we're watching one of the best guitarists we've ever seen. But that's not all. Thompson is also a fine singer whose distinctive voice gives extra gravitas to a bunch of well-crafted songs.
Christine Collister comes on to provide backing vocals for a couple of tunes, one of which, 'Sweetheart On The Barricade', is a grand anthem for the working man. It makes us aware that there's been little in the way of protest songs this weekend, despite it being a staple of much folk music. In any case, Christine is later followed on stage by members of Fairport for an electrified second half. While Thompson's acoustic stuff was a surprise and a delight (and we hope he does something similar when he comes to Brighton Dome in October), the rest of the set descends into the kind of blues rock we half-expected from the start. Unfortunately, it's a style that sounds generic and jaded to our ears, probably due to decades of overexposure. Though expertly played, it loses intimacy and ultimately our attention.
On Saturday we catch some of Marillion, who open their set with all five parts of their 'Learner' suite from last year's absurdly named album 'Fuck Everyone And Run (F E A R)'. Singer Steve Hogarth is strutting around the stage with an open-topped shirt and jet-black hair while brandishing a cricket bat in place of a guitar. He looks ridiculous, but he kind of knows it, and his between-song banter is humorous and humble. This goes a long way in redeeming the band's overblown music, which is stuffed full of guitar solos, big choruses and astonishingly complex drum fills. By comparison, Dougie MacLean, who plays next, seems low-key and subdued, though the Scottish singer songwriter proves to be an accomplished fingerpicker and folk balladeer.
The final act of the weekend is, of course, Fairport Convention. Having opened the festival on the Thursday with an acoustic set, the band now deliver a marathon three-hour show – something of an endurance test for band and audience alike. Luckily, Fairport have invited a host of guests to celebrate their golden anniversary, which means the line-up changes almost every song. Simon Nicol and Dave Pegg lead most of the songs, while alumni such as Richard Thompson, Dave Mattacks and Maartin Allcock come and go alongside countless others. At times there are two drummers on stage and twice as many guitarists. The sound never gets muddled, however, and it's plain to see that everyone up there is having a great time.
They play almost every track from the classic 1969 album 'Liege & Lief', as well as offering unique takes on tunes by Joni Mitchell and Leonard Cohen. There are various tributes throughout the evening to lost friends and bandmates, including Dave Swarbrick who passed away last year. A moving rendition of 'Who Knows Where The Time Goes?' follows a dedication to the late Sandy Denny, whose pristine voice defined the band's early recordings. Rather than casting a sombre mood, these commemorations add a poignant touch to proceedings and make the jubilant atmosphere even more special.
"I can't believe this band has been going for 50 years," says Nicol, sounding genuinely surprised. "And that I'm still in it! It's implausible." A mass of musicians and guests assemble on stage for the last number, 'Meet On The Ledge', and the final singsong begins. When we happen to turn around we notice chair city is no more. Everyone in the field is standing now, and as the extended chorus eventually concludes we're happy to have been part of it.
Fairport's Cropredy Convention, 10th – 12th August 2017
Photos by Kirstie Handley