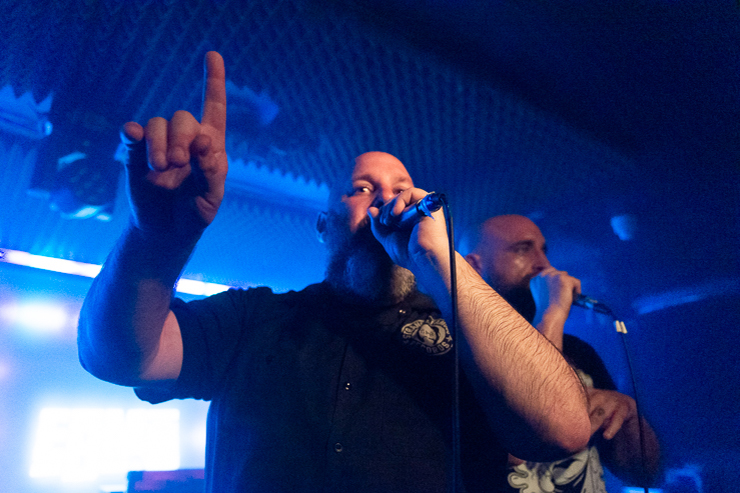 Hard-working, always-touring, independent rap veterans Sage Francis and B.Dolan combine forces to become the Epic Beard Men. Both have carved a name for themselves as rappers and spoken word artists capable of introspection, technical wordplay and social commentary. Somewhere along the line they forgot, or needed reminding, that "This is supposed to be fun, for fuck's sake". A new approach was required for their new album, and it is full of tall tales, wry humour, wild characters and sharp satire. We'd already spoke to them about it here.
The sounds at Patterns nails the most important aspects of any hip hop show: you can hear what they're saying and the beats bang too. Diction is often lost in live hip hop and it can ruin everything, especially when rappers are this lyrically rich. They're clearly having fun, linking each song together with little prepared skits, getting the crowd involved, sharing verses and juggling the vocals. It's full of little nods to the classics. "You on point B? All the time Sage." On their track 'Five Hearts' they claim to be "A Tribe Called Side Quest", but they also warn if you get every videogame reference you need to get out more.
They regularly interact with the audience, shaking hands with the front row, announcing prospective boy band members and making sure everyone gets involved with the choruses. There's even some dancing on offer to ensure this feels like a proper hip hop party. At one point, when Sage brings on a light-up bubble gun and surrounds B.Dolan with a steady flow of shining bubbles, it's a strange and wonderful sight to behold.
As advocates of the DIY attitude they launch into 'DIYMFS', the refrain "Do it your mother fucking selves" a lyrical high-five to artists who run their own labels, own their music and book their own shows. 'Hedges' is a creepy story of neighbourhood paranoia about suspecting each other and keeping those walls high. 'Pistol Dave' is the painfully relatable story of the guy everyone has met at some point: keen to party, keen to drink too much, often found asleep in the bathroom, likely to punch you in the face. They round off their set with Sage's poignant and powerful track 'Sea Lion' before finishing with 'House Of Bees', everyone strictly instructed to join in with the chorus.
Both performers take time at the end of the show to meet and greet their fans. Many approach and engage them in long chats, some are simply after a photo or want to shake their hands and thank them, while Sage maintains his ritual of giving hugs to any fan that asks. Their music connects with a lot of people, and their understanding of this helps command that much more respect. They could have just disappeared off stage, but they're still talking to fans when we leave and that's something special and quite rare.
Epic Beard Men, Patterns, Wednesday 7th August 2019
Words and photos by Mike Tudor