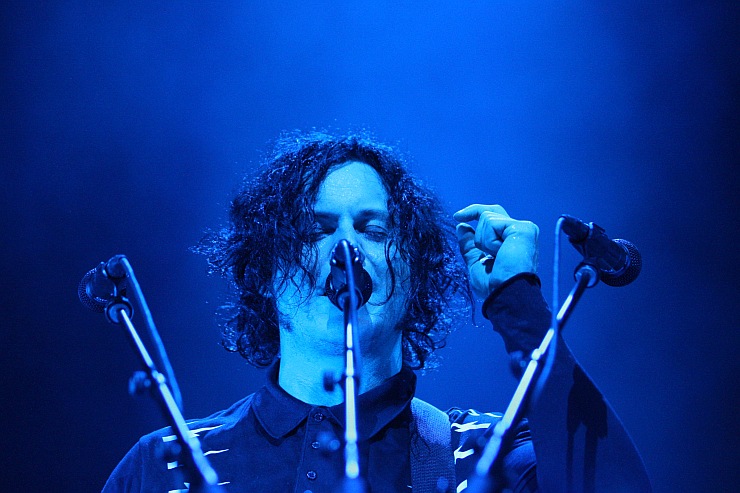 With the eerie refrain of Artie Shaw's 'Nightmare' fading out, the band entered and were warming up when White ran out to the front of the stage to whip up the fans, grabbed a guitar, then did the same on the other end of the stage, obviously keen to get things ramped up quickly. Opening with a Hammond organ-backed 'Over And Over And Over', White prowled the stage, knocking over a cymbal while the crowd lapped it up. Also from the latest album, a heavy guitar chug and hard drumming saw White playing to drummer Carla Azar, recalling his White Stripes days. The "Who's with me?" refrain generated a strong response from the crowd to which White replied with wailing Little Richard screams.
A White Stripes double began with a countrified 'Hotel Yorba' which featured some great rock'n'roll piano from Neil Evans on an upright and a looser solo-heavy 'Hello Operator'. This was followed by a few selections from 'Boarding House Reach' where White was able to showcase his impressive guitar skills while conducting the band and summoning his snappily-dressed stagehands. The funky 'Ice Station Zebra' was an organ versus guitar jam that closed this section before White utilised all three microphones to screech out The Dead Weather's 'I Cut Like A Buffalo'. He showed with skill and apparent ease what a proper rock star should be: a strong voice (despite the lengthy tour), amazing musicanship, plenty of Brighton shouts and great songs with big choruses and fiery finishes. He's also playing a different set on each date, so is obviously keen to keep things fresh.
White showed his piano prowess with some classy Jerry Lee Lewis thumbnail glissandos on 'Dead Leaves And The Dirty Ground' and his gentler side on 'The Same Boy You've Always Known'. There was a touch of Southern Gothic to end the set with Meg and Jack's 'You Don't Know What Love Is' and The Raconteurs' 'Carolina Drama' given a Muscle Shoals touch.
The encore was hit heavy, beginning with a second Raconteurs song 'Steady As She Goes', with its killer chorus reminding us of what a great band they were. The show ended with 'Seven Nation Army' – no Corbyn chant, just a blokey, football shoutalong as the drums pounded out the beat for White to let loose on that iconic bottleneck solo. As always, there was a group bow and a heartfelt sign off with "My band thanks you and I thank you". Amazingly, everyone adhered to the no phones/photos request and it was a rare treat to see the crowd in shadows and not have to watch the gig through a sea of phone screens.
Brighton Centre, Tuesday 16th October 2018
Words by Steve Clements
Photos by David James Swanson