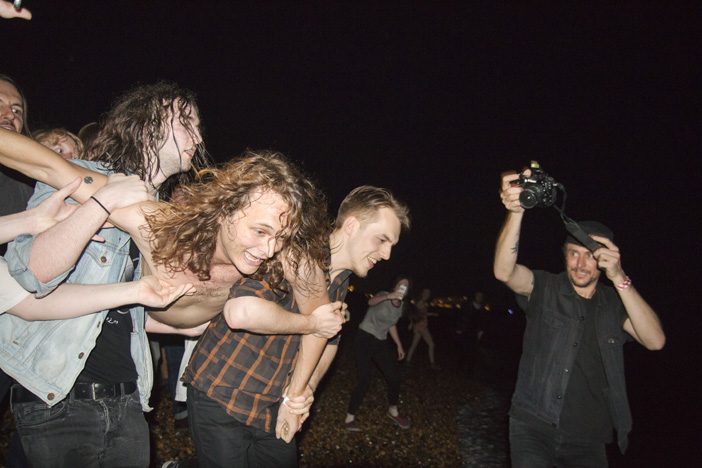 We were warned twice before King Gizzard and the Lizard Wizard came on stage, that in the 'event of crowdsurfing', we would have to leave the photo pit. We've covered a few gigs in our time, and it's rare to hear.
What we weren't expecting, was that the crowdsurfing would come from lead singer Stu Mackenzie. And he would literally 'surf into the sea and back during the set finale.
Yes, you read that right, into the fucking sea!
Citing a recent festival in Italy where the same happened, Stu launched into the crowd, to be carried triumphantly on the shoulders of hyped and adoring fans, across the pebbles and flung into the sea. And then all the way back again, re-joining the remaining Lizards on stage to finish the show in spectacular style.
Scrambling to get pics as a parade carried him back through the doors of Concorde 2, we were left wondering if we had just witnessed the most rock and roll close to a gig ever?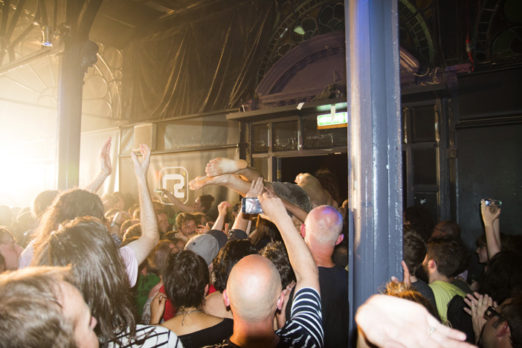 The scene was suitably surreal, matching the bands' acid infused visuals and gloriously heavy psych-rock sound. KGLW have been releasing new albums like there's no tomorrow (they're about to release their 10th album in five years), but what's most pleasing is how they're developing their sound as they go.
Set-opener 'Rattlesnake' typifies this. Basically they've taken their psychedelic start to life, turbocharged it with a dash of punk, and delivered a wonderful wall of sound that will eat you up, spit you out and leave you wondering what the fuck just hit you. They play with two drummers, and the ominous pounding gives the sound a thrust and urgency throughout.
The audience seemingly cannot get enough of this – Concorde 2 had some of the biggest moshpits / circles seen in a while, despite the intense heat. Water bottles were lovingly shared, as arms were swung into the air (and inadvertently into others' faces) – a truly electric atmosphere.
Set highlights included 'Gamma Knife' and 'Sleep Drifter', but to be honest this gig didn't feel like it was about individual songs. It felt like a generation connecting and revelling during challenging times. A time to pick the fallen up from the sticky floor of the C2, a time to chant Corbyn's name between songs and then launch full-throttle back into the pit.
We trudged home after with sodden feet (we may have enthusiastically ran into the sea with camera in-hand to grab the pics), but filled with adrenaline and hope. As Tuesday nights go, this was not a bad one.
Concorde 2, Tuesday 13th June 2017
Words and photos by Ashley Laurence