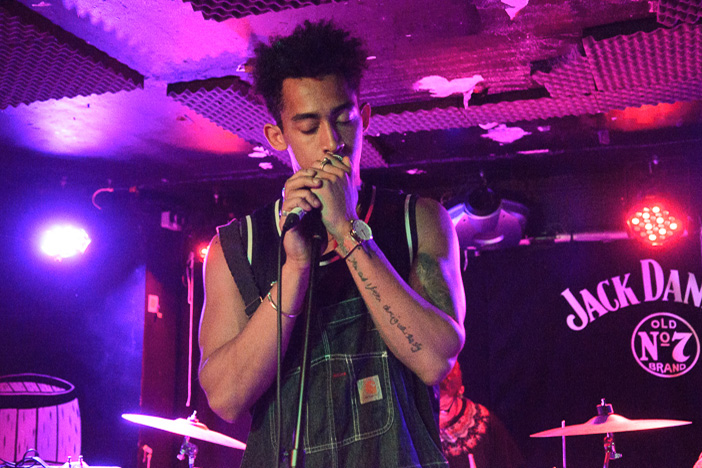 When you're one half of a duo that found massive commercial success it's understandable to want to develop a side project and enjoy the opportunity for experimentation. Jordan Stephens is one member of Rizzle Kicks, whose two top five UK albums brought big selling singles 'Down With The Trumpets' and 'Mama Do The Hump'. Moving far from those undeniably catchy and upbeat singles Wildhood is a much more brooding, varied and dark beast showcased in the recently released 'Vert' EP.
We caught Frankie Stew and Harvey Gunn in support, and it's probably this first time we've seen them in the last three years when Harvey isn't on stage with Frankie. The set up of the venue means he's offset to the left of the stage almost entirely in the dark. Nevertheless the performance isn't affected and Frankie still holds the stage confidently, there's also clearly a lot of a support for them in tonight with cheers from the crowd and singing along.
They recently dropped 'Flowers In Your Room' and continue the niche they carved for themselves in hip hop via sincere and open storytelling, narrating struggles with relationships, jobs, education and stressed living. This would be the sort of hip hop to sit and listen to, but Frankie's charisma flashes through on stage and Harvey's production has the depth to fill the room even on the more ambient tracks.
Wildhood's set begins with Jordan taking centre stage and starting with the atmospheric and menacing 'Double Dark'. Rumbling bass and slow-paced drumming carry what is almost a spoken word track, and brings comparisons to the likes of Ghostpoet. He's joined on stage with a three-piece band as well as the beat-maker at the back on laptop; a new track nearly begins before he stops them to pull out a notepad to recite a very recent piece. He had to shave of his moustache, facial hair he was clearly fond of, and the short piece is a tongue-in-cheek explanation of his reliance on it and feeling vulnerable without it.
Recent release 'Baggy' follows with the bassline lead giving another taste of the album's sound. It's more upbeat and builds to a chorus asking "What's in your baggy?" while narrating a night around drugs and the potential for their ill effects. The whole performance is very tight considering this is one of Wildhood's very early shows and draws in the crowd who gather at the front railing. Jordan has always had confident stage presence, we last saw him at a special show at Blind Tiger a few years back, and the crowd are regularly jumping about and getting involved. We can see Wildhood's support growing as positive word spreads of their live show.
Sticky Mike's Frog Bar, Friday 29th July 2016
Words and photos by Mike Tudor