The ubiquitous cupcake, formerly the sole preserve of under-sevens' birthday parties and known simply as a bun, has taken over Brighton. But what if three inches of garish sickly 'frosting' isn't really your thing, because you're a grown up, and don't even like Sex & The City? If, like SOURCE, you eschew the Yankee cupcake – all style over substance – then where do you go for a refined slice of cake with a nice cup of Darjeeling?  Not the Mock Turtle if our experience is anything to go by (see our review here).
With the coffee drinkers taken care of in February's coffee shop feature we asked for your tea and cake recommendations, and then spent a month troughing down butter-cream in the name of research. Competition was fierce and your favourite may be missing because it was kicked into touch by one of these exceptional cafés.
This is all about cake – so we've ignored pastries, biscuits and tarts.  We've even ignored cream teas though it hurt us to do so, except to mention that all of our picks serve one in its correct clotted cream format except for cream tea-free Marwood and Slice Sussex.
44 cakes later we assume the recovery position, book up a diabetes test and bring you SOURCE's best tea and cake.
B&R
Tea and cake for two £10.50. Trafalgar Street, Brighton


Only open for six months, B&R feels like a well-kept secret at the moment. The parquet floor, rickety teak folding tables, wicker chairs and lacy tablecloths create the impression that we're taking tea in an Edwardian colonial conservatory – helped by the huge windows which make this a quaint, calm spot for watching the world go by. The small selection of cakes doesn't disappoint. We go for the light, citrusy carrot cake which has butter icing filling as delicate and fluffy as raw meringue. The chocolate and Guinness cake fortunately tastes nothing like Guinness other than a subtle booziness which puts us in mind of Christmas. The combination of a lemony cheesecake 'head' sitting on top of a brownie-esque sponge is unexpectedly delicious.
Blackbird Tea Rooms 
Tea and cake for two £12.30. Ship Street, Brighton BRIGHTON WINNER!


With its panelled interior, chintzy china and broderie anglaise tablecloths Blackbird is a fully realised step back in time – the waitresses even have 'Allo 'Allo hairdos. Though lacking in chocolate options when we visit (presumably something to do with rationing) there are plenty of homemade cakes to choose from. We try the lemon drizzle cake – a classic WI example, with sloppy lemon curd sandwiching it together and glacé icing – and a Victoria sponge given a twist with the unusual blackcurrant jam and custardy vanilla filling. The cakes are excellent and reminiscent of your mum's best efforts, and it's a delightful experience with incredible attention to detail. We can't fault it – it's the priciest of our recommendations, but worth every farthing.
Cream Tea
Tea and cake for two £11.00. New Road, Brighton RUNNER UP!


There might not be much elbow room, or as much character as some cafés in our list, but Cream Tea do make* exceedingly good cakes. There are loads of them to choose from too. Loads. We try the classic light fluffy Victoria sandwich which is dusted with icing sugar and tastes wonderfully fresh, and the chocolate orange cake which is in contention for our best overall cake – the gooey sponge and tangy chocolate citrus icing are outstanding. Slices are big enough to share if you're skint, and they get extra points for serving proper Cornish Rodda's clotted cream. Don't let their tourist-friendly location put you off, this was top of our league table for most of the competition and is well worth a visit.
(*buy and serve)
I Gigi
Tea and cake for two £12.20. Western Road, Hove


At the top of the curved staircase which leads up from the general store we arrive in a French country kitchen, pleased to find we've inadvertently popped in for a cuppa with Papa and Nicole just before their photo shoot for an interiors magazine.  The presentation of the slightly unusual cakes is exceptional, served with fresh fruit and a berry compote they prove the most middle class of all our cake eating adventures. The rustic carrot cake has big pieces of seed, carrot and fruit set against a light decadent icing, and almost tastes like it's good for us. We thankfully can't taste the almond in the orange and almond cake, nor can we tell that it's gluten free, it's so sticky and delicious.
Marwood
Tea and cake for two £8.50. Ship Street, Brighton


Prioritising fun over refinement, Marwood is piled high with old tat and car boot curiosities, giving the space a very distinct personality. Their junk shop aesthetic spills over into the cheap and cheerful refreshments. No fancy bone china here – tea is strictly of the builders' variety, served in big mugs. The enormous slabs of cake mean that you could happily share a slice in the run up to payday. We try the parsnip and caramel cake which is dense with a gingery edge, the parsnip comparable to carrot as a cake ingredient, with the caramel icing just the right side of sickly. The raspberry and white chocolate cake is very sweet with a hint of cheesecake, and leaves us needing a quiet lie down.
Mr Wolfe
Tea and cake for two £10.60. Montpelier Place, Brighton


Although the current vogue for coffeeshops is all monochrome and hard wooden edges, Mr Wolfe combine this style with an airy tranquil feel which is helped by the languid goth soundtrack of Low and sun pouring through the big windows. If this was an indie film the clientele would be falling in love – the tiny room is full of attractive singles reading broadsheet arts columns. The tea is as strong as hell but the owner couldn't be nicer when asked for a hot water top up. The cakes are homemade by Mrs Wolfe, who has knocked up a chocolate beetroot raspberry cake, the earthy taste of the light sponge perfectly balanced by a zingy berry icing. We're blown away by her incredible sticky chocolate fudge layer cake with orange blossom ganache which melts in our mouths. It's a contender.
Treacle & Co
Tea and cake for two £11.25. Church Road, Hove HOVE WINNER!


This bustling café, with its ramshackle interior of utilitarian butcher's shop wall tiles and bare wood, is quirky and charming. It has the most extensive range of cakes, all of which are beautifully made by the owners. Impressed by the number of gluten-free options we struggle to choose but eventually plump for the glitzy Victoria sponge – which is extravagant with several layers of very buttery butter-cream and blackcurrant jam. The gluten-free white and dark chocolate kirsch and lemon cake is stunning – and arguably beats our two favourite chocolate orange cakes into joint second – with  liqueur-laced cherries in the sponge and a lavish filling which tastes like fresh cream, although we're told it's made from white chocolate. A lot of love has gone into these cakes.
Sugardough
Tea and cake for two £9.90. Victoria Terrace, Hove


Some of the vintage cafés we visit feel a bit like a Spirit Of The Blitz Theme Park but this one feels like it's always been here, with its lovely old shop fittings, weighing scales and mismatched tables, all squeezed into the tiny shop amongst towers of full flour sacks, reminding us that this is a busy working bakery. The unassuming little cakes are a joy, served on pretty porcelain. The lemon and poppy seed has a dense, seed-packed sponge and interestingly leaves all the sweetness to the crunchy royal icing, which is topped by wonderful candied peel. We're equally impressed by the flourless chocolate cake, with its indulgent truffle-like sponge and double layer of icing. A refreshingly simple and unique elevenses experience.
Slice Sussex
Tea and cake for two £10.30. Church Street, Hove


With a dark, cosy interior that feels more arty pub than café, we can imagine hanging out in here all afternoon – even the fact that half the customers are mid-business meeting doesn't detract from the relaxing atmosphere. The emphasis is clearly on the coffee but the friendly staff talk us through their homemade cakes, advising us that the carrot and orange cake with its sultana-stuffed sponge is "technically three of our five a day" although the rich cream cheese icing may well undo these unproven health benefits.  The chocolate and red wine cake is a very grown up treat – the absence of cream and icing in no way a negative. The sponge is laden with firm dark chocolate and outclasses most of Brighton's chocolate cakes.
Talk Of Tea
Tea and cake for two £10.75. Spring Street, Brighton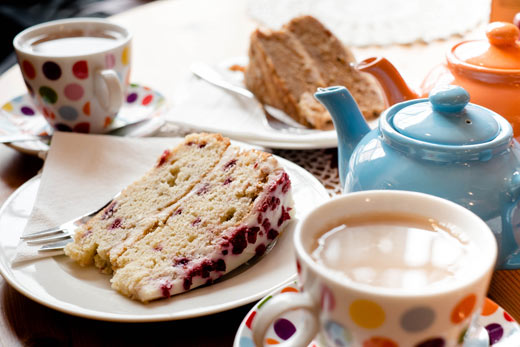 Tucked away just off Western Road, this homely little teashop feels like your mates' front room but caters for the serious tea aficionados – with five pages of the menu devoted to the old Rosy Lee, which is made with filtered water and served in jolly little coloured teapots. The owner happily recommends a brew based on our personal preferences, with no sniffiness about our usual PG Tips habit. The cake selection is small but flawless.  The apple cake is dense with chunks of fruit and a generous layer of cinnamon fondant icing which proves less cloying than the butter-cream we're usually met with. The white chocolate and raspberry cake tastes fresh and fruity and is the best raspberry cake we try.
Other Round Ups
Burgers
Curries
Fry Ups
Roasts
Or Make Your Own Orange & Chocolate Cake
Words By Joss Davey from Terre a Terre

Makes one gluten and dairy-free cake.
• Line 8" tin with baking paper. Set oven to 170*C.
• Boil two medium oranges in water for three hours. Change the water twice and make sure they don't boil dry (this removes the bitterness). Cut in half, scoop out and discard the centre.
• Put the warm rind into blender. Add six large eggs and 200g caster sugar. Blend til thick and creamy in texture and light in colour.
• Scrape into a bowl. Fold in 200g ground almonds and one level tsp baking powder. Pour into tin and bake for around 40 mins. A skewer inserted into the cake should come out clean if it's ready.
While cooking, make your chocolate glaze:
• In a small pan, bring to boil 80ml water and 45g glucose syrup. Pour onto 150g chocolate (60-65% cocoa) and allow to melt. Mix together one heaped tsp cocoa powder and one tbs vegetable oil. Add to the chocolate. Mix well. Cool slightly before use.
• Once cake is cooked, make a syrup out of 4 tbs caster sugar, 4 tbs water and two crushed cardamom pods. Bring to a simmer, allow to infuse for a few minutes, then strain onto cake. Allow cake to cool properly before glazing it.
• Pour glaze on top of the cake and spread around to coat top and sides. Refrigerate to set.
Photos By James Kendall