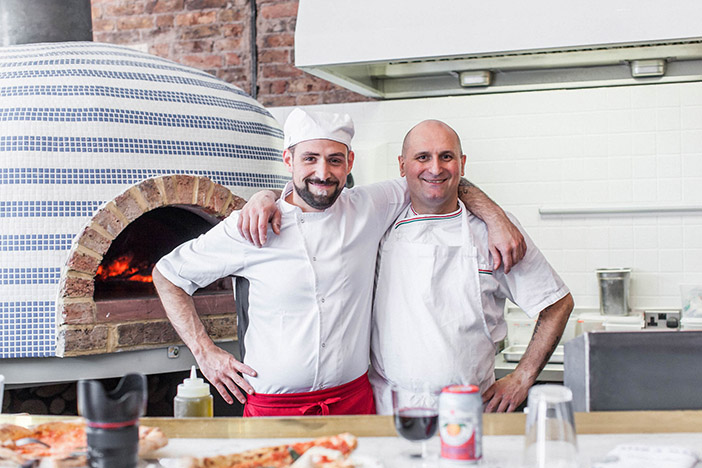 THE PLACE
We know we're in for a good night at London Road pizzeria Fatto a Mano when the first sound we hear on arrival is 'Don't You Just Know It' by Huey "Piano" Smith. Feelgood vintage rock'n'roll bonus immediately awarded.
"We've only been open a week and it's already like Cheers in here," grins manager Dean. And we know what he means. The place is buzzing, the staff seem to be having a laugh and there's a party of eight Italians at the adjacent table.
Fatto's centrepiece is a wood-fired clay oven that fires up to 450 degrees; hot enough to cook a pizza in less time than it takes to under-do a slice of toast. The chefs are no-nonsense Italians who take their pizza-making seriously, and there are bar stools set up in front of the oven for those who'd like to watch them shovelling the dough around with a six-foot pizza spade (or whatever the proper name for it is).
THE MEAL
The food menu is succinct: classic Neapolitan pizzas separated into red and white (no tomato base) varieties; salads; ice cream; cured meats; dangerous looking fried pizza doughnut strips for dessert — it's pretty much that simple.
We start with caprese salad: an igloo of buffalo mozzarella surrounded by tomatoes that are little flavour bombs, loaded with so much savouriness they're almost meaty. It's washed down with a Limoncello and tonic, which is a new one on us. It's sweet and refreshing, in a similar way to a mule, but lacks the subtlety of a good-quality g&t. We follow up with some beer from Brighton's Bison craft emporium — and then it's pizza time.
We choose a Diavola (chilli, basil, mozzarella, parmesan and spianata romana) and a Capricciosa (ham, mushroom, artichoke, olives, salami, basil, mozzarella). The bases have a fluffy, almost doughnut-like texture, outlined with a billowy pillow crust that would make ideal dunking material, if anything dunkable were available. Unsurprisingly, they're both excellent.
THE VERDICT
We'd prefer dimmer lighting (we're a bit old fashioned like that). Otherwise, the only disappointment is that the place isn't run by a caricature named Fatto — we were looking forward to meeting him. Our Italian clearly leaves something to be desired; Fatto a Mano, if you didn't know, means handmade.
This is a fine addition to London Road's roster of hip eateries, and we reckon it'll thrive (the barbers next door and the firemen up the road are already regulars, apparently). They also do takeaways, although it's collection only (Neapolitan pizzas don't like to travel, we're told).
There are two branches of Domino's within about eight-minutes' stroll from here. Why would anyone go there when they could have this?
77 London Road, BN1 4JF
www.fattoamanopizza.com
Words by Gary Rose
Photos by Emma Gutteridge