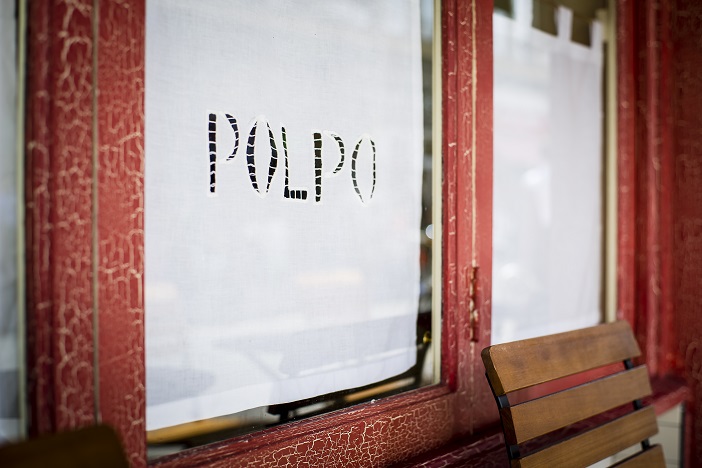 THE PLACE
Polpo Brighton is the 10th outlet of the restaurant brand which first opened its doors in London's Soho six years ago. With two more set to open next year (in Knightsbridge and Leeds if you're interested), it is clear the Polpo format of small plates of Venetian food is a popular one.
The Brighton branch is a small, intimate place with ubiquitous retro brick tiles, perfect lighting (more important than most realise) and some Hot Chip playing gently in the background.
THE MEAL
Polpo promise 'humble, simple food' and there wasn't much on the menu we didn't want to order. The small plate situation was deftly explained (three to four per person is more than enough) and we were told our food would come out at any time.
The pizzette menu first caught our eye – small, 7 inch pizzas in a variety of flavours. We went for the bianca and the spinach, parmesan and soft egg options and both were a delight. The bases are beautifully thin but not too crispy, and the spinach and soft egg pizza had the three of us fighting over who had the last slice. You can imagine coming in for a sneaky pizzette to cheer up a rainy lunchtime. Delicious comfort food.
Our meat eaters ordered the lamb and mint meatballs, which were juicy and perfectly flavoured although they came out first and we had nothing to mop up the sauce with. A bit like ordering meatballs and pasta but without the pasta. The sauce was good but it needed a carb utensil to help it down. The chickpea meatballs on the other hand worked well as a solo dish and it was pleasing to find some really innovative veggie options to choose from.
We ordered two pasta dishes, the crab and chilli linguine which was rich and spicy, and the rabbit pappardelle. Both big portions of hearty pasta, these dishes were more than a small plate.
THE VERDICT
There's no doubt the Polpo group know what they're doing, and the Brighton branch is a seamless offshoot of its London cousins. They are the masters of small plates, but they thankfully forgo the measly portions of their peers. The food is consistently good and the menu is diverse, with a near equal mix of options for veggies and meat eaters. We'd love to see more beers on the menu (only one to choose from) and a wine glass wouldn't go amiss, but we know this betrays us as potentially uncool (we're OK with it). Definitely worth making a booking for a dinner with friends or a payday lunchtime treat. We'll be back.
Disclaimer: We didn't pay for our dinner, and Polpo knew we were reviewing.
20 New Road, BN1 1UF
01273 697 361
www.polpo.co.uk