Trying to round up Brighton's best curries was a stupid idea on so many levels. For a start it's such a personal decision. When we asked for your recommendations we had almost as many places tipped as we did people suggesting them. So maybe your favourite is missing (send hate mail to us on the Brighton SOURCE Facebook fan page) and somewhere you didn't rate is getting real props. Sorry, that's the way it is.
On a practical level it wasn't that wise either. Have you tried to take a photo of a curry and make it look as good as it tastes? Impossible. Especially in restaurants that tend to be atmospherically dark. And as for describing this complex cuisine without resorting to the word 'hot' every time – well, even after months in India and time in Thailand, we simply don't have the vocabulary to do justice to the many layers of flavour. So, we did our best.
Then there's the task itself – shovelling down 10 curries in two weeks. There were times that we were longing for a nice bland potato and some gravy. But even at our least enthusiastic every one of these curries was a joy to eat. The Twitter and Facebook-following SOURCE readers recommended well. And we know there's at least another 10 suggestions that could have made the grade. Raj Pavilion, Empire Tandoori, Khans, Ashoka, Elizabethan Tandoori and Eshna's Nutrition – we promise to get to you next time.
You'll notice that The Chilli Pickle isn't in the top ten. Why the hell not? Even though it was by far the most recommended restaurant we couldn't get a table there. Not because it was busy – it always is – but because it was closed. It's moving to myhotel in March (see New In Town) and we'll pop in when we can bring ourselves to get back on the spice.
So here you are, the SOURCE readers' most recommended curries judged by us. The idea that Brighton can't do curry ought to be put to bed now as there's something for everyone here.
BEST CURRY IN BRIGHTON: NISHAT Preston St

This takeaway joint makes much of the fact that The Guardian called Nishat "the best food outside India". But it's worth noting that the quote is 11 years old now and comes from Julie Burchill not a food reviewer. However, this place was highly recommended by many SOURCE readers, who clearly know what they're talking about. The balti kebab is a great starter for £3.30 – two soft lamb burgers in a rich, warm tomato-based sauce. The chicken tikka jalfrezi (£5.30) has all the punch that the menu promises; in fact the tikka spices are surplus to requirement as we rush for water, and then milk, to calm our mouths. Even more appealing than the intensity is how hearty it is – full of chunks of chicken and vegetables, plus all those chillies. The Madras fried rice (£2.60) is also great – loaded with green beans, mushrooms, carrots and cabbage. Outstanding from start to finish and the leftovers were great cold too. Julie was right after all.
PLANET INDIA Richmond Pl


It took us a few attempts to eat at Planet India – it's only open for four hours a day (6pm-10pm) and demand for tables is very high. Getting in without booking is a real gamble. Why so popular? Well, it probably the most Indian of Indian restaurants in Brighton, and the prices are great. Our starter is a revelation from the first mouthful. Dhai Bhel Puri (£4.84) is confusing mix of Bombay mix-esque street snacks, coriander, onion, tomato, chickpeas, deliciously sweet tamarind sauce and yogurt. It's so unusual it can only be authentic. If you can't decide what main to get you can opt for a half and half (£3.32 each), and we try the mixed vegetable curry and black chick peas curry – the latter is dry in flavour and feel, while the veg curry is the sort you wish you could make at home. Rice is just £1.77 extra, making this great value for money – we didn't finish and they kindly offered a doggie bag.
HOVE TANDOORI Church Rd

One of the most recommended restaurants, Hove Tandoori is pure traditional old school Indian, but brought right up to date with class. Attentive service, a huge menu filled with classics and new twists, there's plenty to enjoy here. An example of the care that goes into making you feel welcome is that as soon as you sit down the waiters bring you over papadums and pickles. From there we head into a mixed starter (£5.35), which has wonderful quality soft meat, gentle flavours, and as fresh as possible salad. A small bhagi comes straight out of the fryer and is so crisp. The lamb shank nowab (£11.80) leaps right out off the menu and looks great on arrival, draped with thick sauce and green peppers. The meat falls off the bone in the way that you hope it would and there's a real tang that plays off the wonderfully fragrant rice. There's clearly a pride that runs right through this place.
GIGGLING SQUID Market St

There seems to have been a Giggling Squid invasion over the last few years, and by all accounts more are coming. That can only be a good thing as their daytime take on Thai tapas is a lovely way to explore lots of different flavours in one meal. From a variety of options we choose the Ped Ped Tapas Set, and, after checking with the chef, they swap the squid with fishcakes (your mileage may vary). Delicious and spongy they are too, but the best thing on the four-sectioned platter is the spicy beef salad which is super-sharp, like a punchy Thai salsa. As good as it is, the red curry can't keep up, tasting creamy and full of tomato after the spiky chilli flavour. But it's rich, with good crispy veg and a decent amount of soft chicken. Stunning presentation really ups this meal, which is a great experience for just £8.50, and even though you can't get it in the evening there's load of interesting options after sundown.
SPICE NUTRIMENT Queens Road

Ask anyone in Brighton to name an Indian takeaway and there's a fair chance that this one will be the first off their lips. The place is legendary not least because they make a huge effort to be healthy. Low fat meat, brown rice, extra garlic – it really shows as soon as you tuck in. We start off with a Tandoori chicken quarter (£3.15) that's almost caramelised, with soft onions and minty raita. Go for the classics, you suggested, so we opted for a chicken bhuna which was fairly gentle on the tastebuds and the stomach. The vegetable side dish was a surprise arrival but a worthwhile addition, padding out the main dish until it turned into two meals. The rice meanwhile was big in grain and taste. Delivery can take a while from Spice Nutriment as they prepare everything to order, but our food arrived much quicker than the estimated one hour. Really healthy takeaway food – and you can't argue with that.
DRUID'S ARMS Ditchling Rd

The Druid's is a great little pub that's always got its eye on doing something interesting – like post-rock music festivals with Nice Weather For Airstrikes for example. There's a friendly hanging-out vibe, so it's handy that there is also really good food there, at a price you can indulge yourself with. Just £5.99 no matter which of the six curries you want (even if your meat choice is duck), we decide to go all out for the jungle curry. Not enough places do this intense dish, but with its use of chicken stock rather than coconut milk it's a really eatable dish if you can handle the heat. The Druid's version has all the bite and more, and we've broken a sweat before we're halfway through. There's loads of fresh veg – beans, broccoli, carrots, bamboo and caulifower – and enough meat making it a real bargain for an evening Thai. It's good too – you can cut yourself on these flavours.
SUKHOTHAI PALACE Middle St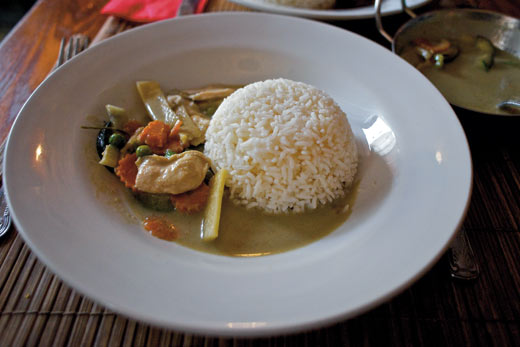 In the world of treating yourself to a nice lunch, there's no better bargain than Sukhothai. For five quid there's a huge range of main courses and a small selection of starters to go with them. Yep, two courses for £5. For that money you wouldn't mind if the food was average, but this nosh is top notch. The starters – prawn toast, soup, spring rolls and the like – are small but you should think of them as a little bonus. The mains are the reason to come though, and the curries are as good as the stir-frys, which are very popular. Our green curry comes with a decent amount of chicken and plenty of fresh crisp carrot, soft aubergine and peas. The kick builds quickly and has a real presence, the intensity topped with a heavy hint of Thai basil. There's no complaining when we sit around in the calm restaurant for an hour and a half chatting. The only down side is that the cheap deal makes the evening meals seem pricy, when they aren't really. Especially when the food is this good.
INDIAN SUMMER East St

It's easy to stick with the tried and tested on an Indian menu because tackling something new usually requires a complete leap of faith. Almost all the curries at this top end restaurant are new to us and, like its neighbour Terre à Terre, we feel a bit out of our depth decoding the descriptions. We needn't have worried though, Indian Summer's reputation for quality runs right through it. Our starters of Hyderabadi Dal gosht and Nawabi murgh (see what we mean) feature as good meat as we have in the whole round up, not least in the former's minced lamb kebab. The punchy flavours are cleared with a cranberry, apple and lime refresher between courses. The Chicken Kala Mirch has rosemary as the key spice, making a unique curry. Meanwhile the lime and ginger in the Goan fish and prawns give it a raw intensity that refuses to overpower the dish. The presentation was incredible, making the two courses for £22 seem reasonable. Pure sophistication.
KEMPTOWN TANDOORI St Georges Rd

There's a fair chance that this is a new name to you, but it's been a longtime favourite of ours not least because of the amazing mixed starter (£4.50) they do. A spicy kebab, solid lamb, quality chicken and piles of salad mean that you could even split it between two, both enjoying the jagged, spicy flavours and garish colours. The curry of choice is as unusual a name as the takeaway – a chicken haq (£7.95). No, it's a new one for us too – in fact a web search comes up blank. Medium hot, based around onion, lemon and ginger, it's bursting with intense flavour without battering the taste buds with spice. There's plenty of Tandoori cooked chicken – dry and rough textured in the way that chicken often isn't in curries. The onions are lovely and soft though if we're quibbling then the tomatoes could benefit from a little longer cooking. Give it a try, we think you'll like it.
KRUA ANNE Kensington Gdns

When we're feeling a bit flush Krua Anne is a regular lunchtime spot for the SOURCE team, situated as it is, right in the heart of the North Laine. Although it's not quite as cheap as Soukathai's lunchtime offering, its main dishes are bigger, though you'll have to lay down four quid for a huge portion of crisp vegetable tempura (it's pretty much worth that though). The red curry with chicken (£5.95 at lunchtime, £6.50 in the evening) doesn't have the fattiness that coconut milk-based dishes can have, making it good for lunch. It's not too hot but has loads of flavour that just begins to tingle as the last mouthful is shovelled in. You might very well have had equally great food at The Office, as these guys do the same grub there. They must be doing something right because the council gave them the Curry Of The Year for 2010. Yeah, we missed that award too, but the inclusion in this list is another win for Brighton's best kept open secret.
Other Round Ups
Burgers
Tea & Cake
Fry Ups
Roasts