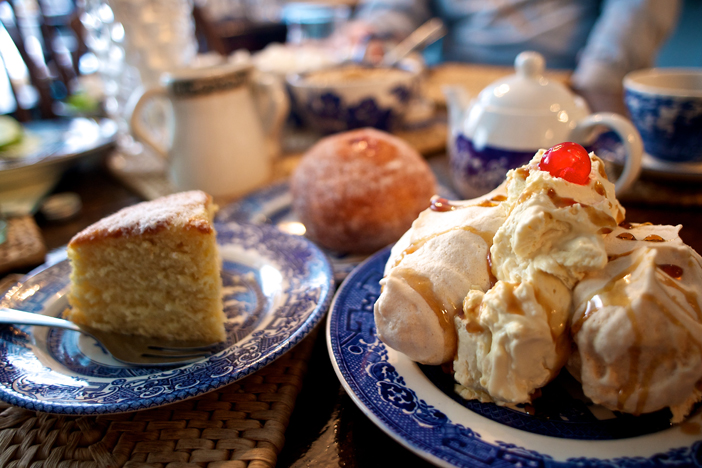 THE PLACE
We have a weakness for old lady tearooms at SOURCE. After a night in the pit for obscure New York punk bands and dancing to underground Finnish skweee DJs (not the obvious ones), we like to recharge with a cream tea served on dainty china. The Mock Turtle has been a fixture on the tearoom circuit for long time but is tucked away between The Haunt and The Fishbowl, so we thought it was time to remind ourselves of their legendary cakes.
THE MEAL
Feeling that we probably shouldn't dive straight into the large selection of baked confections on display we trough down a quick bacon and cheese omelette and chips (£5.75) which is decent – big and fluffy – and a bacon and cheese sandwich (£4.10) which is thick, delicious and very homemade. The cream teas (£6) look amazing but our Devon-raised cream tea expert outright bans them from the table. Why? Because they come with whipped cream not clotted cream – a travesty that's all too common in Brighton. So instead we have coconut sponge and orange drizzle cake (£2.45 each) which are both a touch dry – we'd particularly like the latter to be a bit more gloopy. We noticed too late that you can have them with ice or whipped cream for an extra £1.25. The giant doughnut (£2.25) is impressive in its stature, but needed a little more of the delicious homemade jam. Best of the bunch is the similarly huge double meringue (£3.60) with loads of cream topped with vanilla sauce.
THE VERDICT
Overall it was a bit disappointing to be honest. The setting is nice and your mum will definitely like it, so maybe head over there for parental entertainment rather than as a treat for yourself. Or pop in if you like tea as they've got a very good selection.
WERE WE SUSSED
As other people there were taking photos of their huge creams teas we assume that getting your camera out is a common occurrence at The Mock Turtle. Not sussed.
Tues-Sun 9am-6pm
4 Pool Valley  (01273) 327380