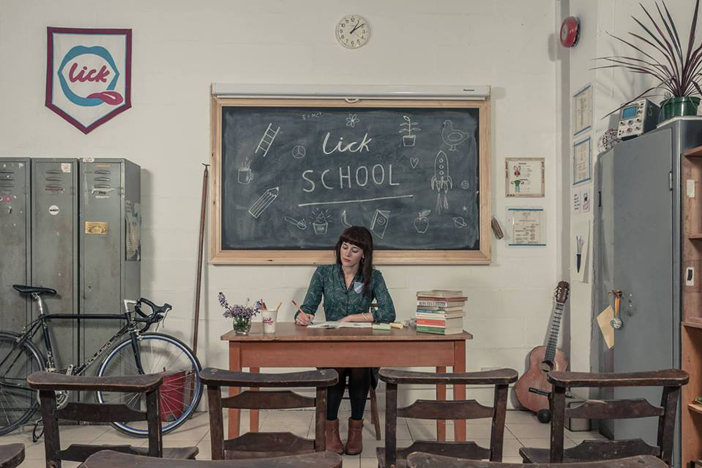 For a butter-wouldn't-melt artist holding a solo show which will only run for a few hours, a frozen yogurt warehouse seems like a sweetly suitable haunt for the hit of immediacy Amy Brown is about to lay on.
Burgers brandish bent forks, beer-gutted beasts with mullets wear Y-fronts and birds shot with arrows fly next to rows of tits (the lovingly-titled 'Fanny Snake') in the underworlds of an illustrator whose work you might have seen popping up across the city during the past year. Most recently, she was behind the uncanny face murals on the windows of Taylor St coffee shop near the station.
"Friday is a one-night only exhibition, which is kind of crazy," ponders Brown, who dreams of time-travelling for a pint with Hieronymus Bosch and is tempting us all into her latest window of opportunity with a multi-sensual line-up of treats.
"I wanted my first ever solo show to be a big, weird experiment. It'll be a deliciously messy overspill of all the things I've been working on for the past 3 months."
Part of it is about interactivity and "rad music". Foreign Skin and Caveman Genius will play live, accompanied by lashings of Lick's speciality.
"The musicians are two very awesome people and super talented. For me it's one of the main reasons for having an art show. Actually, the best thing is having a legitimate reason to use glitter and balloons and listen to your favourite music for the night, and having an excuse to set up social experiments and pretend it's art.
"For some reason it feels exactly the same as throwing a birthday party – such awkward anticipation. The good news is, if someone's sick I'm just going to sprinkle glitter on it."
Amy's previous masterclasses for audiences have occasionally culminated in dick drawings, harking back to her old Secret Penis blog, which perceived phallic artistic inspiration in everything and invited the public to send their own in.
"It was in the days where Blogspot was still a thing and I clearly had a great idea. This is what I came up with but didn't tell anyone." Any submissions have sadly gone awry. "I never checked the email. I have no idea if anyone used it."
Her main, 'old-school' creative obstacles – fear and procrastination – have thawed during her time at Lick.
"I've known the guys for a while now and they're good friends. I helped design their warehouse and have been tie-dying deck chairs and t-shirts for them. They have such an awesome space that it's very easy to unplug and get up to your eyeballs in paint.
"I think up until ten minutes before it opens I will be a total sweaty freak. Then hopefully on the dot of 6pm I will transform into a tranquil delight, casually supping on a frozen yogurt shandy."
Once Friday's finished, a Design Council-commissioned disco bike for the festival season and further adventures around the city are among her plans.
"We will be making live art window murals around Brighton and London throughout the summer," she says. "So if you see me frantically waving at you through a window it's because I'd like to draw your lovely face."
FYI
WHAT: One Night Solo Show
WHEN: 6pm-9pm, Friday 27th March 2015
WHERE: Lick Warehouse, Unit A Level 2, New England House, Brighton, BN1 4GH
WEB: Facebook Event, Amy's website
Main picture by Oleg Pulemjotov