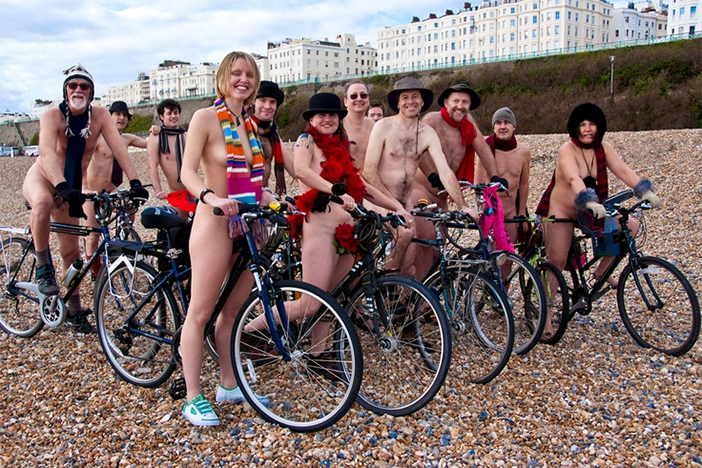 Nick Coquet: The ride is promoting three main points – environmental issues, the overwhelming dominance of car culture and cyclists' vulnerability…
Nick Sayers: That's right, but it's also about just having a jolly good time and celebrating cycling. It's maybe a cheesy cliché, but there's something liberating about being naked, it's just you and your body powering the bike, in perfect harmony.
NC: People don't seem to adapt their bikes much for naked riding.
NS: No, not really. People wear shoes, but last year I saw a guy with flip flops bound round his pedals so he wouldn't even have to do that – a bit of an extreme naturist maybe. When I first did it in 2005 me and my girlfriend thought it would be sore but it's a myth, even when you're cycling normally it's just a thin layer or two of material between you and the saddle after all.
NC: And you recommend a high visibility helmet? Sorry, I had to get that in.
NS: Yes, well some people's helmets will be more visible than others (laughs).
NC: I suppose the nakedness of the event makes it more of a crowd pleaser, which obviously helps in raising awareness of the issues it's promoting.
NS: Yes, I've been politically active on and off since I was a kid when my parents took me to CND marches. A lot of demonstrations, however popular they are, can be a bit worthy with solemn people waving placards at passersby who either do or don't care. But the naked bike ride is a fantastic party, you're holding up traffic but no one's pissed off, they're just completely flabbergasted.
NC: And the police are very supportive, shepherding the ride through the city.
NS: Yes, they've been really supportive since the beginning really. There was a Chief Superintendent who was a bit of a prude in the first year but they've been great since then.
NC: It must be a dilemma for them, what with indecent exposure issues and that.
NS: Well since the 2003 Sexual Offences Act there's technically no such thing as indecent exposure anymore. As long as you're not causing harassment, alarm or distress, which would basically mean running for the hills in fear of your life, then being naked in public is pretty much legal.
NC: This will be the biggest event yet by all accounts.
NS: Yes, we had an amazing 700 last year, from 400 the year before and 160 in the first year. The Brighton one has a real following, it's really chilled out and a fun event – we're also blessed in that we have a naturist beach at the end where you can cool off after eight-mile ride and wash your body paint off.
NC: And the party starts before the ride even begins.
NS: Yes, we've got a live band at the level, body painting, and naked lunch before it all kicks off. It's a whole carnival.
NC: You don't actually need to be naked to take part, we should stress.
NS: Absolutely, the ethos is 'bare as you dare' – if people want to support the ride and not undress then that's cool, or dress down and not expose your genitals that's also fine. For a first-time rider it can be quite intimidating, so we have two drop-off points along the route so you can undress gradually if you want to.
NC: We should point out the Facebook pages.
NS: Yes, there's a Facebook event, a group and a page but the event's probably the best place to go. You can also register on the naked bike ride website but it's not essential. The rides in the south are all scheduled so they take place on different days, so you could technically do Southampton on the Friday afternoon, then London on Saturday and Brighton on Sunday – there's a few people who did all three last year.
FYI
WEB: wiki.worldnakedbikeride.org/wiki/Brighton
WHEN: Sunday 13th June 2010, The Level from midday