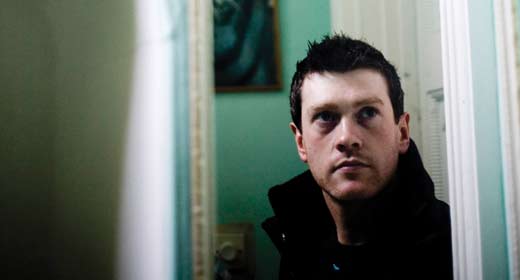 Who knew it? Flevans, master of the soul jazz cut up, can play. Not just the odd guitar lick either. His new album see his return to Tru Thoughts and going back to his live roots, picking up guitars, bass, pianos, percussion and stepping to the mic for some vocals. As a result the funk grooves of 27 Devils make an incredible return to form.
Have you just learned to play or were you working with samples with all these skills hidden?
I let them slip really. I grew up learning instruments – piano, double bass, all kind of stuff – when I was young. Then I sort of slipped out of touch with it. On my first couple of records I would occasionally pick up the guitar but I didn't use my playing skills as much as I could have done. I played for a year or so with a band called Backini and it got me back into playing again. That was the spark that made me think I could do this myself rather than relying on samples.
Did you enjoy it more making the album on instruments?
Yeah, I really did. Almost annoyingly so. It really made me wish that I had started this way of working earlier. I always felt a bit in awe of my contemporaries – there's a lot of people in Brighton that are so good at using samples. I had some success with the stuff I did like that but I never was as happy as I could have been with it. I found writing with instruments so much quicker. I didn't have to rely on going through banks of records to find that one part to give me inspiration. An indication of how much I'm enjoying it is that I'm already halfway through the next album.
You spent a bit of time away from Tru Thoughts but now you're back. Why did you leave?
I wrote a lot of the tracks for the first album without them being for a record label so I didn't worry about them too much. They did pretty well and then I had the pressure. I didn't write much of note for two years and the stuff I did wasn't really right for Tru Thoughts. It was amicable. I kept in touch with them and gave them bits and bobs but it wasn't in keeping with where they were going. But the truth is that the stuff I put together after the first album wasn't up to much.
What brought you back into the fold?
I love the music they put out, I have a relationship with them from them publishing my tracks and knowing the guys for a long time. They're based in Brighton so it's really nice to be in touch with the people who put out your music. In fairness the one really nice thing about not being on Tru Thoughts for a couple of years was that when I started writing the new album I didn't write it for anybody. Not worrying too much about it was one of the reasons why the tunes came out the way they did.
You were one of the first artists on Tru Thoughts. How have things changed?
When I first signed a deal with Tru Thoughts it was in a ten metres by three metre office. It was a one page thing with three paragraphs and a signature. At the time there was Quantic, Bonobo and Jon Kennedy on the label with just two people in a tiny office. Now they're global, in every corner of the world. There's 13 or 14 people in the office now, all with very specific roles. You wouldn't recognise the two outfits as being the same.
TRU THOUGHTS' TOP 5 MOMENTS
• When our first ever artist album by Bonobo captured everyone's ears (XL, Mo Wax and Mute all interested in signing it from us).
• Winning Label of the Year at Gilles Peterson's Worldwide Awards.
• Seeing Hot 8 Brass Band on BBC 2's Culture Show in the busking challenge.
• Quantic being on the soundtrack for the iPod advert worldwide during the summer.
• Seeing lots of our acts who started making music in their bedrooms now working with great musicians and artists.