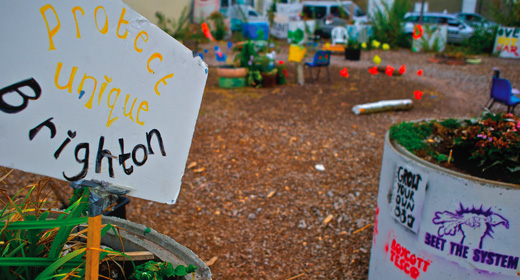 You don't have to sit around complaining about Brighton not being the way you want it. Loads of people have got off their arses and are making their voices heard. Sandy Deacon is part of the Lewes Road Community Garden/Say No To Tesco campaign, trying to protect the community garden space from the third supermarket in a 20-yard radius. She spoke to us about how to stand up for what you believe in.
James Kendall: I think a lot of our readers don't know where to start now that so many are unhappy about the way things are turning out, but don't know where to start. What do you think is the best way of getting your message across at the moment?
Sandy Deacon: We've done a lot of leaflets, petitions and demonstrations. We've had two attempts by the bulldozers coming in and we've had peaceful demos to keep them out – no violence, no unnecessary action. The police were on our side, they've been very good. That's what we have to do, and keep up public pressure on our councillors. The Greens haven't been very helpful. We expected more and we should really have the Greens on board helping us out with solicitors and promoting us – we promoted them after all. This is our space, a green space, where are they?
JK: What we've seen with the failed Freebutt campaign, and further afield with the successful rallying around BBC 6Music, is that online is a great way to get people fired up, but maybe technology is just the start.
SD: Yes, we've had Facebook, and Twitter's another good way, I suppose. I'm more of an activist though. I generate people to get things done. We're trying to activate a new solicitor to act pro bono, or just because it's their cause as much as ours. This is the way it's done, isn't it?
JK: The garden aspect of your anti-Tesco campaign seems pretty important.
SD: We try to keep the garden open because we want to keep it a place for children, for young families. We used to have so many things on board; we had yoga mornings, elderly afternoons, workshops, planting. Now we have not many plants, the garden looks very bare and barren. It's been such a beautiful place and it could be absolutely gorgeous if we could purchase it. And we could – Infinity, Lush, various other companies and the local community have all offered to buy small packages of the land – that's what we've got to do. That's the way forward, but the landowners won't come back to us.
JK: So, what's next? The campaign seems like it's at a crucial junction.
SD: I think we've got to re-approach going to the council about the planning because we feel there was no proper planning permission given to this proposed development. We've also got to approach our Green councillors, who I don't think are representing us very well. If they're not going to represent us we're going to go to the people who will – and I think that means heading back to Labour. If they want our support they'd better start pulling their finger out.
JK: Do you see what's going on with the community garden as the war or a battle? People we've spoken to at the garden felt like it wasn't possible to stop Tesco building a store but if we all stopped shopping there we could get them to start closing them eventually. That's a very long-term goal.
SD: We wanted – and thought – that we were going to have something more ethical, like small units and proper housing for people. Therefore it's a war and it's a battle; a struggle because we'd love to keep the garden, buy the garden – we don't want to squat it – and keep it as a community space. We could do something with it and make it really work, but if they persist with the Tesco then it's a war. We don't want Tesco because it would be destructive for local businesses, schools and traffic pollution. We want the garden but we're prepared to give it up as long as we get something ethical put on that ground – housing, small shops or units, that's what we need.
FYI
WEBSITE: lewesroadcommunitygarden.org/
FACEBOOK: Say No To Tesco On Lewes Road
PETITION: Click Here To Sign