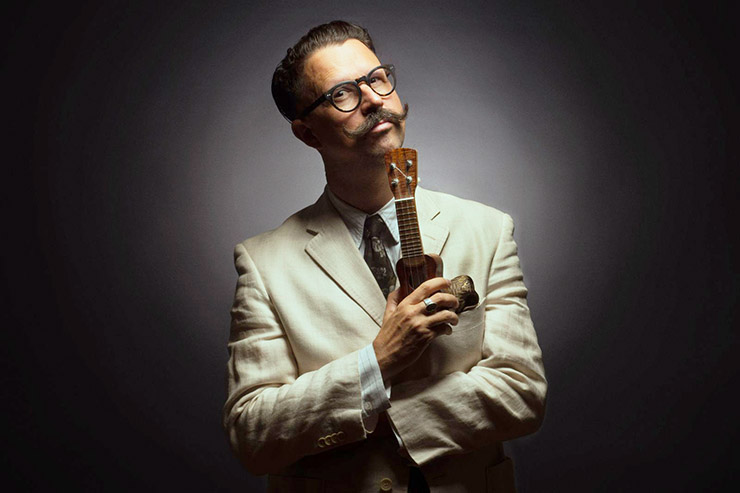 Brighton and Hove's chap-hop representative Mr.B The Gentleman Rhymer dropped a new track this week – a characteristically polite re-imagining of MIA's 'Paper Planes'. Rather than threatening to "take your money", Mr.B's version promises us a "nice cup of tea", which we think you'll agree is a considerably more civilised proposition.
Shot in Kemptown, his "promotional videogram" for the track, entitled 'Paper Plates', features the Gentleman Rhymer lobbing out tea and scones from a vintage pie van, opposite the Hand In Hand pub. It's like a clotted-cream-fuelled drive-by. We're not sure what's in those scones he's serving up, but one of his customers appears to be a muppet version of himself.
"My friend Jay Smith makes amazing puppets – usually animals," Mr.B told SOURCE, when pressed on the issue. "I just couldn't resist commissioning him to make Mr.Little-B."
And it appears he enlisted help from some other mates to shoot the 'Paper Plates' video. "My friend Jen runs the Hand In Hand," he tells us. "And my chum Al The Pieman owns a pie van. I wanted to do a pastiche of the MIA video, so this seemed like the perfect spot. Plus they had a parking space – not something it's easy to find in Brighton."
So what else is in the chap-hop pipeline? "Mr.B's Christmas bash will be at the Prince Albert on Friday 14th December," he says. "I'll be playing some favourites from my Christmas Album such as 'All I Want For Christmas Is An Original Jawa With Vinyl Cape' and 'I Saw Your Father Beat A Man To Death In Tesco's'. I have a propensity for long song titles."
The dapper polymath has also written and illustrated a novel, called 'Roast Beef'. "It's largely about Mr.B assembling his crew (as seen in the video) to defend the honour of chap-hop," he continues. "Think hip-hop P.G. Wodehouse". Well, that's just the icing on the Christmas cake.
See www.gentlemanrhymer.com for further info and tour dates.
Competition: Do you have any additions to our list of cake-based hip-hop DJs? So far, we've come up with Jam Sponge Master Jay, Pete Rock Cake, Magimix Master Mike and Afrika Battenburga. The winner will receive… big respect from Mr.B.