Situated near the seafront in Hove, the Brunswick – a 1930s pub, bursting with character – has been hosting live music events for many years. Before lockdown struck, the place was an invaluable venue in the west of the city, no doubt helped in this regard by its proximity to BIMM.
This year, for example, it would have hosted its first full day of music events at The Great Escape festival, luring punters away from the centre of Brighton. With local lad Jacko Hooper – Events Manager since 2018 – in charge, the place is fast becoming a renowned go-to venue for good music, both from inside and outside the city.
We interviewed singer-songwriter Jacko last November in connection with the fifth anniversary of the White Rabbit's Folklore nights that he has organised, single-handedly and without a break, since September 2014. Now, having learned that the Brunswick had signed up to the Save Our Venues campaign, we spoke to him again, asking how his new venue was faring during the coronavirus lockdown. "So far," he told us, "the appeal has attracted the support of 206 individuals and raised a total of £4,288 – of a hoped for £10,000 total. We're very grateful for the support so far," he added. "And optimistic."
The Brunswick has always taken its role as a pub for the local community seriously. It has function rooms; it serves food; it has put on comedy, theatre and 'escape room' events. It has also hosted a wide range of classes over the years, including acting, painting, wine-tasting and, of course, music. As Jacko explains, BIMM regularly makes use of its facilities, organising master classes in its rooms where industry professionals hold Q&A sessions for the students; one notable visitor being Nirvana drummer and Foo Fighters frontman, Dave Grohl.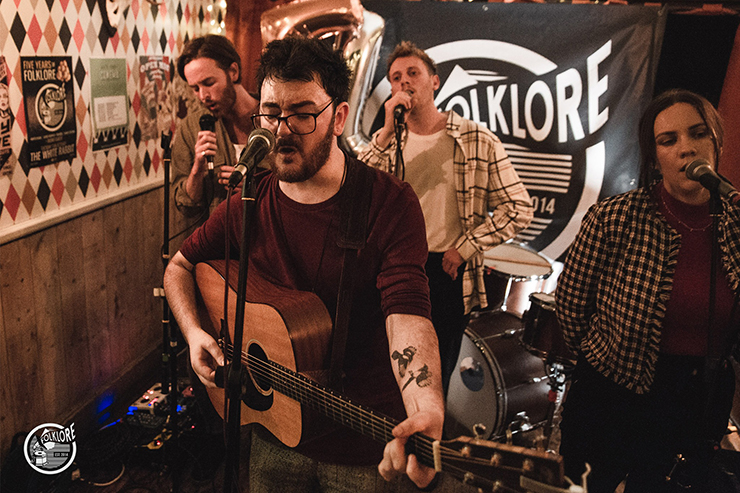 With over two million plays on Spotify and one million on YouTube, Jacko himself is no stranger to the music business. His voice, recalling artists such as Jeff Buckley and Passenger, is distinctive; his songs are strong. As Clash magazine noted, his latest four-track release, 'Together We're Lost', is "something quite darkly beautiful". Not happy simply to peddle his own material however, Jacko has over the years taken it upon himself to promote other bands, national and international, and the Brunswick has provided the ideal setting for this.
"Obviously the lockdown was a great blow for us," he confirms. "Family Fiction," – a Brighton-based band we at SOURCE first discovered through their excellent 2017 album, 'Old Money' – "were supposed to have launched their latest single here. It was cancelled. We'd booked the Great Lake Swimmers, a Canadian band based in Toronto for 1st April. Also cancelled." He sighs.
The frustration of the last couple of months is showing, and Jacko returns to telling us more about recent gigs that actually took place. "Vetiver," he says, "an American folk-indie band, was a highlight. A fantastic sell-out gig."
He goes on to talk about smaller, though no less exciting acts, that he had been proud to put on before the pub was forced to close. Two, off the top of his head, are Ireland's "incredible" Junior Brother, aka Ronan Kealy, and folk singer Katie Malco, whose timeless folk-infused album 'Failures' at times recalls Sandy Denny.
"Katie played one of our Folklore Sessions in the cellar bar," he adds, and explains how, when he took over as Events Manager, he discovered the Brunswick's small underground room, and decided to make use of it. "It's just such a great space," he enthuses. "Small and intimate. 60-person capacity. I can put an act on there and not have to worry about it. If they draw a crowd, then at a future date they have the option of moving upstairs to the Venue, which has a 130-person limit. More than twice the number."
So far, most of the acts mentioned have, like himself, leant towards folk. But, as he is keen to make clear, this is not the only genre he is prepared to put on at the Brunswick. All types of music are welcome – "so long as it's good." Certainly, before Jacko took up his new role, the Brunswick had a reputation for highlighting both traditional and cutting-edge jazz. Again, because of its close proximity to BIMM, the venue has found itself hosting all kinds of stuff; and on occasions, like at last July's Summer Buché event, a whole range of genres – soul, jazz, hip hop, r'n'b, funk, punk, rock and folk – in one day.
"It's where the cellar bar comes into its own," he says with a laugh. "From niche unplugged sets to deafening old-school punk…"
This willingness to showcase music of all types perhaps reflects Jacko's own diverse musical taste, which ranges from Glen Hansard & Marketa Irglova, which we might have predicted, to Muse, Sigur Ros and Rag 'n' Bone Man, which we had not guessed so readily.
Since the lockdown was announced on 23rd March, the Brunswick has continued to make itself available for a range of online music events. 'Unopen Mic' sessions; 'in house' live events such as the 'Seclusion Showcase' series; intriguing songwriting events and interviews – and loads more. Check out their Facebook page to see what Jacko and the rest will be coming up with next. The thing is, he – and we at SOURCE – are only too aware that, however commendable all of this is, what the pub venue really needs is an injection of cash to ensure that, when the lockdown is finally over, it manages to keep going. The #SaveOurVenues is ongoing, and contributions can be made here.
After all, as Jacko Hooper makes clear, "Last year the Brunswick put on more than 500 gigs. That's live music pretty much every day of the year, and then some. If it goes, that's 500 fewer gigs for the singers, for the bands – for the city."