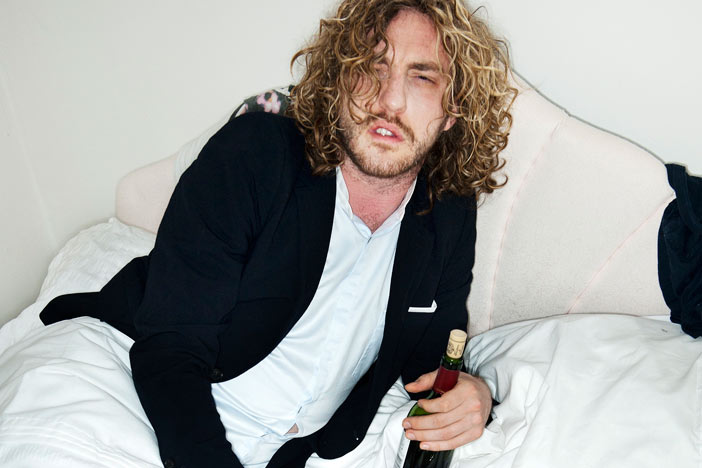 Even for Brighton's most successful comedian, Seann Walsh is having a spectacular time of it lately. He's back for the Brighton Comedy Festival following a storming Edinburgh season where his show The Lie-In King was nominated for the Foster's Comedy Awards (previously the Perriers). He also played the big Gala performance, which was shown on the BBC, along with his own Edinburgh TV show, Seann Walsh's Late Night Comedy Spectacular. As if that wasn't enough he's got his own the-internet-meets-You've Been Framed series Seann Walsh World and is appearing in his first sitcom, Big Bad World. We'll have to end this intro now or there'll be no room for the interview.
Is it a life-changing thing to get a Perrier nomination?
Not at all, no. With the big nominations you get an award and I've already lost it. I think I left it in Sainsbury's about 10 minutes after I collected it. I haven't got a lot of awards but I won a few when I started and it made me feel like I was finally good at something. When I was nominated for this, even though I said it hasn't changed my life, I still felt like it was 'official' that I'd done a good job. It shouldn't feel like that but it did.
http://www.youtube.com/watch?v=5kWqPHXEYMI
The Edinburgh Comedy Gala was in a big old room. Is that the biggest you've played?
I played the O2 a couple of times, as part of the Great Ormond Street Children's Charity gala. The only thing that stood out for me when I did the O2 was that usually when I'm doing a show it's about 'the show', what happens then and there, live, in the moment. And I tend to forget about it as soon as it's over and move onto the next thing. When I first played the O2 I wanted to remember it because I thought it was a once in a lifetime event. So at the same time as doing it I was also trying to photograph it in my head. It was like an out of body ex…oh, I hate it when people say that.
You're a very physical comedian – has that always been the case?
When I started I was quite static, but I think that was just through being comfortable on stage. The more I've gone on the more I've become myself. I've been in a unique position really as I've only been on television sporadically. Increasingly so now, but because of repeats it maybe feels that I've done a lot more than I have. I remember when I was nominated for the award there was kinda of a backlash saying, "How can he be nominated when he's done all this?" I've done Mock The Week five times over a span of four years! That's not a lot. That's not me moaning. I've been able to develop what I'm doing but be in the spotlight – or at least a spotlight.
Are the physical jokes hard to write?
I don't really write my stuff. I don't type it. It's bad, I know that. I just sort of have an idea and then I go up and I do it. And then it sticks, and that's the way it is. I keep meaning to tweet a picture of my Edinburgh show – it's one piece of paper and some arrows and about 20 words on it just scribbled together. That's the Edinburgh show.
With that in mind you're getting ready to record a DVD – how do you prepare? We're imagining a Rocky training montage but aren't sure what's in it. 
It doesn't make a difference if I chase a chicken or something, or if I punch a dead cow, although that would be funny. Don't turn up hungover – that's my Rocky training. The night before, don't go to the pub. It's just going to be Rocky music but with me watching Family Guy.
FYI
LIVE: The Old Market, Fri 18th – Sat 19th Oct 2013
WEB: seannwalsh.com
DVD: Seann To Be Wild out on Mon 18th Nov 2013