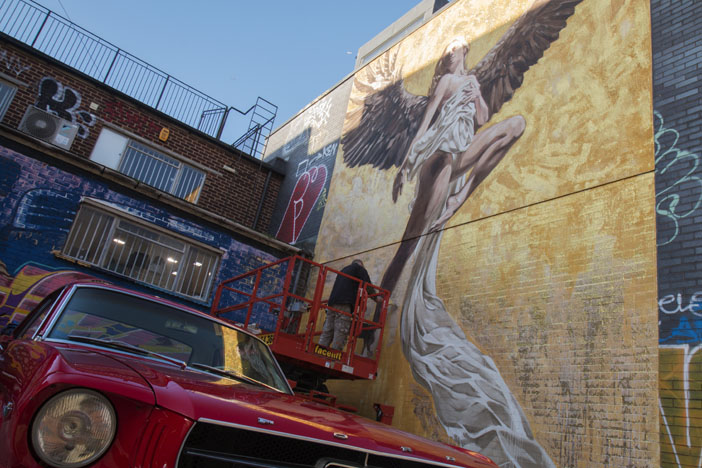 This weekend saw a new edition to Brighton's thriving street art scene in Brighton's North Laine area. Those of you passing through Regent Street may well have been dazzled by the sight of Brighton's latest standout piece, the 'Angel of Brighton'.
Spanning the side of a three-story building, the image depicts a near nude lady metaphorically rising from the ashes of 2017. Completed on Sunday (7th Jan 2018), artist Cosmo Sarson battled wind, rain and festival-sized quantities of glitter to complete the mural.
A mighty 4kg of gold glitter were used, infused into the ochre background to make for an eye-catching display when the sun catches. SOURCE visited the site at different times of the day, and the piece comes to life spectacularly when the late afternoon sun reflects from the windows opposite, briefly offering a soft dappled light.
While the classical imagery ties in with Cosmo's own artistic background and training (neo-classical work such as Caravaggio being a particular influence), it also derives inspiration from the 'Peace Statue' statue near Hove Lawns. Given this is Cosmo's first piece of work to adorn our city, it is refreshing to hear there was forethought in nodding towards the existing local culture.
A story of hope
We caught up with Cosmo while he was busy at work, fending off the elements while graciously engaging locals and tourists alike, as the public stopped to to admire, question, and to (mostly, we imagine) add to their Instagram.
Akin to the classic imagery of a Phoenix rising from the ashes, Cosmo explained that the image represents 'hope for the new year'.
The piece was completed almost a year to the day after his father's death, and speaks to all of those who had a turbulent 2017. Rather than dwell, the imagery represents the human power of recovery and resilience, to ride out the difficult times and to move on refreshed, looking forward.
About the artist
Cosmo moved to Brighton from London midway through last year, is classically trained and is perhaps most well known for his 'Breakdancing Jesus' piece that adorns similar heights in Bristol.
Interestingly, Cosmo's work also appears in Hollywood films – you know those scenes in films where the protagonist has a painting on the wall? Well, it turns out someone has to do them. Brad Pitt is one of Cosmo's lesser known patrons…
Keep your eyes peeled for more neo-classical work appearing around town. We ask if they'll be to the same scale, to which Cosmo grins, "If the walls are available".
Words and photos by Ashley Laurence