Street Source is a regular feature showcasing photos taken around Brighton over the course of a month by one of our photographers. The idea is to share spontaneous moments around town – be it incidental street scenes, snapshots of people's lives or images of the city as a landscape. Each month we ask a different local photographer to participate. Here's Ashley Laurence's take for April 2017.
---
Brighton is synonymous with creativity, as well as being a forward-thinking and vibrant city. For this series I wanted to capture some of the amazingly creative and talented folk that give this city its buzz.
From a midnight shoot with street artist Minty, via sitting in during songwriting sessions, to a rooftop photoshoot with a ballerina, this set covers a range of artists in their own field.
I wanted the images to showcase (where possible) the work of the artist themselves, but also reflect the personalities of each individual.
Roo, Magician
The Mesmerist was the perfect spot to capture some shots of Roo practising his dark arts (if you've not been upstairs for a while, go and check it).
Strong lighting was key to this shoot; reflecting the mystery of the magician, and creating a brooding feel. With some subtle card trickery caught on camera too.
Ioanna (Yo), Hairdresser & make up artist
This shoot was originally going to be more a traditional 'at work' scene, as Cuttlefish had kindly let us use their premises after hours.
I pushed these shots towards the Vice documentary/fashion end of the scale, reflecting the naturally fashionable and creative force that is Yo, who works on many exciting fashion shoots. Featuring one of the most understated hairdryers you will ever see.
Jack and Charlie, Songwriters
Jack (lead singer – Of Empires) and Charlie (talented beyond his years) let me sit in on several writing sessions, ahead of their first shows next week. Settling in meant I could take some nice candid shots, capturing the songwriting comradeship in a nice rock'n'roll setting.
Tash, Ballerina
I was really excited to get someone from the performing arts in this series, and Tash's ballerina skills allowed this shoot to be adventurous with locations. Tash recently appeared in a production of West Side Story.
For this shoot we had to ride out hailstorms on the beach, battling the elements to be rewarded with warm evening sunshine.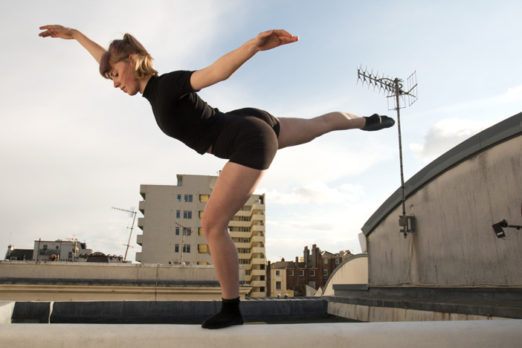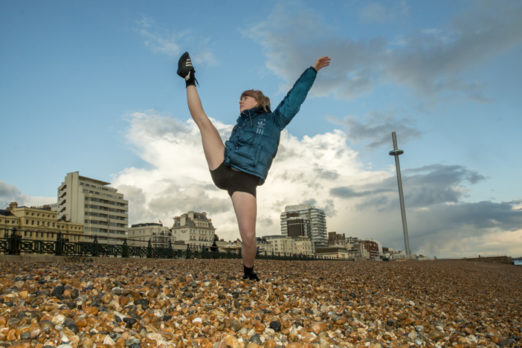 David Hillier, Journalist
Dave is a freelance writer and journalist, who works for Vice, Drowned In Sound and The Guardian, amongst others. When not interviewing Ryan Adams and the like, his writing tackles festivals, partying, and the trappings of a modern generation. Shot in the creative office space that is Platf9rm.
Minty, Artist
Getting Minty to let me photograph him was a bit of a coup, although the shoot itself was a challenge – shot at midnight and over in 5 mins.
I was really keen to get a street artist as part of this collection, as Brighton's tolerance, (or embracement?) of quality street art is indicative of its welcoming and creative spirit.
Minty's work has been some of the most eye-catching work around for a while; it was impressive to see how quickly a dark corner of town could be filled with vibrant, pop-infused art.
Words and photos by Ashley Laurence
To see more Street Source photos click here