Street Source is a regular feature showcasing photos taken in Brighton. The idea is to share spontaneous moments around town – be it incidental street scenes, snapshots of people's lives or images of the city as a landscape. Each month we ask a photographer to participate, this month we feature our live music photographer Mike Tudor sharing his memories of 18 years of going to gigs in this city.
I've been shooting gigs in Brighton for over five years and some of my best memories growing up are going to gigs in Brighton. From all ages punk shows and days in the Punker Bunker to my first nights clubbing where the venue names you remember show your age straight away. I always wanted my photography to show what's so special about live music, I'm about to leave this city so looked at the venues we're very lucky to have, shows couldn't happen without them.
I had to start with the Brighton Centre as my first gig was The Levellers here back in 1999. Being 13 and waiting outside in the blustering wind only to find out it had been cancelled and postponed, it was the first and last time I get to a show to queue for the doors to open.
I'm fairly confident that Concorde2 is the venue I've been to most in Brighton, both in the crowd and as a gig photographer. Multiple times seeing the likes of Capdown and Lightyear here in my teens to shooting all sorts from Johnny Marr to Squarepusher.
The Haunt will likely be remembered as the darkest venue I've ever shot in, but that's not to say I haven't see some amazing shows here. From queuing to cram in to see The Charlatans here during The Great Escape to being squashed in for Dilated Peoples. We're lucky to have a selection of both small and large venues in this city to welcome a huge variety of bands.
Never an easy one to refer to by its full name, but Sticky Mike's Frogbar's basement venue has played host to a ton of local bands cutting their teeth as well as being a sweatbox when the likes of Toy play during The Great Escape.
On the one hand I'll remember all the great Hammer & Tongue spoken word/slam poetry nights I went to here, but to be completely honest I'll mainly remember missing Aesop Rock playing here back in 2008. Proves you can't go to every show.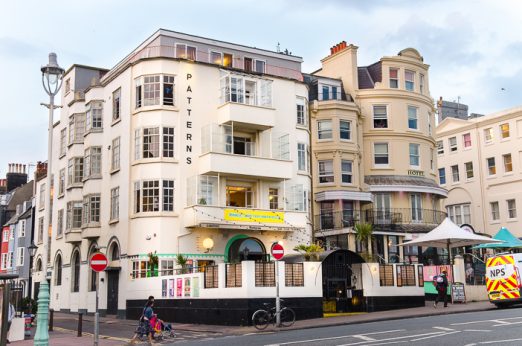 Patterns, or perhaps you know it as Audio or even the Escape, has given me some great nights out clubbing. Mostly DJ Fresh filling the place out, and not before he was big but exactly when he was big.
The Hope and Ruin used to proudly display an Adele poster from one of her early gigs and it wouldn't surprise me if in future they proudly showcase one of Rag N Bone Man playing an early show here too. Early Slipjam nights aside, this has been an ideal venue for rock, punk, hardcore, out there noise gigs and several of my mates' bands.
I remember the nerves shooting my first big show here and the pressure to deliver; Skunk Anansie who have the sort of iconic lead singer you want to make sure you get good shots of. That aside I will think of the place fondly for the most potent bass I've ever experienced during Max Romeo and Lee Scratch Perry.
Club venues on the seafront will likely always change and evolve, and likely bring you some of your best memories of going out in this city before you become 100% sure it's not as good as it used to be. My dad took me to Legends of the Dark Black drum and bass night when I was 18, was it likely to get better than that?
The Volks is either a club you love (or used to love) to your absolutely core, or avoid at all costs. For me it's the former, dark dirty drum and bass nights and my first paid gig shooting Brighton Love Jungle nights. Much to be seen here that can't be unseen, but a venue where music and leftfield sounds take absolute priority.
Special mentions also go to The Freebutt, The St.James and The Pressure Point/Blind Tiger.
Words and photos by Mike Tudor
See more Street Source photos: Click Herestreetsourcex