A decade ago, SOURCE reported here on the sad demise of Brighton's iconic Rounder Records and highlighted the uncertain future of vinyl in the digital age. In recent years however, the Brighton tide has happily turned back in favour of this much-loved format. For the record stores that have weathered the storm, prospects are looking much brighter.
Once again, hordes of wax enthusiasts are flicking through the racks of an impressive array of outlets all in staggering distance of each other. Perhaps accelerated further by the backlash to certain streaming sites, the demand for music in a physical form continues to grow.
The original mature target market is still out there: the ones who grew up frequenting the many chains, independents, second-hand exchanges and megastores throughout the multiple decades of the record shop boom. Yet this new uptick is fuelled by the sheer volume of younger punters now owning their first player, embracing vinyl and crucially being prepared to pay for the privilege. Shop staff tell us that in addition to buying new releases, customers are stocking up on old classics with everything from ABBA to Bob Marley flying off the shelves.
With Record Store Day just around the corner, here's a snapshot of just six out of the many great record shops Brighton has to offer.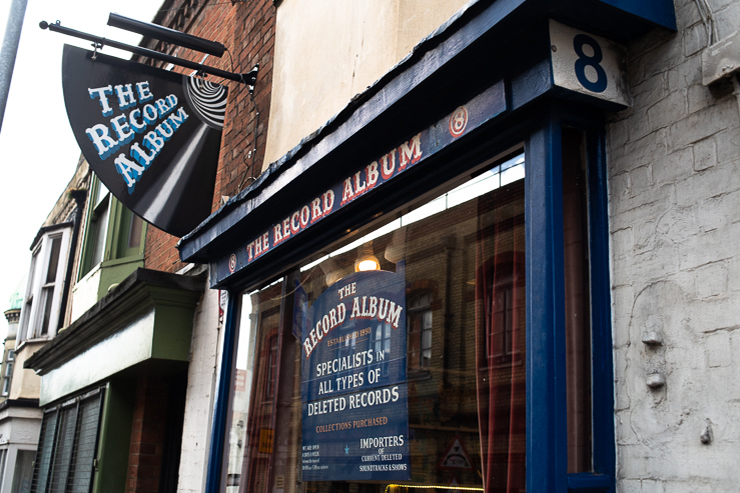 The Record Album
8 Terminus Road
Brighton's oldest record store, renowned for soundtracks and classical scores since 1948, has been given a sensitive makeover since the retirement of the original owner George Ginn two years ago. The new team, Keith Blackmore and his son Ben (alongside friend David Chappell), are respectful of the heritage and keen to carefully retain all the specialist essence of the old store. The doorbell on entering begins the whole delightful experience of an old-fashioned friendly corner shop – a spot where you can both find a hidden vinyl gem and chat about it with like-minded folk. A small but perfectly formed store, The Record Album now manages to include a respectable volume of most music genres and has thus been able to attract a much wider customer base. Despite this, the sheer choice of soundtrack albums is still something special to behold and includes an impressive horror movie section.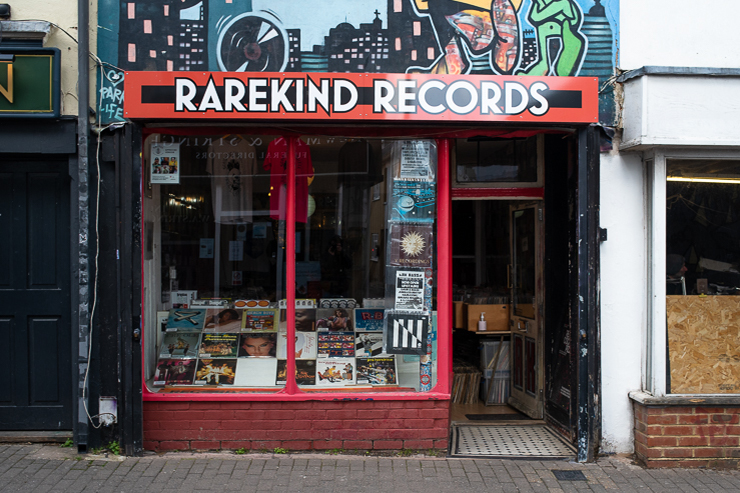 Rarekind Records
104 Trafalgar Street
Rarekind has a landmark graffiti frontage, but what's most striking is the range of dance music on offer across the three floors. It's impressive to find this much under one roof. The ground floor is mainly everything that is r'n'b, hip hop, world, funk and soul. The middle floor houses some modestly priced dance albums and upstairs at RK Bass you can find dubstep, drum'n'bass and jungle vibes. With the shop branching out into livestream DJ sets and hosting in-store events to coincide with album launches, the beat is guaranteed to go on.
Across The Tracks
110 Gloucester Road
A second-hand treasure trove where time and patience will be rewarded, Across The Tracks is ideal for the determined collector who is prepared to roll up their sleeves, get knees dirty at ground level and dive in. Just for the sheer scale of stock squeezed into a largish space, with an impressive array of single tubs and £1 buckets, this is fun, affordable rooting at its best. Be warned though that some of the boxes are so long that the back sections are tantalisingly out of arm's reach. With a commanding collection of 12" singles too, the CD racks are ever-shrinking to accommodate the vinyl invasion. The store also provides a platform for promoters to advertise local gigs.
Unit 7
Snoopers Paradise, 7-8 Kensington Gardens
By far the smallest space included, this stall is perfect to get a fix of old vinyl searching without it taking up your whole morning. An admirable selection which also contains an extensive choice of 50s and 60s classic artists. The owner, Brighton musician Mark Johnson, really cares about the quality of what's on offer and focuses on selling records in excellent condition. The more collectable stock is understandably in locked cabinets due to the market's open layout, but this is a small inconvenience for the opportunity to browse these quality racks. The outlet also squeezes in guitars, magazines and clothing making it a one-stop rock'n'roll experience. Whilst in Snoopers Paradise, it's also worth checking out unit 23 for more second-hand foraging.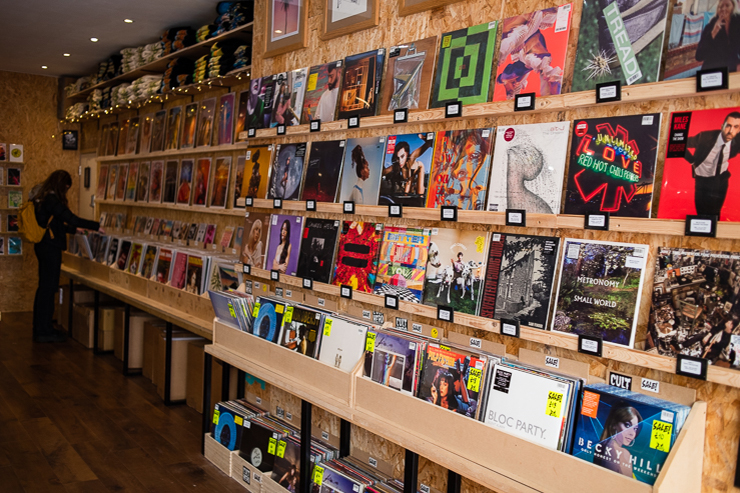 Cult Hero
16 Brighton Place
Cult Hero has been at this site since 2018 and from the funky frontage you would be forgiven for mistaking this record store for a craft outlet, but this is an established record shop. The owner Frank Taylor is one of the longest-serving sellers of new vinyl in Brighton; the shop was previously located for a decade on North Street. Very clean and airy, the new space is split into arts and music sections as you enter. It offers a calm, spacious and thus easily socially distanced browsing experience. Selling only fresh pressings, it feels achievable to do a clean sweep of your chosen genres relatively quickly. Prices reflect the cost of new vinyl, but there are some reduced sections.
Resident
28 Kensington Gardens
This double-fronted store boasts a gigantic selection of new releases and reissued vinyl. Brainchild of Derry Watkins and Natasha Youngs, Resident opened in 2004 and has since expanded into a global enterprise with a thriving web market. It also sells gig tickets, puts out a newsletter and hosts in-store promotions. The shop is black, sleek in design with an array of its own merchandise in tow, namely t-shirts, sweatshirts, mugs and the Resident annual book displaying their favourite albums of the year. The aisles are thoughtfully spaced to make for a pleasing browsing experience. Firmly embedded in Brighton's thriving music scene, this store is a significant pit-stop for artists and music lovers alike.
If you're inspired to hit the streets for a record-collecting jaunt around Brighton, there are many other shops to discover too, but here is one final place that really deserves a mention:
Bella Union
13 Ship Street Gardens
Tucked away in the narrowest of twittens, this independent store specialising in the Bella Union Record label is a hidden jewel in Brighton's record shop crown. Run by the label's co-founder Simon Raymonde, it's a uniquely eclectic emporium of everything associated with the brand including rare and signed vinyl, cassettes, CDs and Bella Union merch.
Photos by Mike Tudor