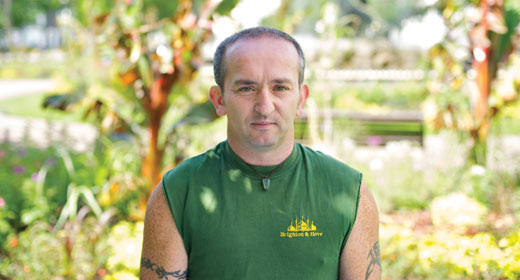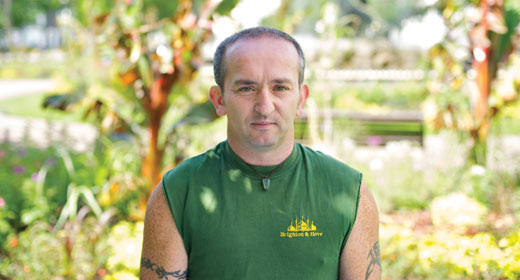 Brighton's parks don't grow on their own you know, there's a huge team including Garden Manager, Mark.
Maintaining Brighton's parks must take a fair bit of work – what do you do?
I look after the centre run – the Old Steine through St Peters, the North Vic Boulevard and some housing estates, planting wild flowers, 300 trees a year, tropical plants like bananas and grasses from Stanmer Nursery.
What are the biggest challenges facing the outdoor spaces in Brighton?
Well it's a very young city so we get the usual problems with litter, but it's mostly very positive because people enjoy and respect what we do. There's obviously a lot of weeding and maintenance of the grass along the city centre sites, and wild flower sites need different management to encourage birds, butterflies and bumble bees.
Does the income from events on park space justify the inconvenience?
It's generally written in that they have to tidy up. There's always something for us to do afterwards, it depends on the weather and how long they're there. We've got the equipment if it needs reseeding, but these are green spaces for all – you've got to have mixed use of an area. If the Lady Boys for instance are there for a month it's only one month out of 12, we've got other areas people can use.
Is there much artificial maintenance or do you let nature evolve the spaces?
We do have to bolster areas with seeds to give them more depth and become a flowering wild meadow quicker. Nature would do that – it might take 15 or 20 years, but we can achieve it almost instantly. There are no harmful pesticides so it's great for the bees; they're all over these wild flower sites. A mown park is a bit like a green desert; nothing flowers, but if you leave them for a while there's a real buzz of insect activity.
What do you think would make people use their parks more often?
It's about having the mixture – we're doing a site in Saltdean now with a bowling green, skate park, tennis courts and football pitches as well as a wild flower area. It's all within two minutes of each other and helps make the parks universal and open to everyone.
Photo by James Kendall
More Unsung Heroes: Click Hereunsungx