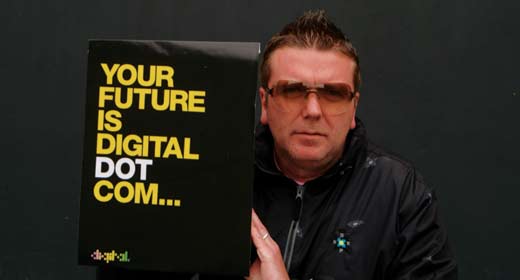 With a CV that includes the legendary drum'n'bass night Movement, Dave Stone is one of the most respected promoters in Brighton.
You've been a promoter for years. What did you do before Digital?
I've always been lucky enough to be involved in music. I started as a stand-up poet in the early 80s, I was in an acid house outfit called Innaworld, I've run independent labels, I've worked for record companies, but it was always promoting I enjoyed the most.
You paid quite a lot of money for Digital and then spent a load more doing it up? What's special about the place?
It's pretty special both in terms of my own clubbing journey and its importance to UK clubbing generally. In '89, when it was the Zap, I was invited down by a couple of promoters (who went on to create Skint Records). I'd been living in Asia with my band making proto acid tunes and it was my first experience of the scene in the UK. Let's say I never forgot it.
How has promoting changed while you've been doing it?
Everything has, especially in the business of music. In the late 80s it was all about who you knew. Now it's easier to locate the talent but thankfully there's more to promoting than just booking a name. The way we listen to music has also changed clubbing – its ease of access through the t'interweb, the fact it's so cheap, its disposability means that scenes and trends change at warp speed, so you have to keep on your toes and keep things interesting.
What's the difference between Brighton and Newcastle clubbing?
The north still has big love for sit-up-and-beg house music – although again due to the instant accessibility of music people are more able to make a more informed choice these days. The thing that Brighton and Newcastle share is a love of going out and a friendly crowd – that's why I operate in both cities.
Have the glory days of clubbing passed, or is today as good as the 90s?
Most people who went clubbing in the 90s are now married with 2.4 kids, a mortgage and a labrador, so they look back with rose-tinted spectacles – mainly lamenting the loss of their youth and their freedom. I think today's generation get the same joy out of going out and losing themselves on the dancefloor for a few short hours. I know I do.
More Unsung Heroes: Click Hereunsungx