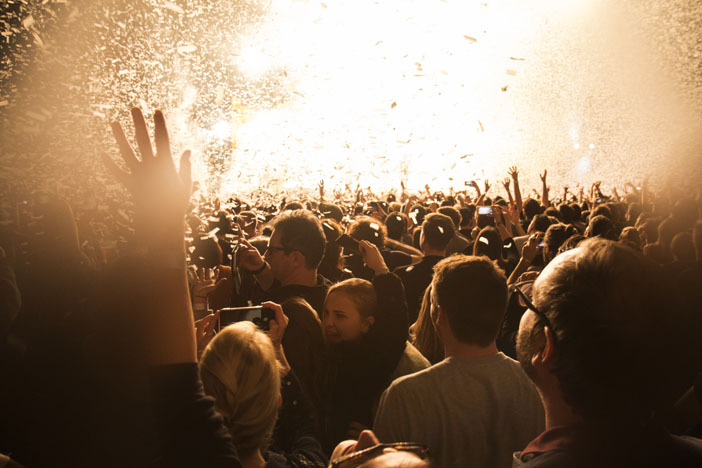 Been stuck at home and ready to let rip for New Year's Eve? Here's our pick of Brighton's best club nights for the last party of 2018.
Patterns – 2019: A Rave Odyssey
There is a fifth dimension, beyond that which is known to man. Patterns go through the wormhole with their 2019: A Rave Odyssey concept. A truly cosmic double-header featuring two of the UK's most in-demand party starters – London collective Horse Meat Disco will be rolling back the years with hands-in-the-air, Paradise Garage-era disco vibes at midnight before lo-fi hipster hero Ross From Friends pushes things forward with his emotive and futuristic approach to house music, following his debut LP release on FlyLo's Brainfeeder imprint in 2018. Residents Faro, Ovre and Tech Support make up the fleet.
Concorde2 – NYE 2018
New-year resolutions usually come into play sometime in January however one Brighton venue is breaking the mould ahead of time. Moving away from the drum'n'bass nights of yore in favour of its own other-worldly setting, Worldwide FM and BBC6 tastemaker Gilles Peterson takes up residence in the one-of-a-kind beachfront boutique that is Concorde2. Against a backdrop of Afro, Latin, funk and soul rhythms, Peterson will show you more flavours of jazz in one evening than you could find in all the coffee shops of Amsterdam. All-night, feel-good soundtrack guaranteed with main room support from Tru Thoughts label boss, Rob Luis, Daisha, HMC and 1BTN DJs in Room 2.
The Tempest – Berlin NYE Dankeschön Party
Probably best known as Green Door's bi-monthly house and techno party, Berlin caps off another successful year going into 2019 (its fifth) at The Tempest with usual suspects POoK, Lola, Monica, founder Markus Saarländer and a headline slot from progressive house stalwart Luke Brancaccio (EP out now on Bedrock.) Inspired by the German capital's renowned underground scene, Berlin frequently delivers the dancefloor goods. Uplifting melodies and tech-driven grooves will make for a heads-down, fun-filled and reasonably-priced affair at the seafront rave cave that is The Tempest.
The Arch – NYE Wonka Wonderland
The Arch have gone all-out this NYE, boasting a 3-room, 12-hour Wonka Wonderland extravaganza, whilst also quietly curating a gender-equal line-up. Tech-House titan Darius Syrossian will play a vinyl-only set spanning 30 years of acid, house and techno in Room 1 alongside Ben Sterling, Maze & Masters, Sami Kubu with even more guests TBA. Room 2 and 3 promise to be deeper affairs with SDXN, Ferra, Emma Love, Henley and others. Ready for a world of pure imagination? Step inside the sound factory to find out.
Rialto Theatre – Fever Club 'Salon of Soul' NYE Party
The Rialto Theatre is no longer Brighton's best kept secret and could be a straight-up contender for Brighton's leading alternative nightlife venue. A gloriously gothic grade II listed building, this intimate space has played host to a growing number of comedy, cabaret, gigs and club nights in 2018 and isn't stopping there. Following last year's sell-out NYE Fever Club, the Salon of Soul's theme this year is The Thief of Baghdad. With fancy dress, roving musicians and props, this promises to be one hell of a ride – just don't forget your magic carpet.
Komedia – English Disco Lovers NYE + Boogie Wonderland
The EDL movement has caused quite a stir over the last few years with many well-attended events and marches popping up all over the city. No, we're not talking right-wing extremists here, quite the opposite. EDL aka English Disco Lovers return to the quintessential Komedia after four years of sassy, sell-out NYE shows. You may have seen this camp cabal slamming disco stompers at the Spiegeltent, at Brighton Pride or even counter-demonstrating against their nationalist namesakes, spreading their powerful "Don't Hate, Gyrate!" message. As if that wasn't enough to get your afro shaking, top-floor Komedia Studio invites Boogie Wonderland for a 70s theme New Year's Eve special. Time to open up that fancy dress box and break out the sequins for what could be the party of the year – freak out!
The Volks – Bass Face New Year's Eve
Brighton just wouldn't be the same without clubs like the Volks – chances are that if you've been, it was a night you will never forget. For well over a decade Volks has been the home of drum'n'bass, jungle, hardcore and bassline and the heads love it – if you're looking for a sweaty, off-the-rails 12-hour mash up, then Bass Face is the NYE party for you. Jungle legend Ray Keith (20 years of Dread Recordings set), the universal John B (Blue Note classics set) and Digital go up against the cream of the Brighton bass scene in Arcane, Mr Natural, Trouble & Maniac and Kosine. Twenty DJs over two floors – not for the faint-hearted.
Sticky Mike's Frog Bar – Dude Ranch NYE
As we reported in October, 2018 brought very sad news that Sticky Mike's Frog Bar will be closing down after seven successful years. The much-loved, dive bar-style venue has been fundamental to the Brighton scene, supporting grassroots culture for live music, comedy and even gaming like no other.  Sticky Mike's has provided the platform for countless bands and comedians to have their first outing; not to mention the thousands of established acts that have graced the perfect sweatbox that is the basement. For one last time in 2018, SMFB pledges to party hard with pop/ska-punk patrons Dude Ranch, inviting live bands and DJs to send Sticky Mike's off in frenzied style. FFO Blink, Panic! and Green Day – RIP Sticky Mike's, you will be missed.
Words by Christian Häggqvist