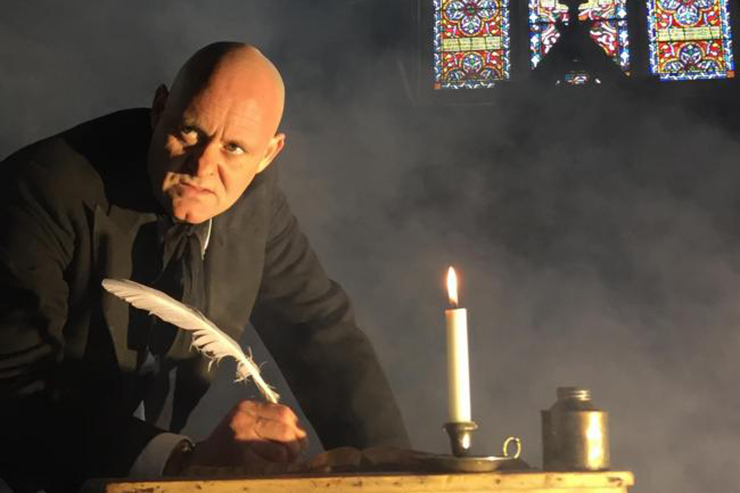 Every winter numerous stages across the country fire up the festive season with productions of Charles Dickens' Christmas classic. Some look to transform the tale; adding fresh and bold contexts, reimagining it for new audiences. Others are simply happy to breathe life into Dickens' immortal words and revisit the tradition and sentiment instilled within its pages. Truestory's A Christmas Carol seems to say, why not do both?
Having caught their excellent 'Frankenstein' earlier in the year we were excited to be back at The Spire, the theatre company's current home within St Mark's Chapel, for this festive outing – and we had every reason to be! Mince pies are hastily gobbled as the lights dim and we are left with the man himself, Ebenezer Scrooge, busily writing away at his desk by candlelight.
From the very beginning the action flows seamlessly as Scrooge journeys out on his night of redemption; visions come and go as the spirits command them. The traverse staging, as with 'Frankenstein', gives the action room to breathe and distance to play whilst never shutting the audience out from some of the more tender moments that fight their way to the fore. The production's use of space and shadow is superb as characters disappear into the darkness, agonisingly fading into nothing before Scrooge can clutch at the strings he so readily allowed to unravel. The ensemble works brilliantly together throughout, never letting the energy drop once and crafting beautiful, standout moments that embellish the production like tinsel on a tree. The Ghost of Christmas Present and Scrooge's night-time flight was a particular highlight.
Gary Sefton's Scrooge looms sharp and unrelenting over all whom he encounters, but he also manages to bring a real sense of humour to the role, something routinely absent in most interpretations. Scrooge jests and jokes with the other characters, making their fall all the harder to watch when they finally realise that it is they who are being ridiculed. Once he has learned the error of his ways Scrooge relishes the newfound joy, revelling in his own silliness and laughing with the audience who can't help but smile back.
There is certainly enough here to satisfy the Dickens purists and still more that lends a fresh energy and appeal to the tale. Fun, colourful and spirited (if you'll excuse the pun), Truestory's A Christmas Carol won't have you out in the cold when there is a seat at the table.
The Spire, Monday 30th December 2019